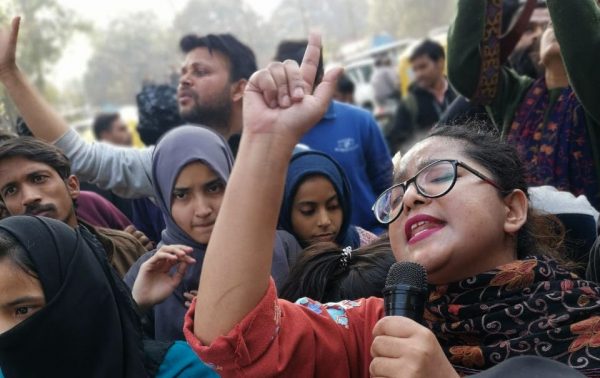 The Delhi High Court has granted bail to Safoora Zargar, a Jamia Milia Islamia scholar who was arrested in April and booked under serious charges of the Unlawful Activities Prevention Act (UAPA). She was denied bail by the Sessions Court early this month and she appealed against this order before Delhi High Court. She has been under arrest since April 10, on the allegation that she delivered 'inflammatory speeches' on February 23 at Chand Bagh, which led to violence and rioting in North East Delhi.
In a sudden change of heart, Delhi Police, through Solicitor General Tushar Mehta, submitted that it was ready to release Zargar, who is about 5 months pregnant, on bail on humanitarian grounds, provided she does not indulge in activities she's being investigated for and she remains in Delhi.
Advocate Nithya Ramakrishnan appearing for Zargar submitted that Zargar might have to go to Faridabad to consult her doctor.
The single judge bench of Justice Shakdher granted Zargar regular bail on furnishing a personal bond of Rs. 10,000 and clarified that the order should not be treated as a precedent in this or any other case. This means that the other accused in this case cannot place reliance on this case while seeking bail from themselves.
The conditions for her bail are:
1.      She shall not indulge in activities she is being investigated for
2.      She shall refrain from hampering investigation
3.      She shall take permission of the court before leaving the territory of Delhi
4.      She shall get in touch with the Investigating Officer once in every 15 days through a phone call.
Justice Shakdher mentioned that he had received certain documents from the state in a sealed cover which he has not opened and which shall be returned to the Solicitor General as is.
In its status report submitted to the court, Delhi Police had refused to make an exception for Zargar's pregnancy considering the severity of the charges against her. The report had termed Zargar as 'disposed towards creating turmoil to undermine public order and imperil national security', and claimed that sufficient evidence has been collected to make out a prima facie case.
Safoora's arrest even became a subject of one of American Bar Association's reports whereby the American Bar Association asked courts to uphold India's moral and legal obligations and release Safoora Zargar and deemed her detention to be in contrast with international human rights standards.