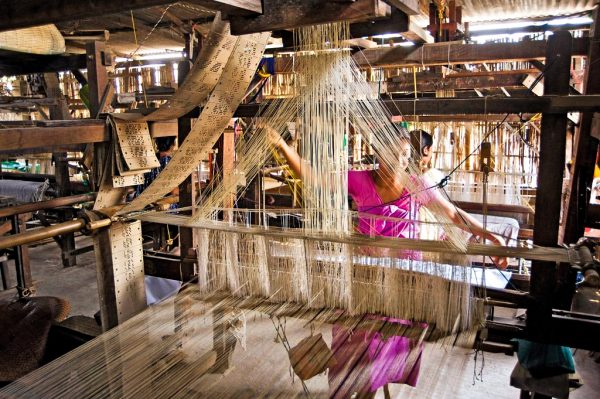 A weaver at Sualkuchi | Outlook
When MK Gandhi visited Assam in January 1946, he had said that Assamese weavers could weave dreams in their looms. He saw this as an activity that could pose a challenge to the foreign goods that had flooded Indian markets and had hoped that Assamese weavers would give the British manufactured goods a fierce competition. Assamese folk songs too, are filled with references to the state's glorious history of weaving.
Sualkuchi, a town lying 35 kilometres away from Guwahati in lower Assam, is known as the Manchester of East for its contribution to the crafts industry and its weavers are famous worldwide for their exquisite Paat, Muga, and Eri silk work. However, Assam's weaving industry is not just about Sualkuchi – it is much more than that.
Weaving has been an integral part of ordinary Assamese lives, especially in rural areas, and the second-largest activity after agriculture in the state. It is a common sight to see rural women working on looms in their own homes. The ongoing pandemic has, therefore, not only caused a ripple effect in the handloom industry, but also severely affected the women working in this industry.
The handloom sector and the Indian economy
The handloom sector in India employs the most number of Indians after agriculture, close to almost one crore Indians. Around 72% of these weavers are women. The contribution of the handloom sector to the Indian economy is as high as Rs 50,000 crores. However, the Union Budget of 2020 has allocated a mere Rs 485 crore to the handloom sector despite its high employment generating as well as positive environmental effects.
In Assam, almost 10.9 lakh households are into weaving, the highest from any state by a huge margin. After the outbreak of the novel coronavirus, India has been on lockdown since March 25. As such, Assam's handloom industry has also been pushed back. Therefore, the impact of the lockdown will be felt not just on the Assamese economy, but on the Indian handloom industry as a whole.
The handloom industry has remained one of the most vulnerable sectors of the Indian economy (Abdul, 1996). The industry witnessed a heavy loss due to demonetisation and the introduction of the Goods and Services Tax (GST). However, this is not a once in a blue moon occurrence.
The sector was also heavily hit after the economic reforms of 1991. A report by Andhra Pradesh Civil Liberties Committee (APCLC) reveals that, in the second half of 1991, 111 handloom weavers in Andhra Pradesh had died because of starvation or suicide. This was mainly attributed to the rising cost of raw materials, especially yarn, which had doubled. The price of yarn remains high even today. The sector had 12 government-backed schemes in the 1990's, which halved by 2010's, with only 3 schemes now. The other major blow to the sector was making the Mahatma Gandhi Bunkar Bima Yojana (MGBBY) redundant, which had specifically targeted handloom weavers by providing them with insurance. Thus, there is no special insurance scheme for handloom weavers anymore.
Covid-19's impact on Assam's weavers
After the announcement of a nationwide lockdown, the biggest victims of the declining Indian economy have been the informal sector workers. Around 90% of India's economy is informal, with around 26 crore informal workers spread across agriculture, animal husbandry, constriction, mining, hospitality, and so on. The plight of migrants is not hidden from anybody.
The handloom sector in Assam is also facing unprecedented uncertainties. While some weavers work in units, most of them are self-employed. There are five distinct types of handloom producers in Assam – first, the ones who sell directly to the consumers, second, the ones who sell to private stores, third, the ones who sell to private peddlers and vendors, fourth, the ones who sell to co-operative societies and non-governmental organizations (NGOs) and last, the ones who sell to government agencies. Weavers who fall in the first three categories buy their own raw materials and sell them to middlemen or directly to stores. Weavers in the fourth type, whereas, receive raw materials from their suppliers and sell the products to them. The trade could be both contractual and non-contractual, but irrespective of their employment nature, these are trying times for the industry. Weavers are incurring huge losses and are also under heavy debt.
One of the major problems that the weavers have been facing is the unavailability of raw materials. Even those weavers who are associated with organisations face a shortage of necessary raw materials like yarn.
Anurita Pathak Hazarika, Program Director of North East Network (NEN), an NGO that works in the North-East, says that, as an organisation, they are unable to supply raw materials to weavers working under them. Transportation is restricted and they face great difficulty in delivering yarn to the weavers. The sale of yarn is not listed as an essential commodity and hence, both its production and sale have stopped during the lockdown.
The NEN has been working in the North-East for more than twenty years now and their experience is helping them in strategizing and re-strategizing in these unforeseen times. They are looking at the data of the weavers that work with them and are paying the ones whose raw materials have run out. Also, instead of weaving clothes, the weavers supported by NEN have now started weaving masks. These masks are made of cotton and are eco-friendly and sustainable.
However, even organisations like the NEN are worried about the future. There is also the possibility of an increase in the price of yarn if and when the situation gets better. Organisations are also facing difficulty in collecting finished products from the weavers, but many of them also feel that even if they do manage to collect the goods, they would not be able to sell them. Markets are shut and the demand for handloom products have gone down. Other options like exhibitions have also ceased to exist.
"Earlier, we used to display and sell the products woven by our weavers in exhibitions and melas. But now that option is also not there", says Pathak Hazarika. Traditionally this part of the year is a time when weavers are at their busiest, as the Assamese New Year begins in April, with a rise in demand for handloom products and the state vibrant with exhibitions, fairs, and melas and flooded with "mekhela sadors", "gamosa", and "dokhonas". This time, things are different, as both demand and supply have been disrupted in the handloom sector.
This is not just an economic crisis though. It is also a socio-cultural calamity. Weaving is considered a part of Assam's cultural heritage. Wearing hand-woven clothes is part of many festivals like Bihu and Bisagu. Thus, the economic crisis in the handloom sector can very well be seen as a cultural loss too. Without a persistent pool of buyers, weavers are hesitant to work.
"What is the point of weaving? There are no buyers," says Birina, a weaver from Sualkuchi.
This is a fear that resonates with many weavers and the organisations that support them. They weave both for self-consumption and for commercial purposes. At the same time, many women also use weaving as an activity to earn additional money that they can claim to have earned by themselves. In a deeply patriarchal society, it is an act of empowerment that gives them the leeway to earn and spend money on their own.
"The money I earn from weaving clothes is my money, I use it for personal things. I was not answerable to anyone for it", says Renuka, a weaver from Lakhimpur village. Renuka's words are supported by Kalpana, a weaver from Pathshala village. "I earned around rupees 2000-3000 from selling hand-woven clothes to the middle-men, who would then sell it in the market". For her, the Rs. 2000-3000 was enough to buy personal things like cosmetics and sanitary napkins. She did not have to depend on her husband.
Researchers and social activists have also claimed that home-based entrepreneurship of women leads to a decline in domestic violence. This is because, earning money by themselves helps them to finally gather the courage to stand up to abusive husbands. As such, many fear that if they have to stop weaving, their source of income, and hence their source of courage, will be snatched away from them permanently. Already, there are reports of increase in domestic violence in many states, including Assam. Weaving has helped many like Renuka to earn and thus be independent. The current situation has instilled great fear in their minds, since their only ray of hope seems to be in danger.
Therefore, there is no doubt that the centuries-old Assamese handloom industry is under severe threat today – but so are the weavers, especially female weavers. Immediate government intervention is required to provide some form of relief to the weavers and non-State actors should be supported by the State. Covid-19, for these weavers, is not just a health crisis anymore – it is a livelihood hazard and a socio-cultural calamity, since for many of them, weaving is a form of livelihood, an art, and a part of their culture and identity. Today, all of it is at risk.
Rituparna Patgiri is a doctoral student of sociology at JNU, New Delhi. She has almost ten years of academic training and professional experience in exploring inter-linkages between issues of culture, gender, health, and the public domain through qualitative research.
Ritwika Patgiri is a doctoral student of economics at the South Asian University, New Delhi. Her research interests include poverty, micro-finance, education, sustainable development goals and gender in politics.