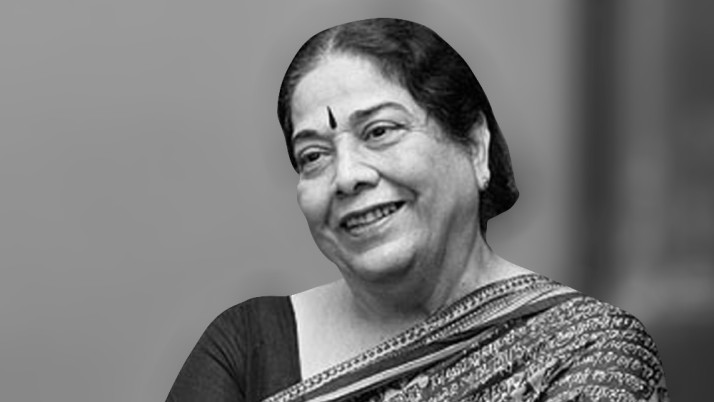 Usha Ganguly passed away a few weeks ago in her apartment where she lived alone. Her theatre group Rangakarmee, founded 44 years ago, has changed the face and direction of Hindi theatre and national theatre for all time. She single-handedly took Hindi theatre within Kolkata to new heights, crossed the state and national borders through her work.
It would not be wrong to say that Usha founded the base of Hindi theatre in a predominantly Bengali cultural ambience at that time. Today, her theatre group has found a home in the beautifully organised premises, tellingly named Binodini – Keya Mancha Rangakarmee Studio Theatre, designed by another theatre person-cum-architect Anubha Fatehpuria, located in the southern parts of Kolkata.
Usha Ganguly, for 44 years, used theatre not only as performance but also as an expression of her deepest concerns. Through her work she gained recognition as an actress and director with productions ranging from Mahabhoj through Rudali, Antaryatra, Atmaj, to three plays based on three short stories by Saadat Hasan Manto and many more.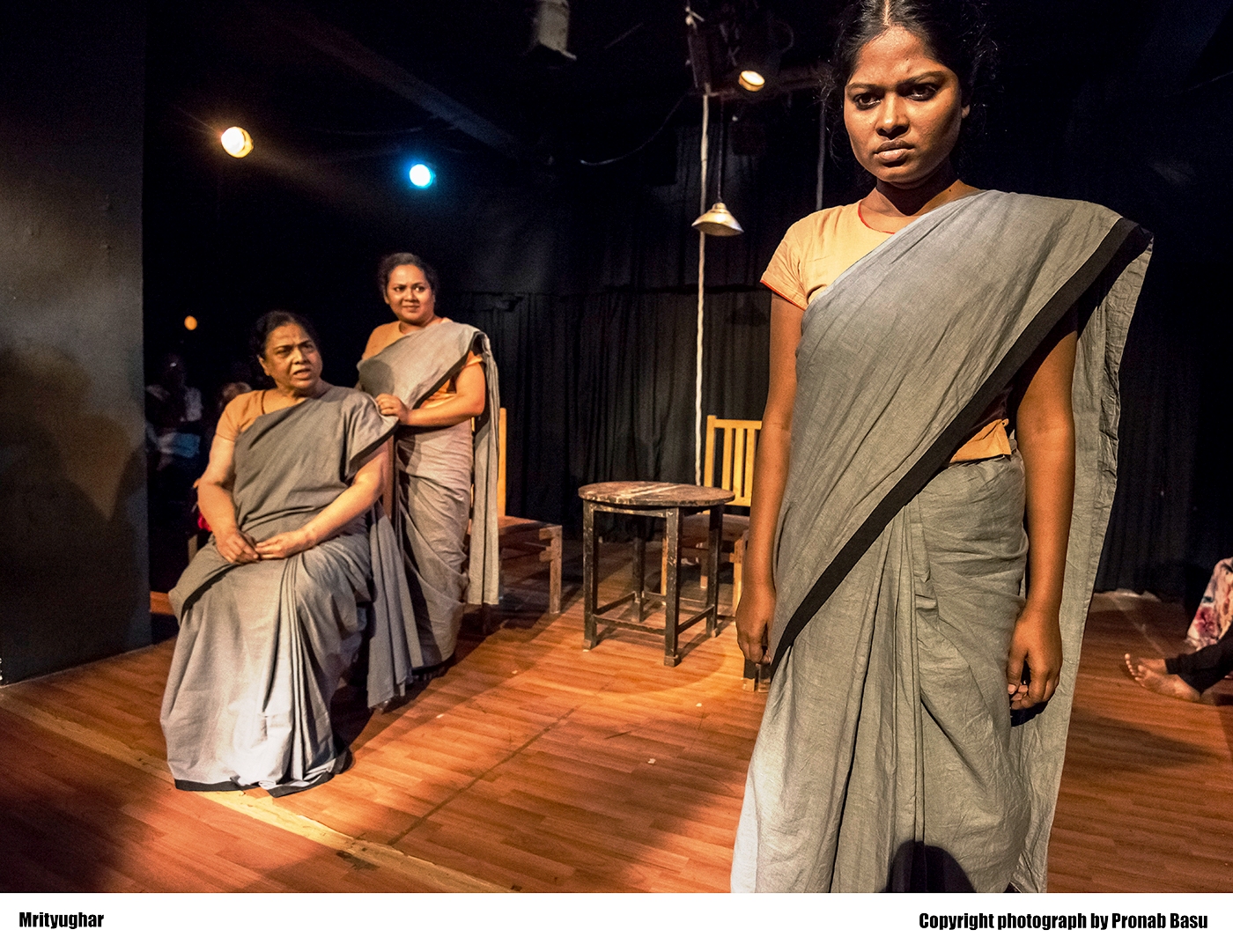 Ganguly is  widely respected for raising women's issues consistently in her works. Her adaptation of Mahasweta Devi's text Rudali which centres on two women who develop a partnership for survival, won her the best director award in 1992. She was awarded the Sangeet Natak Akademi Award for direction in 1998 and in 2005 Rangakarmee became the only group of Indian theatre to perform at the Theatre der Welt Festival in Stuttgart.
She was also honoured by the West Bengal Government as the best actress for the play Gudia Ghar adapted from Ibsen's play A Doll's House. She has also translated and adapted texts of writers like Wesker, Ibsen and Mahasweta Devi for the stage.
Few are aware that she was a much sought after script writer for filmmakers like Mrinal Sen, Aparna Sen, Gautam Ghosh and Rituparno Ghosh — for whom she wrote the script of Raincoat. Ganguly, however, never allowed glamour to get the better of the artiste in her. Nor was she interested in pursuing her role as a screenplay writer for films as films did not interest her much. Theatre was not only her passion but it was her very life and she remained committed to it her entire life.
Her personal interpretation of Mahasweta Devi's Rudali in written form was later published by Seagull Books, Kolkata. Rudali takes off from Mahasweta Devi's work to explore the dynamics of mourning as a profession."In my search for the setting, I travelled to Punjab where "Syapa" is prevalent as an equivalent to "Rudali" in Bihar. But I was surprised to discover that the villagers in Punjab were fairly prosperous. I had to return to Bihar to make sense of mourning as a profession and also of the forces that feed it," Ganguly once explained in an interview.
She was born and bred in a small town of Rajasthan though her origins were in Uttar Pradesh. Later, the family migrated to Kolkata and she spent the rest of her life here. She was originally a trained classical dancer. This empowered her with the finer nuances of movement on the proscenium stage and the details of facial expressions. But with time, it was theatre that became her life. She also was a lecturer of Hindi literature at Kolkata's Bhawanipur Education College and she retired from this job at the end of her tenure.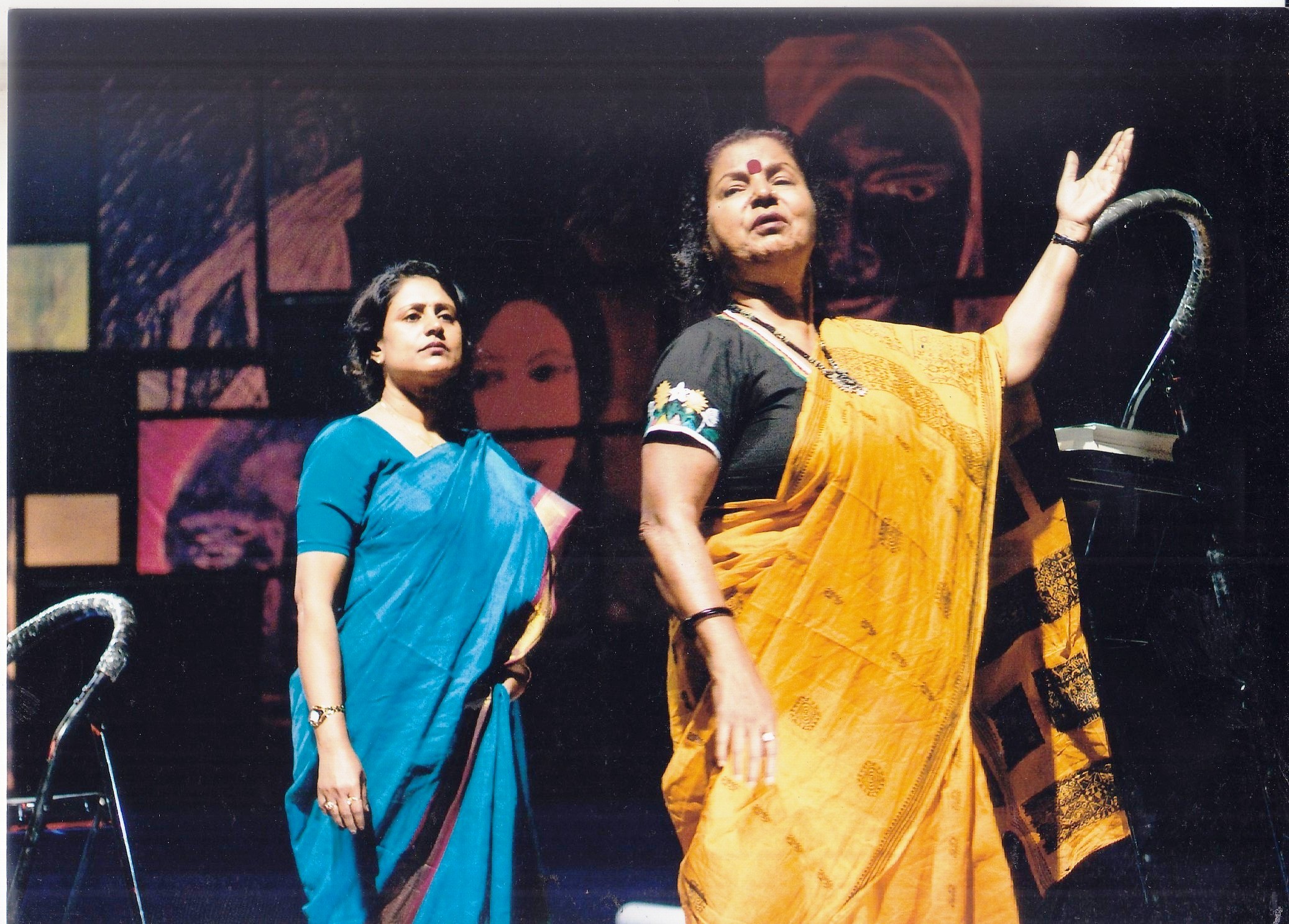 One of the most outstanding productions of Rangakarmee was Kashinama and this is one of my personal favourites. It is grand in scale but sustains its humble location – Benares – which offers a beautiful world in miniature all brought alive on the stage by Usha Ganguly and her group. The entire stage was converted into a ghat in Benares dotted with early morning wrestlers, local masseurs, dawn bathers, devotees who would not begin their day without first offering prayers to the Gods. On one side of the ghat lives a very very poor family, a microcosm of most of the local residents who live a hand-to-mouth existence in the holiest city of India. All these fall together to form the vibrant backdrop against which Dr Kashinath Singh's tale of "mutation" progresses. "It will not be possible for me to stage Kashinama again because it is impossible to gather together so many actors and technical team specially for the marathon rehearsals the play demands," she said when I asked her why she did not perform the play these days any more.
Her beginnings in theatre were founded in acting and not as director. For her own group Rangakarmee, she invited outside directors like MK Anvase, Rudraprasad Sengupta, and Bibhash Chakraborty. She started directing in 1980 after training under Tripti Mitra and Mrinal Sen, and soon her style, seeping with energy, disciplined ensemble work, and a young and large crew brought a sudden resurgence of Hindi theatre in Kolkata.
Rangakarmee paid a dramatic tribute to Mukhtara and Nirbhaya with Hum Mukhtara, a play that takes off from Mukhtar Mai's experience and enlarges it to include all women everywhere who have the courage to stand up and fight against injustice. "We are not afraid. Nor do we seek revenge. All we are demanding is justice that has been denied to us all these years," say all the Mukhtaras in chorus each one wearing a black veil over the face symbolising the raped and wronged woman's blackening of the face even when she is victim and not victimiser.
The name of the play Hum Mukhtara, points out that all women across the world are Mukhtaras because "all women have been abused, violated, victimised, humiliated and oppressed at one time or another not only by men but more importantly, by family members, society and the legal and judicial system of each country that holds man as supreme and woman as one who should be controlled by man," said Ganguly in an interview.
Rangakarmee has done old plays, specially created plays, classical and contemporary plays to portray the socio-political scenario of sections of society we generally keep away from. Among its major productions over the past three decades are Mukti, Rudali, Court Martial, Kashinama and Holi. Bhor encapsulates a small, sad world of people who lend each other their shoulders to weep on, fight and make-up, and try to love, hate, fight, struggle within this small world.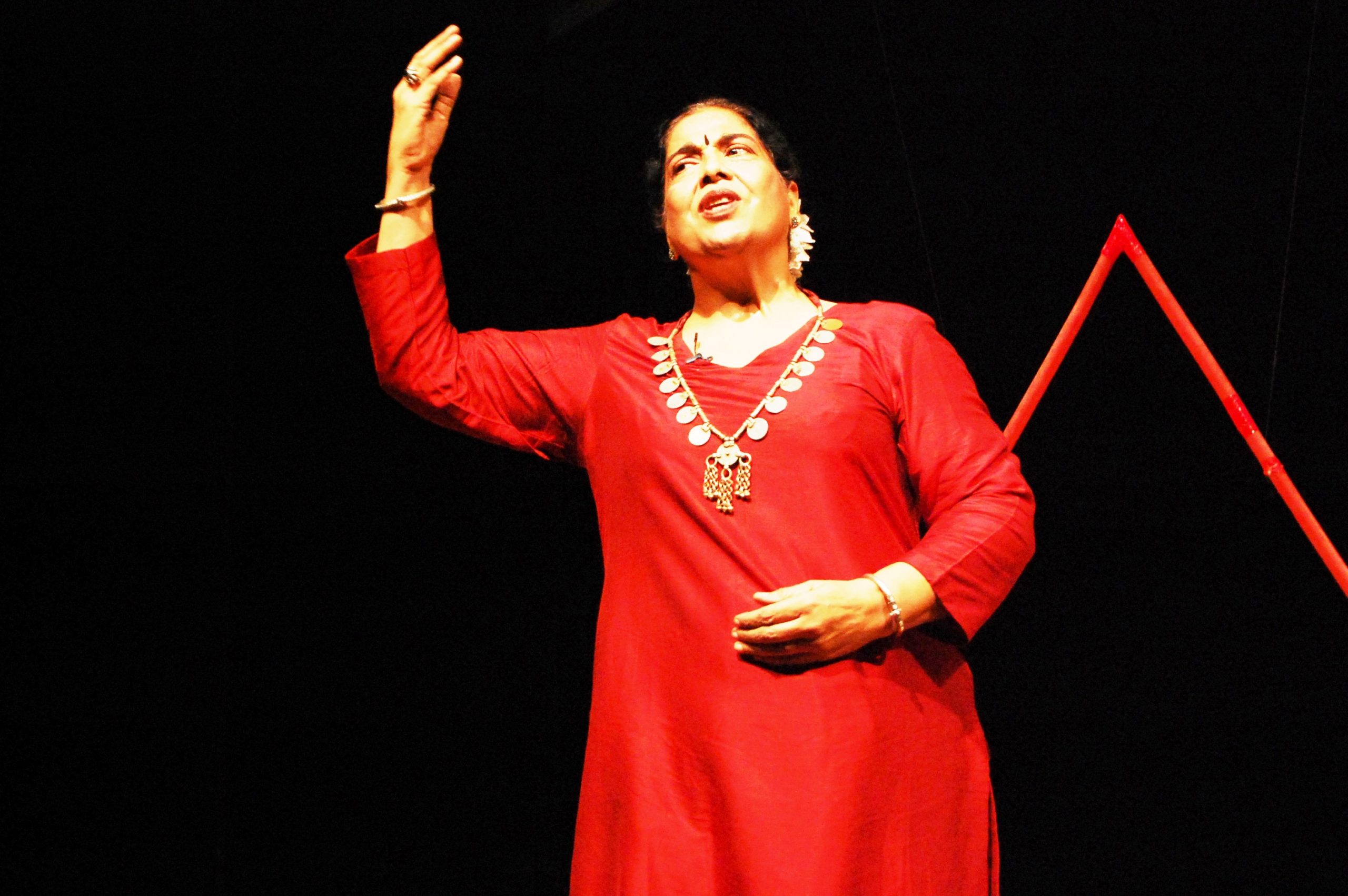 Usha Ganguly also created a woman's theatre festival held annually called Samanway 7 an event where theatre lovers get an opportunity to sense the direction in which theatre appears to be headed and how women are participating in this larger movement. Samanway 7 is not about theatre alone. It also includes dance performances that break or bend or redefine the rules of dance as they have been known, to make the content more important than the performance, to render the performance fluid and free to offer several meanings for the audience. This festival did not happen this year because Usha's health was not in a good state.
The common thread that bound these performances at the Samnway 7 in 2015 was the fact that each one had a message for the patriarchal society we live in. No one was offering preachy solutions but stating facts differently in the garb of different women characters at different points of time in our socio-cultural history. The performances did not strive to consciously address feminist questions, but evolved naturally into questions in themselves for the audience – both men and women – to reflect on, to remember and to reiterate that this, after all, is the state of womanhood across the world.
These one-woman performances proved yet again how a sensitive mind can conceive and hold all kinds of emotions, feelings of pain, happiness, loss, love, betrayal and triumph within a single performance. Once again, it reinforced Anita Singh's statement that these women are using "theatre as a tool for conscientisation, for critiquing social disparities and for self-exploration and expression."
Above everything else, Usha was visibly opposed whenever the issue of advertising plays was raised and she remained firm in her conviction that theatre should not be commercialised.  She described them as thoughts with no ends and no beginnings. Now that she is no more, will her committed team continue to hoist the flag of Rangakarmee and keep it flying? Only time can tell…
All images courtesy Shoma A Chatterji