"Maids shouldn't touch lift buttons": Gurgaon RWA exposes its racist, classist soul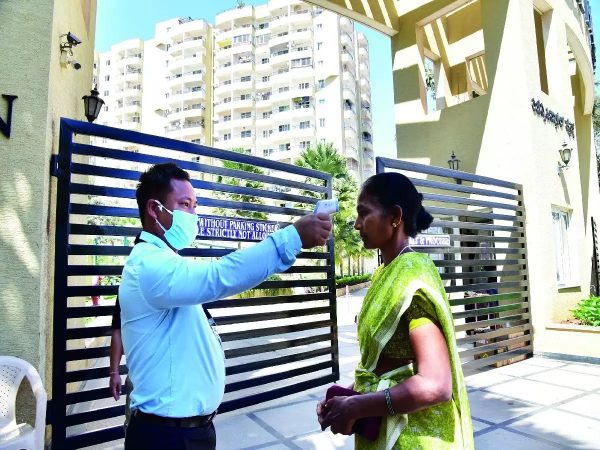 That Residents Welfare Associations (RWAs) are little 'kingdoms' and the men and women who are elected to manage them, crown themselves kings and queens, is a well known fact that is widely accepted even if it sounds ridiculous. They decide the code of conduct, in the buildings and neighborhoods they represent. However many of them also take it upon themselves to decide a moral code of conduct, that at times seems inspired by feudal caste practices.
The Covid-19 pandemic seems to have given some of these RWAs to brazenly display their prejudices as they can now say it is all being done in the name of infection control. One such RWA from Gurgaon, has come under the scanner for discriminating against households helping working in the neighbourhood. According to a report in the Indian Express, a Gurgaon RWA has issued a rule instructing domestic help not to touch the lift buttons.
Delhi NCR is slowly lifting restrictions on movement across the city and many RWAs have conducted internal polls to decide the new norms of allowing domestic help from coming to work again. Most RWAs have decided on common protocols as signing registers, temperature checks at the gates, as well as mandatory masks for everyone entering the premises.
Some, reported IE have also asked for "mandatory complete blood count (CBC) tests, daily temperature checks," and insist that domestic help be "accompanied by employers when passing common areas and work on alternate days". All residents are expected to maintain sanitation levels in their homes, including that for the domestic help they employ. In parts of NCR, the process has just begun a few days ago, as lockdown 4 allowed each state to decide its own norms of what activities are allowed in which zones.
Many RWAs continue to hold online meetings, and whatsapp discussions asking residents for suggestions before taking a final call. Princeton Estate, the Gurgaon gated community that features in the IE report was one of those who allowed domestic help to come to work from Monday, while drivers and car cleaners were permitted to report on duty a day later.
The IE report details the SOPs of this RWA that has allowed domestic help to work in batches of two and report to work once a day, on alternate days. This, reported IE, was done to "avoid overcrowding" in common spaces.
So far so good, however this "concern" about overcrowding in common spaces has led to bizarre decisions. The IE reports that RWA of Gurgaon's Unitech Fresco has directed residents to accompany help from the tower lobby to their flats "so that the maid doesn't touch the lift buttons".
The IE reports that the email explains how the domestic help names will be checked by the guards from the list and then the employer will be asked to come and "escort her to the flat", they will have to escort the help back to the gate once the work is over.
It is now known how the RWA has assumed that the resident's finger tips are Coronavirus free and therefore can safely touch the lift buttons. Their order appears to be as discriminatory as it is unscientific. It is also not known if the RWA has instructed that the lift buttons be sanitized by whoever is using it, irrespective of perceived social 'status'.
Perhaps they would like to drive down to a posher and older neighbourhood and seek some free tips from residents of Defence Colony in Delhi. Here, a senior citizen, his wife and son tested positive for Covid-19. The elderly man later succumbed to the disease, while his family recovered, however, it was alleged that the family had blamed their Muslim security guard for bringing the Coronavirus into their home. The police were called and allegedly, an FIR had been registered against the security guard who had tested negative for Corona 19 but had left the neighbourhood. According to sources, he is still in emotional trauma and would like to be left alone.
But, old habits die hard, even when faced with a pandemic such as Covid-19, and the same family allegedly turned out a domestic help in the middle of the night because she was suspected to be Covid-19 positive. A report in The Hindu stated how the Defence Colony RWA had to intervene as the employer abandoned the maid on the road.
The house help was found weeping on the road after she was thrown out as she had tested Covid-19 positive. The Hindu quoted Resident Welfare Association president Major (Retd) Ranjit Singh who had said that he was informed that she was on the roads, by the colony's security guards at 11.30 pm: "When we enquired, she told us that she used to work in the house and now she has been tested positive. She said she was asked by the family to leave after the test result came," he said. Singh said the police were informed and subsequently, around 6 a.m., the woman was shifted to a health care facility in the area.
It is not known if any action has been initiated against the family that has allegedly ill treated and discriminated against two of its employees, during the Covid-19 lockdown.
Back in Gurgaon reports IE, Princeton Estate RWA has 'advised' residents " to get the concerned test" to make sure domestic help is Covid-19 negative. It is not known if all the residents have also been "advised" to get tested for Covid-19. According to the IE report a regular blood test has been made mandatory at another Gurgaon gated colony: The Summit in DLF5. The news report quotes the RWA circular issued to residents: "All maids, drivers, gardeners, basement laundrymen and car cleaners will have to undergo the basic CBC blood test before starting work and then as per doctor's advice."
It is a well known fact that the CBC test is not used to detect Covid-19. The IE quotes this gem from one Dipak Roy, a member of the condominium's Board of Management: "The CBC is to see if there is anything wrong. It is to check if there is any kind of infection, as people with low immunity could be more susceptible. One of our doctor residents suggested this. It has nothing to do with coronavirus."
In an earlier report Livemint had shown how many RWAs were still denying permission to allow domestic helps, electricians and plumbers, to enter and work in the various apartment complexes. Till last week, most RWAs had only allowed essential deliveries to be dropped off at the main gate and no temporary domestic help, or cleaners were allowed to report to work in individual houses.
Nearly two months into the lockdown, even though lockdown restrictions have eased in many areas, most RWAs, across the country, are still clueless on how to allow a return to normalcy while maintaining hygiene protocols. The centre had eased rules on April 15 and allowed technical staff such as electricians and plumbers to come to work, from May 4 onwards restrictions on allowing household help to come and work were also eased officially.
In India, particularly in urban areas, along with the communal virus, the caste and class viruses too have had a resurrection under the cover of the Coronavirus 2020. All three do not have a cure, or a vaccine yet.