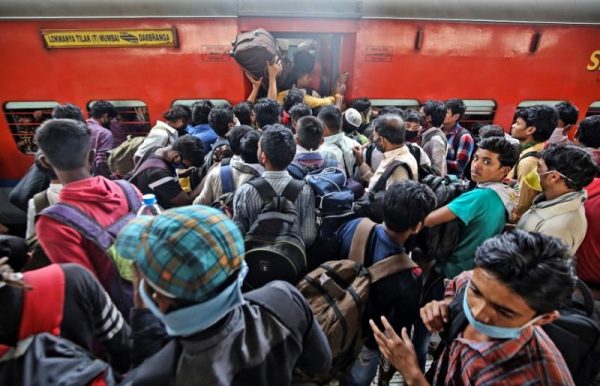 The Modi government's decision to impose a national lockdown, on since 24 March, to check the spread of the Novel Coronavirus has caused tremendous hardship to the poor. Its most lamentable symbol has been the sight of lakhs of migrants fleeing cities to villages, walking or cycling down the highway or hitching rides on trucks. Was the lockdown the best possible strategy to counter the Coronavirus? To answer this question, Indian media has interviewed, over the last 50 days, several economists and development experts, who have bitterly differed from each other.
NewsClick spoke to a representative of those whom the lockdown has hit the most. Meet Siya Ram, president of Dalit Ekta Camp, a JJ cluster in Delhi's Vasant Kunj colony, an upwardly-mobile residential neighbourhood. The camp comprises 550 jhuggis and houses 4,000 people, almost equally of Hindus and Muslims. The residents of this camp migrated to Delhi over several years, in search of work and a better standard of living. In this extensive interview, Siya Ram articulates the view of the world during this lockdown, seen from the prism of a jhuggi-jhopri.
What was the Dalit Ekta Camp's response to the national lockdown that was first imposed on 24 March?
We thought it would last for just 21 days. We were sure we could endure the hardship for 21 days. Even we have ration for five to ten days. But we never thought the lockdown would keep getting extended. Had we known, we would have fled to our villages.
Where is your natal place?
I am from the Amethi-Sultanpur belt in Uttar Pradesh. We earn money daily and do not have the capacity to endure a lockdown of over 50 days without work.  Take those of us, particularly women, who work in the flats for, say, Rs 8,000 a month. We take an advance against our monthly wage from our employers to pay school fees or give it to children who demand money to spend. Or we take an advance to buy vegetables from the weekly market. At the end of the month, our employers deduct the money advanced to us and pay around Rs 3,000-4,000. We do not have much cash in hand.
Have your savings eroded?
Even if people had Rs 1,000 or Rs 2,000, it is all gone.
I suppose people exhausted their rations in the first few days of the lockdown. How did the Camp's inmates survive then?
The honourable Prime Minister Narendra Modiji appealed to landlords to waive rents. He also asked employers not to deduct salaries of people who were absent from work because of the lockdown. We knew that only one or two percent of landlords and employers would respond to his appeal. Nobody pays you without you doing any work for them.
People from the camp must have been absent from work for eight days in March, because of the lockdown. Did employers pay for those eight days?
One or two out of every 100 employers did.
Were you all paid for April, when you could not have gone to work at all, because of the lockdown? 
One or two might have been paid for a week or so. We could not access the kothis [apartments built by the Delhi Development Authority], as the gates into colonies were locked. Nor could we step out of the Camp. It is very difficult for those who labour hard every day to sit idle for week after week. Being idle is a burden on us. Despite Modji's appeal, landlords asked us to pay rent.
I suppose the owners of jhuggis did not want their income to take a hit?
They would say, "Modiji has waived the rent, not we—go ask Modiji for the waiver." Our compulsion is that we cannot shift from where we are staying. Our children are enrolled in a school in the vicinity. [Many children study in a private English-medium school, where they have enrolled under the Economically Weaker Section category.] A shift to another place would mean disrupting our children's education. To pay rent, some of us asked our families in villages to send money.
On my visits to the Camp earlier, I had seen that most jhuggis comprise just a room and…
Yes, each jhuggi is roughly 7 feet by 7 feet. And some jhuggis have five, eight, 10, at times even 15-20 people staying together.
Were you all not scared when you were informed that maintaining physical distance was necessary to combat the Coronavirus?
How can we practice distancing in a 7X7 room with eight or even five people living in a jhuggi? Government can suggest or demand anything. It must realise our pathetic situation.
You must have heard about the Tablighi Jamaat, which some accused of spreading the Coronavirus. Did it not lead to a religious division in the Camp? 
There is no religious divide here. We live here just as we used to in our villages. We know the Coronavirus came from China. Television channels play up the Muslim angle to increase the TRP rating. Only the media keeps hollering, "It is because of Muslims, it is because of Muslims."
What is the percentage of Muslims in Delhi's population? 12-15 percent? We fill water from the bore well and tankers together. They sell vegetables, as Hindus do too. The Coronavirus never came to our camp. Over the last 50 days or so, we have not had one even one case of Coronavirus. And Muslims comprise 50 percent of the Camp's population.
So when rations ran out, how did everybody here arrange food?
For a week or 10 days, an NGO came to distribute food. But it would get 50 packets one day, 150 on another. There are 4,000 people living here. People jostled to snatch the food packets. You cannot blame the NGO, which has a limited capacity to feed people. For the last 20-25 days, the government has been providing food in schools at Mahipalpur and Masoodpur [these are what in sociological parlance are known as urban villages].
How many times do they provide food in schools?
Twice. We reach the school at 10 am, but our turn to get food comes at 12-1 pm. There are some 700 people in these queues… Suppose someone's wife is ill or his children are small, the family's head cannot take them to the school, which is a kilometer or two from our place. One person gets food only for one person, at best for two. So the person brings the food packet home and then returns to stand in the queue at the same school or another. Then we queue up again at 4 or 5 pm.
Once everybody realised that the lockdown is to continue, did they not try to go back to their villages, as many have done?
At least 30 to 40 people have clandestinely fled the city. They left in batches. To evade the police, they walked through the jungle adjacent to our camp and tried their luck. Two days ago, another 25 tried to leave the city. But the police brought them back to the camp.
In fact, when the police asked them why they were leaving Delhi, they responded, "We don't want to die. Get the government to give us food." There were heated arguments. The police said they would do something. Nothing happened.
But now that the trains have started, most of the Camp's inmates want to leave. Three of them have managed online bookings. Most others are illiterate. They cannot book tickets online on their own. But everyone wants to go to their village.
Are you planning to go home?
My children are here. I don't have the budget to finance the journey of the entire family. Even if I do go to my village, what will I do when my children's school reopens? All those without families will certainly leave. I think there will be 1,500 such people.
The prime minister has said that it is the instinct of people to return to their families during a crisis.
If people had been provided rations, they would not have gone nor would they have wanted to go.
But everybody is getting the rations they need?
No. I have an e-coupon for ration. After failing to procure rations from the distribution centre, located in a neighbourhood school, on two occasions, I was told the third time that rations had not come to them yet. Around 250 of us received ration because of an individual's intervention. We were assured that others too would get it. But when I asked them a few days later, I was told that door-to-door delivery of ration would be done only in containment zones, where coronavirus cases have been detected.
What was the quantity of ration given to those who were lucky to receive it?
Each of the 250 people received 10 kilos of flour and one kilo of chana dal.
What is the benefit of going to your village?
We will get food to eat. The banias (local shopkeepers), in normal times, would give us credit for 15 days. They know we work and, therefore, will pay. But they do not sell on credit for three or four months. These banias get the ration from elsewhere. They pay cash. But they do not want to give us food on credit [these days] because they know we have no work. They also fear that we might get up and go home.
Do you want the lockdown to be lifted?
If they continue the lockdown, we will all be dead. When there is no work and no ration, death is inevitable. Bardaasht ke bahaar hai (We cannot tolerate any longer.) Just think, eight people packed in a room in summer?
How do you pass time?
Passing time is our next big problem after hunger. Eight people, accustomed to working hard, locked up in a room for 40 days, you can very well imagine our condition.
Has it happened that some don't get to eat food at all?
When people arrive late at school, they find there is no food for them.
Did you all not ring your employers in kothis?
Yes, we do. But they say, "What can we do? Go to the government."
What do you feel when you see TV images of people walking to their villages?
They are us. Landlords have told them that they can stay in their quarter as long as they pay rent. So they packed up their bags and left. That is their compulsion, as it is ours. As I told you, the camp's inhabitants have tried to flee, on foot and cycle. Some were successful.
Did you get calls from them saying they had reached their villages?
Those who had left in the initial days of the lockdown did tell us they had reached. But we have not heard from those who left recently, in the last 10 days. Those who went on cycle have called. But those who went walking, they are yet to reach their destination. Bihar is 1,200 kilometers away. They will take days to make it. Because they are workers, they can cover such enormous distances on foot.
How would you categorise the government's attitude during the lockdown?
Sarkar is very good at lecturing people on the TV. But nothing reaches us. This is the truth. Even we labourers can guide them on how to distribute food. Only if they had given us dry ration, we could have cooked at home.
Was imposing a national lockdown a good strategy to counter the Coronavirus epidemic? 
I am not so knowledgeable, but still I think the lockdown should not have been imposed in this manner. Only the poor are dying because of the lockdown. The rich are in their flats. They can order everything online.
Are you saying the government is bothered only about the rich?
Sarkar is only for the rich, the poor are meant to die. If they step out, they have to face police ka danda. If they stay home, they die of hunger.
Do you think the lockdown should continue?
No. It is better for us that the lockdown is ended. For us, what matters is that we get work. If they extend the lockdown, we will all die. We will die in queues waiting for food.
Do you know how the Coronavirus came to India?
Yes, the Coronavirus came from abroad. It is the rich who travel abroad. The poor do not go to London and America. The rich got the Coronavirus into India, but it is the poor who are dying. It is we who are getting beaten. If the Coronavirus had spread because of the poor, they would have said that because they live in unhygienic conditions, they have got the Coronavirus. There is none who will question the rich. Whichever way you look, it is only the poor who have to die.
Did you read about some states introducing laws to have 12-hour work shifts? 
They introduced the lockdown to kill us. They will now make us work for long hours to kill us. Only the poor are doomed to die. They are exploiting our helplessness. Because we are in need of work, they will make us work for 12 to 16 hours. When we will not get time to sleep, we will die. Regardless of what measures they take, only the poor will die.
Do you think the popular expectations from Modi have been belied?
Nothing has been done for the poor.
You voted for Modi in 2019, did you not?
I did, but how could I then tell what was to come in the future? We all voted for him. You have been to the Dalit Ekta Camp. Go to every house and you will come to know the truth about what we have got from Modi and (Delhi Chief Minister Arvind) Kejriwal.