Exposed: Ram Madhav's false narrative about Italy, Chinese and Muslims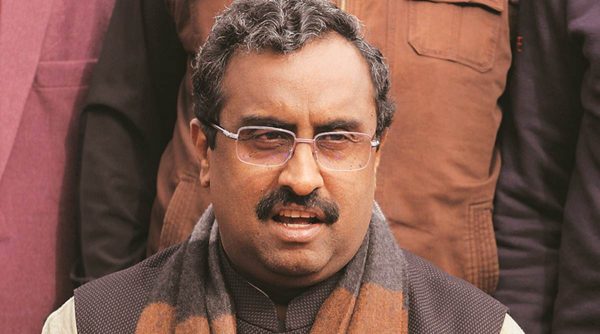 Anyone wishing to comprehend the rise of religious intolerance in India must read the opinion piece that Ram Madhav, the Bharatiya Janata Party's national general secretary, wrote in the 1st May edition of the Hindustan Times, which was last in news for censoring public intellectual Ramachandra Guha's column.
In his piece—India is safe for all Indians, across all faiths—Madhav sets out to argue against the stigmatisation of COVID-19, the illness caused by the Novel Coronavirus, and the perils of extending that stigma to a community or religion. Ultimately, though, his prejudices convolute his arguments to such an extent that he ends up stigmatising the Muslim community.
This happens because of Madhav's presumption about Italy's fight against COVID-19, which, as of 4 May, had claimed 29,079 lives in that country.
To underscore the "larger consequences" of stigmatisation, Madhav recalls the Hug-a-Chinese campaign that was launched in the Italian city of Florence by its Mayor, Dario Nardella, on 1 February. By encouraging Florentines to embrace the Chinese, Nardella sought to dispel the growing paranoia among Italians that their country's Chinese inhabitants were the carriers of the Novel Coronavirus.
Madhav writes, "While there is no conclusive evidence to show that the campaign was responsible for the rise of COVID-19 in Italy, it was an ill-conceived campaign at a time when social distancing should have been the norm. [Italics mine]"
What exactly does Madhav mean by "conclusive evidence"? Is he suggesting that an exercise was undertaken to study whether the Hug-a-Chinese campaign led to the spread of the virus in Italy, but the evidence produced was not sufficient to make such a claim with certainty?
Madhav's false narrative
I emailed the office of the Mayor of Florence, Dario Nardella, a link to Madhav's piece and some questions. Nardella took just three hours to respond. I followed up with more questions, each of which he replied right away.
Nardella said, "First of all, it is important to remark that the Hug-a-Chinese campaign was a social media campaign. I repeat: It was a symbolic campaign. The aim was to stop racism with a symbolic message [that in] the struggle against the virus…humanity is on the same side, without the distinction of race."
Nardella said he felt the need for this campaign, which civil society members had launched of their own volition even before he announced it, because the Chinese tourists in Florence had been stigmatised as carriers of the virus even though the city had not reported a single COVID-19 case until 1 February. This being a social media campaign, it was not aimed at encouraging Italians to physically embrace the Chinese they came across.
The internet does have videos and photos of Italians and Chinese embracing or standing together. Could not Nardella's campaign have spread the Coronavirus in Italy? He outlined, in brief, the distribution of Coronavirus cases in Italy, which reported its first cases on 31 January. That was of two Chinese tourists in Rome. It was only on 17 February that the first Italian was identified with the virus, in the town of Codogno, 300 km away, in North Italy.
Nardella said, "At the time the campaign was launched, everybody could hug each other. There was no distancing at work and on the street. The virus was in China, not here. Those hugs [because of the 1 February campaign] did not transmit the virus. A month later the authorities decided on distancing [and that] finished the hugs for everybody, not only for the Chinese."
To get a sense of Nardella's reply, leap back to India and rewind to February. Even though India too reported its first Coronavirus case on 31 January, in Kerala, Delhi conducted its Assembly election on 8 February. There had been rallies and roadshows. Elsewhere in India, people went to restaurants, watched films, and shook hands with or hugged friends. In late February, Delhi witnessed three days of violence, in which over 50 people were killed and hundreds compelled to live in a relief camp.
Taught as we journalists are to distrust official versions, I turned to the Florence-based journalist, Silvia Ognibene, whose story for the Reuters news agency—From zero to hero: Italy's Chinese help beat coronavirus—I had stumbled upon while researching this piece.
The opening paragraph of Ognibene's story, published on 1 April, when Italy was on its way to scale the peak of COVID-19 cases, is revealing: "In the storm of infection and death sweeping Italy, one big community stands out to health officials as remarkably unscathed—the 50,000 ethnic Chinese who live in the town of Prato."
Prato is in the Tuscany region, of which Florence is the capital. A distance of only 18 km separates Prato from Florence. According to Ognibene, the Chinese people who had gone to China for New Year holidays, which fell between 24 January and 8 February, returned to Prato and voluntarily self-isolated.
Ognibene writes, "They knew what was coming and spread the word: stay home. So as Italians headed to the ski slopes and crowded into cafes and bars as normal, the Chinese inhabitants of Prato had seemingly disappeared."
Ognibene quotes Renzo Berti, the area's top state health official, which also includes Florence, saying, "We Italians feared that the Chinese of Prato were to be the problem. Instead, they did much better than us. Among Chinese residents in Prato there isn't even once case of COVID contagion." By 1 April, the day Ognibene's story was published, COVID-19 had already claimed over 12,000 lives in Italy.
I asked Ognibene whether concerns were expressed over the Hug-a-Chinese campaign. In an email reply, she said, "There were no concerns because Nardella's campaign was a political message in a moment when there were racist episodes against the Chinese people. It wasn't a real invitation to hug a Chinese." She said Tuscany stood 12th out of Italy's 20 regions in terms of the mortality rate for COVID-19. Italy's Coronavirus problem is largely confined to the regions in the North, such as Lombardy, which, on 4 May, had 78,105 cases, against Tuscany's 9,601 cases.
These details made Madhav's use of the words "no conclusive evidence" intriguing.
So I asked the Mayor of Florence whether an exercise was undertaken to check whether the Hug-a-Chinese campaign had led to the spread of Coronavirus. Nardella replied, "Of course, there wasn't any exercise undertaken, then and now…The campaign led to speculations, as it often happens on the social media, unleashing haters and fake news."
His reply prompted me to search the internet with these keywords—"Hug a Chinese" + "no conclusive evidence". The first article to show up had the headline—Fact-check: Did Coronavirus spread in Italy due to a Pakistani or due to 'hug a Chinese' campaign?
The fact-check was published by OpIndia, the right-wing website, on 13 March. This story says, "While there is no conclusive evidence that the 'Hug a Chinese' campaign might have spread coronavirus in Italy, as not all Chinese people are carriers of virus and hence they should not be discriminated against, it does not take away the fact that the campaign was perhaps not well thought of."
Madhav, indeed, echoes the OpIndia view, although pithily. This is not to accuse him of plagiarism. An erudite writer such as Madhav, who often cites political thinkers in his pieces, cannot possibly stoop so low.
A matter of ethics
Madhav refers to the false narrative to make a larger point about the consequences of stigmatisation. He classifies Nardella's campaign as a "reaction among the liberals" to the stigmatisation of the Chinese. Likewise, Madhav argues that "there will be a conservative reaction to stigmatisation too."
Who are these conservatives? Madhav's answer: Muslims.
Madhav warns us that Maulana Saad Kandhalvi's decision to go ahead with the three-day congregation of the Tablighi Jamaat, in early March, which was based on the idea that "God will save us" from the Coronavirus, should not be used to stigmatise the Muslim community. Not because it is ethically wrong. Not because it makes little sense to target an entire community for the illogical decision of few.
Madhav writes, "If a community is blamed for it, then the reaction would be further ghettoisation. The radicals will get an upper hand. Those trying to communalise the discourse must understand this."
From Madhav's perspective, the conservative reaction strengthens Muslim radicals; while the liberal reaction spreads the Novel Coronavirus. He contrasts their behaviour to the responsible manner in which citizens behaved during Holi.
Madhav notes, "Around the time that the Markaz [headquarters of the Tablighi Jamaat] event was being held, people had voluntarily refrained from celebrating the most boisterous of all festivals like Holi. Prime Minister Narendra Modi had taken the initiative of cancelling Holi celebrations at his residence."
It would seem from Madhav's statement that nobody in India played Holi. This was not true. Almost all newspapers had reported that Holi was celebrated, although mutedly compared with the past. It was celebrated with tremendous gusto in Mathura, which attracts tourists, including foreigners, wishing to witness or participate in it. The crowds at Mathura's Holi celebrations can be seen in these clips of ABP TV and India Today channel.
India was certainly not indoors on 10 March, the day of Holi, as it has been during the ongoing lockdown. Only Madhav can tell what his motive is in deliberately underplaying the magnitude of Holi festivities.
But this is not a solitary instance of Madhav conveying a picture contrary to reality. He writes, "Just as the Markaz and Maulana Saad don't represent the entire Muslim community, a few reckless rants spewing venom against Muslims on social media don't represent Indian society."
One is enough
What constitutes "a few" is decidedly subjective. But what is not a matter of subjectivity is the political affiliation of those who launch vicious attacks on Muslims on a daily basis. We are not talking here of the pre-COVID-19 days, when BJP leaders would regularly issue hate-statements and several incidents of lynching of Muslims were reported from across the country.
Indeed, "a few" acquires quite another meaning when Amit Malviya, the in-charge of BJP's IT cell, spearheads the rant against Muslims. Sample just two of Malviya's tweets, which persistently profile, demonise and stereotype the Muslim community.
On 1 April, Malviya tweeted, "Delhi's dark underbelly is exploding! Last 3 months have seen an Islamic insurrection of sorts, first in the name of anti-CAA protests from Shaheen Bagh to Jamia, Jaffrabad to Seelampur. And now the illegal gathering of the radical Tablighi Jamaat at the Markaz. It needs a fix."
On 7 April, Malviya tweeted, "Don't blame the entire Muslim community for the acts of Tablighi Jamaat. Fair enough. But then who are the people giving them hiding space and not reporting their presence in mosques and adjoining areas? Why is India expected to mollycoddle them during a public health crisis?"
When the tweets of the ruling party's IT cell head bubble with venom, does it then matter whether many or "a few" engage in reckless rants?
Yet, Madhav writes in the Hindustan Times piece, "Teaching tolerance to India is like carrying coals to Newcastle. Close to 200 million Muslims live in India. They live in peace, enjoying equal, if not preferential, treatment."
Kapil Mishra vs Safoora Zargar
Days before the outbreak of rioting and killings in North-east Delhi in late February, Kapil Mishra, a BJP candidate who had failed to win his seat in the Capital's Assembly election, threatened to forcibly remove those who had blocked a road to protest against the government's discriminatory citizenship policy. Mishra made the statement before a crowd of people, with a Delhi police officer watching.
Yet Mishra has not been arrested for instigating violence. By contrast, a clutch of young Muslim leaders have been arrested or booked under the draconian Unlawful Action (Prevention) Act during the lockdown.
Think of Safoora Zargar, the media coordinator of the Jamia Millia Coordination Committee, which had organised protests against the citizenship law and the brutal suppression of its agitation by the Delhi Police in December.
Booked under the UAPA and packed off to Tihar Jail, Zargar is 14 weeks into her pregnancy, which could well turn out to be a complicated one. This is because Safoora suffers from Urinary Tract Infection, low blood pressure and Polycystic Ovarian Disorder. Studies show that rates of miscarriage among pregnant women with Polycystic Ovarian Disorder can be as high as 30 to 50%.
The contrasting treatment of Zargar and Mishra makes it bewildering how an intellectual like Madhav could mistake inequality of treatment for "equal, if not preferential, treatment." This is shocking because the losses of Muslims were infinitely far more than the Hindus during the riots, in terms of lives and property. In addition, 16 mosques were officially listed to have been damaged. Not a single temple was targeted.
HT, Guha and Madhav
No less bewildering is why the Hindustan Times chose to publish Madhav's piece. Opinion pieces are by definition biased. Two people can interpret the same set of facts to harbour opposite views. Yet the Hindustan Times must grapple with a larger philosophical question: are opinion pieces based on a presumption, such as Madhav's regarding Florence, exaggerations and obfuscations, be published at all?
This question is particularly significant because the Hindustan Times censored Ramachandra Guha's piece, which was subsequently published in The Wire. Whether you agree or disagree with Guha, his pieces are anchored in documented facts, not surprising for a writer who has re-imagined Mahatma Gandhi and the national struggle for a generation of readers, in a style at once accessible and academically rigorous. And to think, the newspaper is run by a family one of whose ancestors was a close associate of Gandhi. This should fill us with immense sadness regarding the state of Indian media.