Lockdown: UP Weavers Forced to Work in Construction Sites for Survival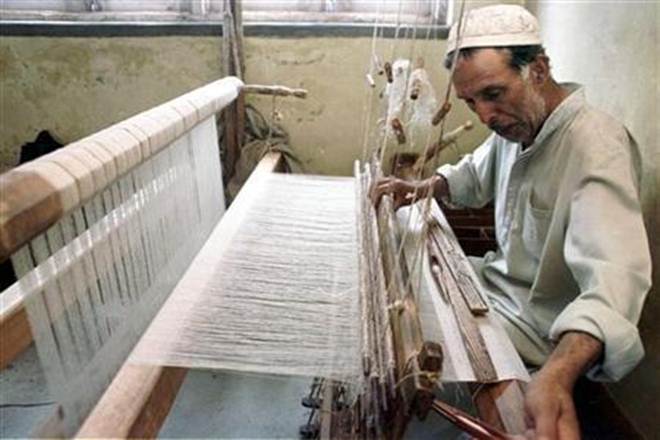 Looms in Mubarakpur, a hub of Banarasi sarees in Azamgarh district of Uttar Pradesh, where thousands of weaver families live, have fallen silent since May 22, owing to the lockdown. In fact, thousands of weavers across Eastern UP are out of work, and are staring at an uncertain future. Left with no means to earn a livelihood, many of the poor weavers are scraping the bottom of the barrel as their meagre savings have almost exhausted, and have been pushed to work in construction sites.
"We have looms at home but these are useless as of now. We all are weavers who have been working in construction sites. If we don't venture out of our homes to work, our family members will starve. We don't know when things will get normal," MasoodAkhtar, a weaver, told NewsClick,adding that the lockdown has had a devastating impact on the traditional weaving business.
JOURNEY FROM SUBTLE ART TO CONSTRUCTION SITES
For the sake of survival, many weavers have moved from the subtle art of weaving to working among cement and bricks.
Rafique Ahamad, another weaver in Mubarakpur's Chowk area, said: "When lockdown 1.0 was announced, we were sure things would return to pre-pandemic normalcy, but as we entered lockdown 2.0, our suffering grew. We just could not sit idle, so we decided to step out and work in construction sites."
"In ungliyon ki tareef hoti hai sahab, hamari banayi hui saree Bollywood ki heroine bhi pehnti hai,lekin waqt jo karaye (We have been praised by many for our skills, several Bollywood actresses wear sarees woven by us, but time has reduced us to this), another power loom weaver, who is working as a daily wager, told NewsClick.
The crisis and frustration is also leading to some friction with dealers. Some weavers said businessmen were taking sarees from them without paying. "The businessmen are happy but weavers are not," Javed, a local weaver, said in a video that he recently posted on social media to seek help from the government.
Several weavers NewsClick spoke to claimed that Chief Minister Yogi Adityanath had put the weaving cluster industry under "one district, one product" (ODOP) scheme of the state government but due to the coronavirus outbreak, nothing concrete could be done to improve their financial condition of weavers.
When asked about financial assistance to jobless workers, Akhtar said since hand loom/power loomn clusters were not registered under the Labour Department, they were not getting any help from the state government.
There are more than 30,000 weavers in Mubarakpur alone.The weavers' committees have sought financial assistance of Rs 2,000/month per person.
VARANASI WEAVERS
Weavers in Prime Minister Narendra Modi's constituency — Varanasi — are battling similar woes. Several parts of the city that wake up to humming power looms are gripped with silence.
In Madanpura, a crowded Muslim ghetto in Varanasi, every narrow lane has hand looms, and every household, who have worked at these looms for generations, has been hit hard by the lockdown.
Several workers who migrated to UP from Bihar, West Bengal and Jharkhand have left for their respective hometowns. Those who are stranded are struggling to meet their food requirements.
"The weavers have seen many shades of poverty and somehow manage to overcome these, but never have I seen such a crisis in 55 years of my life. We live hand-to-mouth, so we cannot save money. Now, my wife and I are selling vegetables on the street, as there is no ration left at home," Hashim, a small weaver said, adding that sometimes they sleep without eating anything.
Life has indeed taken the ugly turn for these weavers, yet they are keeping their spirit alive in their new jobs with the hope that return of normalcy would take them back to what they do best – creating beautiful clothes out of fine Banarasi silk.
A weaver of Lallapura, who has been operating a handloom over the past several decades following his father'slegacy ,said his financial condition is collahas deteriorated, first due to demonetisation, and now the lockdown.
"We are landless people, so we do not have the option to grow crops for livelihood. For generations, we have been weaving sarees, towels and other dress materials. But the coronavirus and lockdown have forced us to sit idle. Now, only government assistance can help us," said a weaver from Madanpura.
TOUGH DAYS FOR LUCKNOW'S ZARDOZI WORKERS
The zardozi(a kind of embroidery) workers and people skilled in making chikankari(embroidery) in Lucknow are also going through a critical phase. Demand for their work used to zoom ahead of Eid,has sunkthis year.
Some traders said that first Goods and Services Tax (GST) and now lockdown due to novel coronavirus had almost ended the business despite the golden chance of earning during the ongoing Ramzan (the holy month of fasting).
"The amount of investment in the sector during Ramzan and ahead of Eid UlFitr is thousands of crores. If these shops don't open as soon as possible, the sector and employees who depend on this sector will really face a dire situation, "Amandeep, a trader in Aminabad told NewsClick.
He believes it will be a wise decision to open the shops across the state maintaining proper health guidelines.