Commemorating May Day amid the Lockdown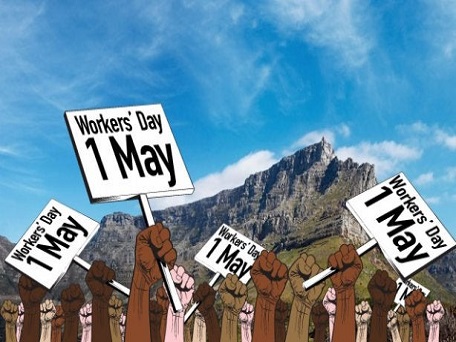 Image Courtesy: Capetownmagazine
International Workers Day, often referred to as May Day, celebrates the contribution and struggles of workers around the world. Workers make the backbone of the economy. This year, the COVID-19 pandemic and the lockdown have hit jobs and wages in many sectors of the global economy, leaving many workers devastated. In solidarity with workers, ICF revisits the hardships faced by them during the lockdown.
उर्दू कवि जौन एलिया की नज़्म, "ऐलान ए रंग", उस ऐतिहासिक घटना पर लिखी है, जो 1 मई 1886 को शिकागो में हुई थी। मज़दूरों के उसी संघर्ष के बाद दुनिया भर में काम का निर्धारित समय 8 घंटे हुआ था, हालांकि दुनिया के एक बड़े हिस्से में इसको ले कर ये संघर्ष आज भी जारी है। यही वजह है कि मई दिवस पर ये नज़्म हमें आज भी उचित लगती है लगती है।
Migrant labourers bear the brunt of informality, government apathy, and lockdown
Even before COVID-19 and the lockdown, these laborers were already victims of unequal power relations in the informal sector which while barely allowing for their survival, also prevented their mobility. While they were exploited to the maximum during 'normal' times, migrant workers in the informal sector, who have nothing to sell apart from their labor-power, are left to starve by their employers during the lockdown.
Brutalising labourers, jailing dissidents
The recent action of the Uttar Pradesh police, where it sent a posse of 7-8 policemen, in civil clothes, in a black SUV with no number plates, to Siddharth Varadarajan's residence in Delhi to deliver a summons has prompted this question. Definitely the police did not bother to ponder over how Varadarajan, editor of The Wire, will present himself to the authorities during a lockdown which has brought trains, flights and even private transport to a standstill.
Migrant workers and the inadequacy of welfare measures in India: A Report
The lockdown decision announced on March 25th, while imminent, was unplanned and unilaterally made without any consultation with the state governments. This caught millions of migrant workers and the bureaucracy off-guard, leaving them no time to plan for such an emergency. While millions of migrants successfully reached their home states, only to be quarantined in camps, many remain stranded far from home, with no money or food.
Ground Report: Will Mamata Banerjee Listen to These Stranded Workers?
Thousands of migrants workers from West Bengal are stranded in various parts of Delhi due to the ongoing lockdown. While they are awaiting for the Chief Minister of Bengal to make some arrangement for their return, they are unable to avail the e-coupons provided by the Delhi Government. NewsClick presents a ground report of the living conditions of these workers.
Sex workers struggle in lockdown
On March 26, the government announced an allocation of Rs. 1.70 lakh crore under the Pradhan Mantri Garib Kalyan Yojana to help the poor "fight the battle against Corona Virus". As per the announcement, women account-holders under the Pradhan Mantri Jan Dhan Yojana (PMJDY) would receive cash transfers of Rs. 500 per month for next three months. However, Das stated that most sex workers do not have a bank account or Jan Dhan account.
Let's Talk: Workers During Lockdown and Govt's Apathy
This is a time when workers face an unprecedented challenge – the COVID-19 pandemic which is affecting their livelihood and their ability to mobilize. Workers' unions have a very difficult and challenging task at this point – to mobilize and fight for their rights during the time of physical distancing. What are the challenges faced by workers and the attitude of the government? Which are among the sections worst affected? We talk to K. Hemalatha, president of the Centre of Indian Trade Unions on some of these issues