The lockdown imposed as a response to the Covid-19 pandemic has brought intense suffering and hardship to migrant workers, daily wage labourers, poor and other marginalised groups. Karwan-e-Mohabbat is a campaign which is engaging with people under distress during the lockdown and helping them through advocacy and immediate solidarity relief.
In this conversation with Daniya, author and activist Harsh Mander, who is also associated with Karwan-e-Mohabbat, talks about the situation of poverty, hunger and distress that various categories of the urban poor are facing.
Daniya Rahman (DR): The lockdown has caused widespread panic across the country leading to job loss on a huge scale and now hunger of millions of migrant workers and daily wage labourers. Karwan-e-Mohabbat (K-e-M) is working with those workers affected by the lockdown. Could you tell us what K-e-M has witnessed — the living conditions of the poor and the labourers; money; food; ration; sanitation etc?
Harsh Mander (HM): I think there's a situation of intense desperation in every corner of the country. In a country which has the largest population of poor people, with allotments of the smallest percentage of GDP for relief, the government has announced one of the most stringent lockdowns in the world. In a society with such intensely embedded socio-economic inequities, the lockdown, without adequate state support, amounts to a profound denial of the right to life with dignity for millions of people. It is not a choice between life and livelihood but a choice between life and life. Whose lives are being sacrificed or put in intense danger and who are being protected and supported is something that we as a country and the government need to ask.
When the Prime Minister imposed the lockdown and said we must stay at home, work from home, keep social distance, etc, he was only speaking to that segment of India who have a home, have the possibility to stay at home and still get a salary or fall back on savings; people who have health insurance; who have houses large enough to maintain social distance; who have running water to wash their hands regularly. There should have been elementary clarity that only 300 to 400 million people might have this kind of life; but there are 800 million people or more who don't have all of these. A lockdown of this severity was suddenly enforced without any initial support to the millions of people who were not prepared for it in any way. This reflects the government's complete, deliberate, unconscionable and what I would even call criminal amnesia about how such a large population will survive this brutal lockdown.
K-e-M is a team of volunteers and fellows who came together from across the country to respond primarily to the rising hate crimes and lynching and the mounting climate of hate. It was a network that already existed. I also had colleagues in different parts of the country who were working with homeless people and also with street children. These various groups spontaneously came together when we realised that we simply could not just sit idle in our homes when hundreds of millions of our brothers and sisters were being pushed to the edge of starvation; we needed to do something, to reach them not with charity but with solidarity.
Our objective was to reach out, to whatever extent possible, to people whom the state isn't reaching out to, to those battling with hunger. And, to reach them with respect and care. It started off as a small initiative in Delhi among the homeless from the 2nd day of the lockdown. But very soon we started receiving a huge number of distress calls from all over the country; and we felt we needed to stretch ourselves as far as we could, to respond. We then made a larger team and set a very high target for ourselves. Initially this was to ensure one million meals to people hit by the lockdown who the state was not reaching. Then the need became even more immediate and imperative from across the country. So we raised our goal to 2 million, then 3 million, and because the lockdown got further extended, our goal now is to ensure 6 million meals, to the last of the people in need. We get distress calls from migrants, from their families, and we are also very familiar from our earlier work with homeless people and casual daily wagers. Even at the best of times, they have a very precarious existence, very uncertain casual work and depend on food charity. We tried to cater to this with a large network of people reaching out in solidarity, arranging food and ration. There are volunteers doing different things, so there's a group which receives distress calls and reach out to our volunteers around the country in 10 states; others donate; still others raise donations and respond to donors; still others cook the food or prepare family ration kits; and there are people who actually step out with food and rations.
That's one part of what we try to do, the second part is what we call immediate advocacy with the state. Wherever we find that there is distress, we try to reach the officers of the state government to ensure that while we provide immediate relief, they also try to address the excluded group, by bridging the exclusion with entitlements.
The third task we set before us is to ensure that these stories of exclusion, hunger, joblessness, dislocation and indignity heaped upon millions of our people are told. Because there's too little reporting from most of the mainstream media. So we try to tell human stories of distress, through videos and print stories that the Indian Cultural Forum and Newsclick also share very often. We have a very fine team of media colleagues who are doing this.
The fourth part of our work is to analyse policy announcements and implementation; and to offer and advocate for alternatives to the government about how one can be more equitable in dealing with these issues. This maybe through writing, discussions, approaching the courts, public letters and so on.
We often talk about migrants because they've become the visible face of the distressed, but we need to understand that there are many categories of the urban poor – apart from the stranded migrants, there are people who are now domiciled in the city but are very poor, such as self- employed people, street vendors, rag-pickers, rickshaw pullers, etc. There is no support of any kind available to them. In addition to this, there are people who belong to stigmatised excluded groups such as the trans community, sex workers and so on. There are people who work in micro enterprises and small businesses like eateries and small factories, people who were laid off immediately and most of them are not getting paid. Then you have casual daily wage workers and unemployed people. And then at the very bottom are the destitute poor people, who even in the normal course, depend on some kind of food charities (because the state does not have comprehensive, adequate systems of social security). That's a whole range and I am not even talking about the rural poor yet. Each of them has different kinds of challenges as they struggle.
It is important to remember that a large number of these people had fully functional lives, they had work. They are the ones who build and service our cities. They make our lives and lifestyles possible in many ways. The clean our homes and the streets, they drive us around, they clean our homes, they take care of our children, the clean our sewers, they plumb our pipes, they repair our electric lines, they cook and serve us food. They were not well paid, they should have been paid much more, they were not getting any protection by labour laws, they were not even paid minimum wages, they had no substantial savings, but they were.
And suddenly that is completely disrupted. We have reduced them almost to the status of beggars. For every meal, we are making them line up in queues, sometimes even two kilometres long, in the hot sun, just to get one meal. It breaks my heart to see that even if the word breaks out that food is being distributed somewhere, you find people running, falling over each other, for food. We have stolen from them their security, food, and livelihood. But above all, we have stolen from them their dignity.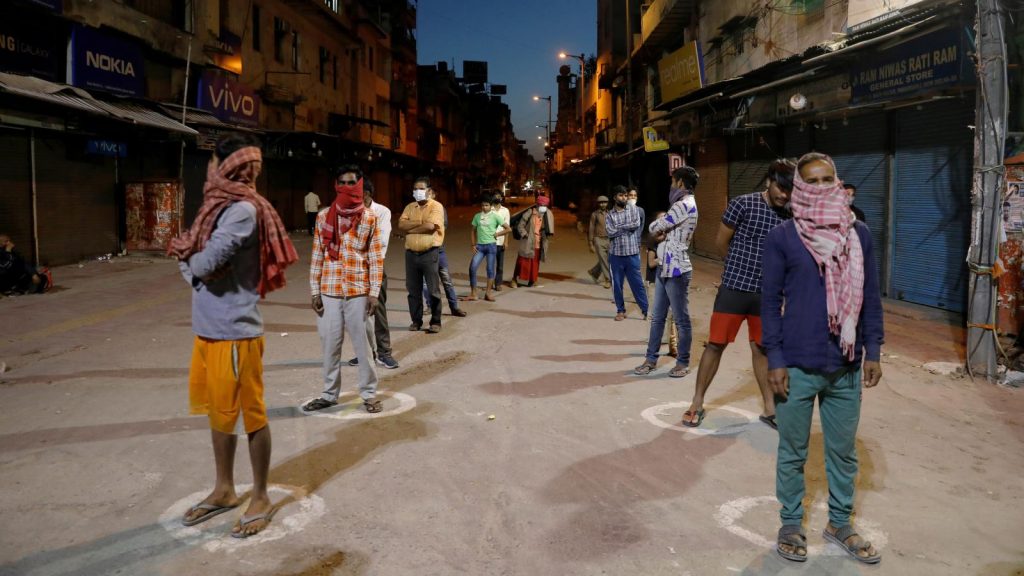 DR: The government announced that it will provide every individual with 5 kgs of rice/wheat for the next three months, in addition to one kg of pulses per family." But there are millions of families who are not on the public distribution system, with neither money, nor access to government relief measures, how can one ensure that these millions do not starve? What other measures is the government taking, if any?
HM: The Delhi government has responded to some degree after the initial days. A lot of our collective voices and advocacy helped as they have stepped up. But what the government is doing is still palliative measures. Giving cooked food and making people line up for hours in the hot sun for each meal is completely inhuman. It is not a solution to the existential crisis into which they have been thrust.
For the rations that are being given in Delhi, there are still large gaping holes. Our own food teams are identifying many groups that are still not reached. One set of these people are the survivors of the communal violence in North East Delhi. First they faced communal violence, then the pandemic and lockdown, and now, a large number of them are being picked up by the police. So groups like these, groups like the Rohingya refugees, a large homeless population, people who live in unauthorized slums, rag-picker groups, and stigmatised groups like trans people and who do not have any kind of documentation which qualifies them for getting ration, are all who continue to fall through the large cracks.
Just like many of us in the middle class are assured our salaries over the period of the lockdown, I am entirely convinced that the rights to life and equality guaranteed in the constitution demand that at the very least, the state must ensure statutory minimum wages to these people during the period of the lockdown and for some period of the recovery. That is the minimum necessary provision that the state should provide. It should also provide some kind of clarity among the middle class about how they are being asked to cope with the lockdown. Imagine if middle class people were told that we will get the equivalent of one or two days of their salaries, 500-1000 rupees and get 5kgs of grain, would we be able to accept living under these conditions for surviving the pandemic? Why should the poor working people, who have much less, be asked to survive in these conditions?
The second is that we have 77 million tons of grain in godowns and the maximum buffer stock required is 24 million tons; and we expect good harvest for as much as 40million tons more. It is difficult to believe, but the cost of storage of all this is actually higher than the cost of distributing it to the poor. So our demand is that during the lockdown, the government should double the PDS allocations and distribute it universally to anyone who seeks it, without cost. Jayati Ghosh and Prabhat Patnaik have calculated that if we do an income transfer of say Rs.7000 to every household and a universal PDS and assume that it covers about 80% of the population, it would still not cost more than about 3% of the GDP.
DR: You and Anjali Bhardwaj had filed a petition seeking payment of wages/ minimum wages to migrant workers within a week and preparation of national and state disaster management plans for dealing with COVID-19. But the CJI said that "the court didn't intend to interfere with the govt's efforts." How do you feel about this? Could you tell us more about the petition? What demands were made in the petition?
HM: The petition asked largely about the things that we spoke about: universal PDS, minimum wage income transfer to all workers etc. We found that the court was not responsive. The Indian government presented reports to the court claiming that they were doing everything that is necessary. We raised a lot of date and facts in the court to counter the union government. At one point the chief justice even made a remark that "when the government is giving cooked food to the workers, why do they need cash payments and salaries?" At the risk of contempt, I was feeling that I should say, "Respected judges, by this token, I will ensure you are sent every meal; all of you should then also forego your salaries."
Why should it be different for poor people? Would they not need cash, even assuming that every meal is provided to them?
Finally, a few days ago, the court closed our case, saying basically that the government should act appropriately to the points raised by the petitioner.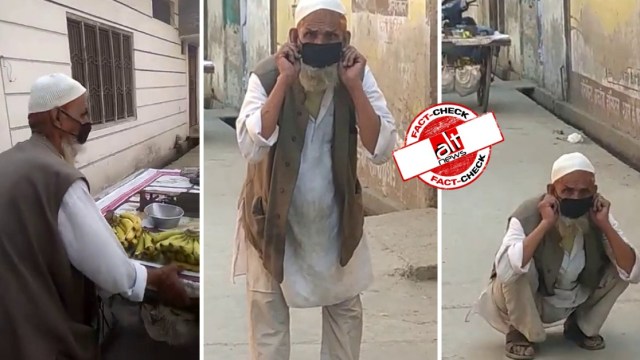 DR: We are increasingly hearing news of discrimination on the basis of caste and/or religion. Could you share your views about this "communalism" in the time of a pandemic?
HM: It's absolutely astounding how a pandemic caused by a highly contagious virus was suddenly converted, in the popular imagination, into a virus that was being spread primarily because of India's Muslims. It didn't happen by chance. Clearly the Tablighi Jamaat participants were misguided, but that was not the only large gathering that was going on at that time. The parliament itself was in session, let us not forget. The Madhya Pradesh assembly was also witnessing the circus of buying and selling MLAs. Apart from that, there were a number of religious gatherings by people of other faiths – Hindu and Sikh. I am sure that if the same kind of intensive testing, as happened with the participants of the Tablighi Jamaat, was undertaken for these other groups, would have happened for other gatherings, we would have found evidence of virus spread through them as well. The conscious and continuous focus on the Tablighi Jamaat, both by the central government and by the Delhi government, sowed the seeds of communalism clearly and cynically.
Then you have a large segment of media which followed the suit with a highly shrill campaign which further led to the popular understanding that Muslims were primarily responsible for the spread of the virus.
The vicious social media campaigns of fake videos where Muslims were shown spitting on vegetables and food also contributed to that narrative. All of these were fake videos. If the government had any sense of responsibility, it should have punished those who were spreading those videos, but nothing has happened to them.
Although these are fake videos, the government's own briefings, the feverish media and social media, collectively, have created such an impression that even Hindus who are not ordinarily given to communal thinking, have somehow been convinced that Muslims are responsible. This has led to a terrifying situation for Muslims all across the country. My colleagues are reporting back that there are now signs outside some villages saying Muslims are not allowed; even Muslim volunteers distributing food are turned away sometimes. There's a social boycott, people are not buying from Muslim vendors. Many vegetable vendors have put up placards and flags to indicate their religious identity. Muslim vendors are boycotted.
If we have to win this battle, it is, above all, through solidarity — the idea that rich or poor, urban or rural, Hindu or Muslim, all stand together. It is only through this solidarity that we have any chance of winning this unprecedented battle. However, if we allow our solidarities to be divided by such venal narratives, enabled and fostered by the ruling government, it creates a very grim prospect for what lies before us. We must strive to build solidarity and trust between us as we try to rebuild our broken country in the wake of the pandemic and the anti-poor manner that we have chosen to respond to it.