Large Gender-gaps in Utilisation of Ayushman Bharat PM-JAY, Says Paper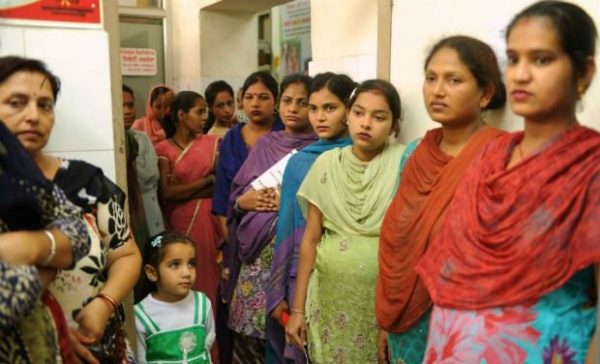 Huge gaps remain in the number of male and female beneficiaries of the Ayushman Bharat Pradhan Mantri Jan Arogya Yojana (AB PM-JAY), Prime Minister Narendra Modi's flagship health insurance scheme that was launched in September, 2018, according to a paper published by a government authority earlier this month.
The paper presents gender-based broad trends in hospital admissions raised for the first 16 months under the scheme. It points out that according to the National Sample Survey, there are "wide state-wise gender gaps for average expenditure on medicine, ranging from 1.9% to 67% for treatment per hospitalisation case". It adds that under the PM-JAY scheme, the gender gap range for claims paid for hospitalisation ranges from 2.9% to 30%.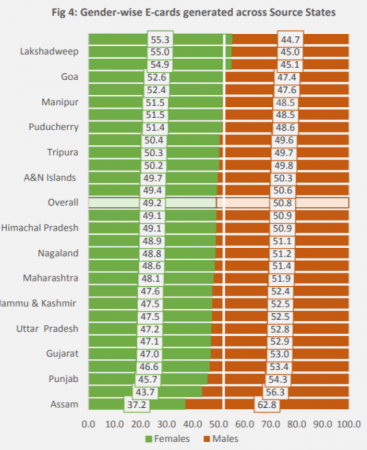 Source: National Health Authority
A look at the data presented in the paper shows that between September 2018 and December 2019, a total of 51,91,239 pre-authorisations were raised under the AB PM-JAY. Out of this, 26,73,295 pre-authorisations, that is, 51.5% were raised by male patients, while 48.5% were raised by female patients. The cost of the pre-auths raised was Rs 7,925.54 crore, out of which 56.4% was for male patients, and 43.6% was raised for female patients. The gap seems almost negligible, but the paper points out the if the cases connected to the obstetrics and gynaecology specialities are excluded, these gaps become much, much higher.
It says, "Moreover, ten states namely Bihar, Chhatissgarh, Mizoram, Andhra Pradesh, Jharkhand, Kerala, Karnataka, Madhya Pradesh, Nagaland and Punjab (in the order mentioned) are raising more hospital admissions for females than males due to normal and caesarian deliveries under Obstetrics and Gynecology (Obs. and Gynae) specialty, and removal of admissions raised due to Obs. and Gynae reverses the trends. It is also found that more hospital admissions for females are in the age-group (19- 44 years to 45-64 years) at public health facilities undergoing secondary treatment for unspecified procedures mainly in green field states."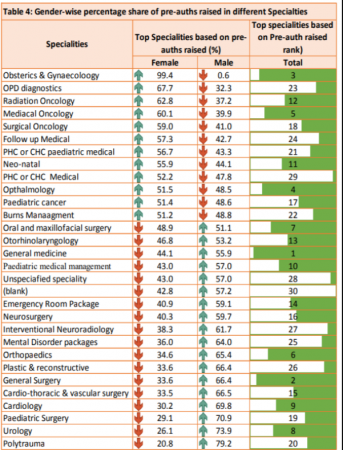 Source: National Health Authority
The paper also points out that while the majority of the procedures utilised under specialties like ophthalmology, neo-natal, and obstetrics and gynaecology are for female patients, in the rest of the top specialties, procedure utilisation is much higher among males. The paper says, "Out of total 50 top procedures from top 10 specialties (excluding Obs. and Gynae. As they are utilised by females only), percentage utilisation is higher for males in 60% (30) procedures, and 32% (16) procedures are utilised more by females." Added to multiple procedures which require hospital admission, there exists a wide gender gap of more than 70%.
AB PM-JAY services included 1,393 treatment packages for 25 specialties in Health Benefit Packages (HBP) 1.0 (inclusive of 1 unspecified procedure), but the package count has now been revised to 870 covering 1,578 procedures with the launch of the revised HBP 2.0 (the revision is under process, but the analysis presented in the paper is based on HBP 1.0). Of the total 1,393 HBPs under AB PM-JAY, 116 are women centric and 64 are for men, while 1,213 are common for both. The gender-wise HBP based hospital admissions reveal that all four specialties of oncology- radiation, medical, surgical and pediatric cancer are higher for females, however, males scored higher for polytrauma, urology and cardiology packages. In total, 65% of the top 50 procedures are utilised more by men.