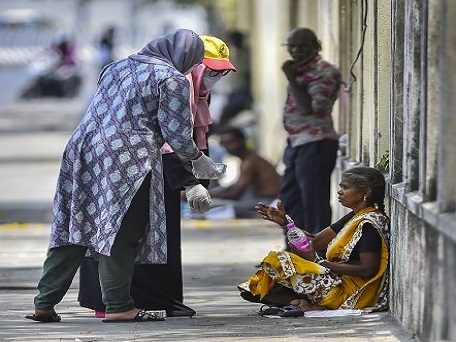 In what is perhaps the first ever instance of a peoples' protest at a countrywide scale anywhere in the world, the leading trade union of India, Centre of Indian Trade Unions (CITU) has called for a protest from rooftops on April 21, demanding better government policy on ensuring wages for workers, food for their families, protection (or reinstatement) of jobs and safety of frontline health workers, among other demands. The call is expected to be widely observed in working class residential areas across the country. Its scale has widened considerably after several organisations of farmers, agricultural workers, women, youth and students extended support and vowed to join the protest.
According to Tapan Sen, general secretary of CITU, every state and every union or federation will adopt its own way of observing the protest, which is unique and taking place under exceptional circumstances because of the countrywide lockdown and health advisory of maintaining distance between people.
"This kind of protest has never taken place, so we are in uncharted territory. But there is so much anger among working people that it must be conveyed to the ruling Modi government through some means," Sen asserted.
Workers and their families will gather on their rooftops, balconies or courtyards, holding placards and flags, and raise slogans for a change in policies. Some unions have called for the banging of vessels too. Others are planning use of public address systems, or whistles and horns. Where workers are on duty, handwritten placards/banners etc. with the demands may be displayed at the workplace, a CITU statement said.
Key Demands
While declaring the three weeks long lockdown on March 24, Prime Minister Narendra Modi had deftly transferred the burden of fighting back the looming pandemic on to the people, asking them to be resolute and restrained, later asking them to sacrifice for the country, too. But amidst all this verbiage and sermonising, he blithely avoided making any commitment to help in this crisis. With incomes suddenly snatched away, jobs lost and movement restricted, not only were millions of families left on the verge of starvation, but their future itself became ominously dark. The government did announce a slew of half measures, but that was just moving money from this pocket to that. It 'directed' employers to pay wages and not sack anybody, but mostly this has remained on paper. Food rations have not yet reached all people, and even the government admitted in the Supreme Court that in 13 states, NGOs were giving out more food than the government agencies. The pandemic has, meanwhile, continued to spread steadily and with relentless pace, as frontline workers (like ASHAs and anganwadi workers/helpers) continue to work tirelessly without protective gear. Six days after the lockdown was announced, the muddled government conceded that rabi harvesting could be exempted, otherwise the whole rabi crop was going to rot in the fields.
In this background, CITU and other supporting organisations have raised the following demands which are at the centre of the Protest Day on 21 April:
For Workers and Employees
Ensure wages to all

Stop retrenchment of contract, casual, outsourced and other workers and employees

Stop any attempt to increase working hours from 8 to 12 in any manner – At once

Take strict action against employers violating the directions/guidelines issued by government of India related to non-termination and payment of wages to all workers and employees

Provide protective gear for all frontline health and essential service workers – Urgently

Stop retrenchment of journalists, IT/ITES employees

Arrange food and shelter for all migrant workers – Immediately
For Farmers
Ensure agricultural operations, remunerative price and procurement centres for all crops

Provide financial aid for farmers for harvesting, transport, cultivation, etc.
For all Non-Income Tax Paying and Poor Families 
Transfer not less than Rs 7,500 to the bank accounts of all non income tax paying families for three months – Immediately

Expand Employment Guarantee Scheme to urban areas, increase work under MGNREGA to 200 days in a year

Pay pending wages for MGNREGA workers – Immediately
CITU has also demanded that the government provide financial help to MSMEs, which employ almost two thirds of the workforce, and who are now facing a mortal danger of complete collapse. CITU has also called for interest-free loans to self-help groups (SHGs), so that their earnings can be boosted. Measures to check domestic violence have also been included in the demands because of the unfortunate rise in such cases after the lockdown began.
CITU Leads in Protecting Workers' Rights
The Labour Secretary in the Union government had issued a directive/advisory (DO no M-11011/08/2020) dated March 20, 2020, telling employers not to terminate employment of any worker and nor to cut wages for the lockdown period. Yet, such instances have become the rule rather than the exception, with employers openly flouting the government's advice. The government has been observing this; yet, not doing a thing, except when protests are launched. The CITU has sent 13 letters pointing out specific instances of industrial units that have either thrown out workers or cut wages.
These include termination of employment of contract/casual workers in Banks in West Bengal, Border Roads Organisation and Hydro Power Project in Jammu & Kashmir, nonpayment of wages in Jute Mills and Tea Gardens and in Alloy Steels Plant in West Bengal, nonpayment of wage to tea-garden workers in Tamil Nadu and termination of employment and wage cut in IT & ITES sector in Karnataka and West Bengal, nonpayment of wages to contract workers of Kolkata Airport, termination and nonpayment of wages in the media, etc.
In many cases, like the airport contract workers and others, the Union Labour Ministry or the Central Labour Commissioner were forced to intervene and get employers to pay earned wages of March, which were being illegally held back, Sen said.
"This issue is going to become an explosive one in the coming days, especially first week of May, when wages for April will become due. The government's orders are that wages for the whole of the lockdown period be paid, irrespective of whether work could be done or not. Whole of April there has been no work in industrial units and other establishments. There is bound to be an attempt by employers to refuse payment – and CITU will lead the resistance to such a dirty, illegal move," Sen added.
CITU has been attempting to protect the rights of workers by pointing out cases of illegal termination or wage cuts throughout the country, despite the lockdown. For instance, Sen pointed out, in West Bengal, all sub divisional magistrates in the state were given a list of violators by deputations of CITU recently.
In Maharashtra, CITU's intervention ensured that over 1.3 lakh migrant sugarcane workers were transported back to their villages at state government's expense after they were left stranded in their places of work in the sugarcane growing belt of the state.
Relief Material for Starving Workers Families
After a call given by CITU, lakhs of rupees worth of rice, salt, cooking oil, pulses and other essential items (like soaps) have been distributed to poor and the needy daily wage workers, informal sector workers, construction labourers and other destitute families, in all states of the country.
"We gave this call and we were not sure how to organise it in the lockdown. But the response has been far beyond expectation in all states, and the people's solidarity with suffering working people has been an eye-opener," Sen said.
In Delhi itself, where the infamous rush of fleeing migrant workers was caught on camera and shown around the world, over Rs.16 lakh worth of food supplies have been distributed so far.
"We are getting information about stranded and starving families every day from all over the country, and we immediately locate them and give the essentials," said CITU Delhi General Secretary Anurag Saxena.
With this work in the background, the big fight for protecting the workers and their rights is now going to begin in right earnest, says Sen.
"The Modi government is using the lockdown and public fear to push through anti-labour changes, like the reported proposal to increase the working hour day from 8 hours to 12 hours. All these measures will be fought back tooth and nail," Sen said.
This battle begins on 21 April with the first ever country wide protest.