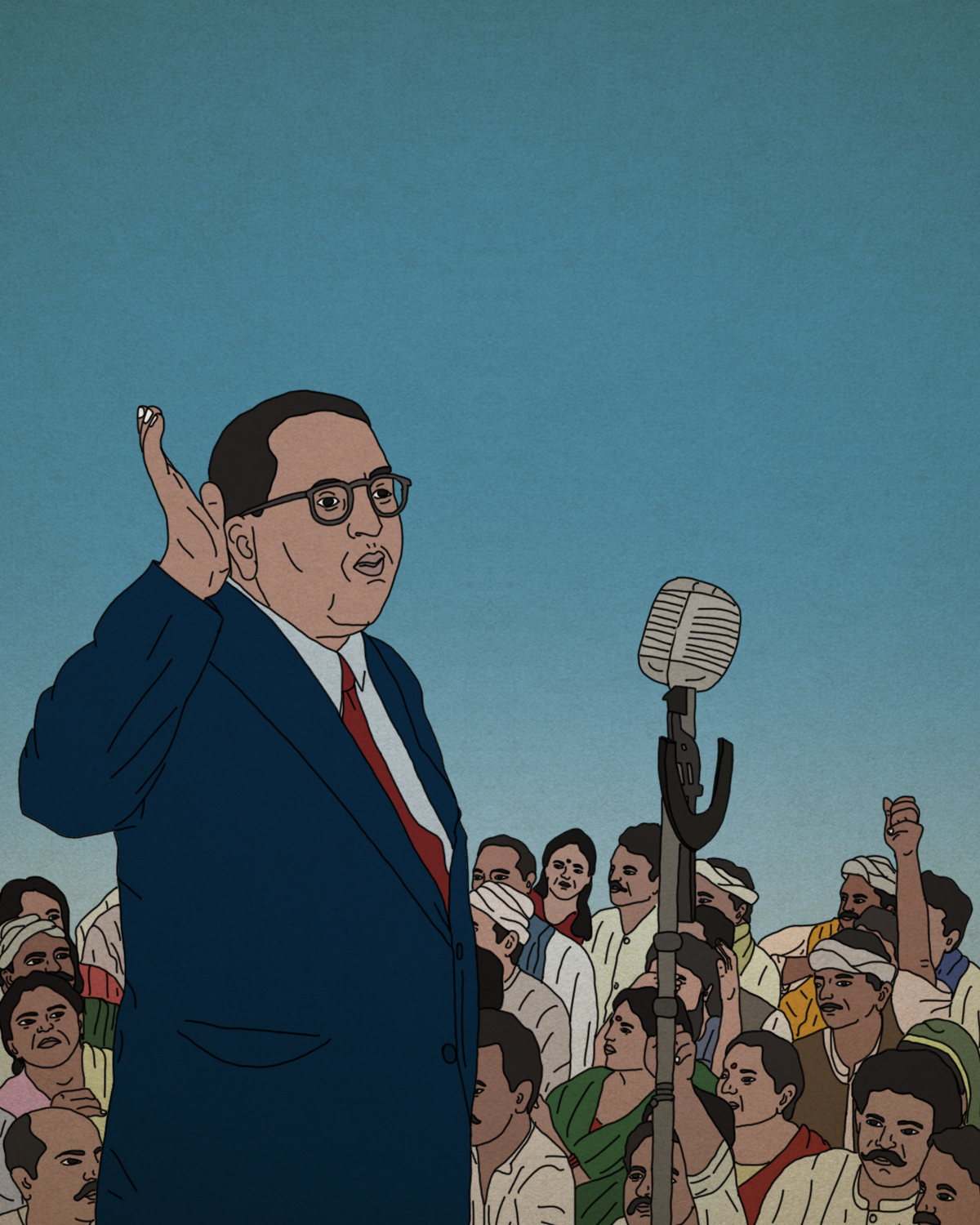 In 1904, Ambedkar's father, Subedar Ramji Maloji Sapkal, moved to Mumbai from Satara with his family. Babasaheb Ambedkar was then thirteen years old. His father admitted him in the Maratha High School, but upon learning that a government school would offer a better education, he moved him to Elphinstone High School. Ambedkar studied until his BA in this school of elite Parsis and Savarnas, where he was the only untouchable student. Studying there until graduating was an unimaginable journey, filled with pain and fear for Ambedkar. Neither his school nor his teachers encouraged him. However, young Ambedkar was a determined and voracious reader. He found himself a place to go after school hours in order to nurture his intellect. His industrious biographer, CB Khairmode, writes:
"After high school was over, Bhiva (Ambedkar) used to go to a garden on Charni Road to read books endlessly. Those days, at about 5 PM, a headmaster of Wilson High School and a non-brahmin scholar, Krushnaji Arjun Keluskar, also used to come to a particular spot in the garden to read. They noticed each other, three or four times. One day, Keluskar went up to Ambedkar and, on inquiring, learned of his circumstances. Bhiva felt satisfied. Keluskar shared with him information on how to read methodically. He also gave Bhiva a few books written by notable writers. After this, Bhiva's reading choices became broad, and Keluskar and he developed a strong bond."1
When Ambedkar passed his matriculation in 1907, Keluskar gifted him a biography of the Buddha that he had written. It is not that Ambedkar did not spend any time with children his own age. In fact, he was very involved in playing games with other boys. When his family moved to Mumbai, their financial condition became weak. Despite this, whenever Ambedkar expressed a desire to read a particular book, his father would make sure that it was in his hands by evening.
---
Also read | Dalit Women as Active Participants in Ambedkarite Movement
---
Sometimes, Ambedkar's father had to mortgage his daughters' ornaments to provide him books. Seeing his father's complete dedication to giving him all that he needed in the pursuit of knowledge, young Ambedkar also drifted gradually into reading all the time. After a point, he dissociated himself from playing and other leisurely activities. Reading became his sole purpose in life. His father was his first mentor as well as trainer when it came to books and reading. Young Ambedkar dedicated his energy and all his emotion into books. He became uncompromisingly hungry for knowledge and put all his effort into it.
"He travelled to school by a BBCI (Bombay Baroda Central India) vehicle. His father used to give him the expenses for railway travel. But he neither bought tickets nor a pass with the money, ever. Bhiva never spent the money he would get from his father for rail travel. With that money he would buy new and old books, and after reading them, he gave them to his friends. Some of that money he would spend in buying notebooks and sheets of paper on which he would write the new words, idioms and phrases he came across in books."2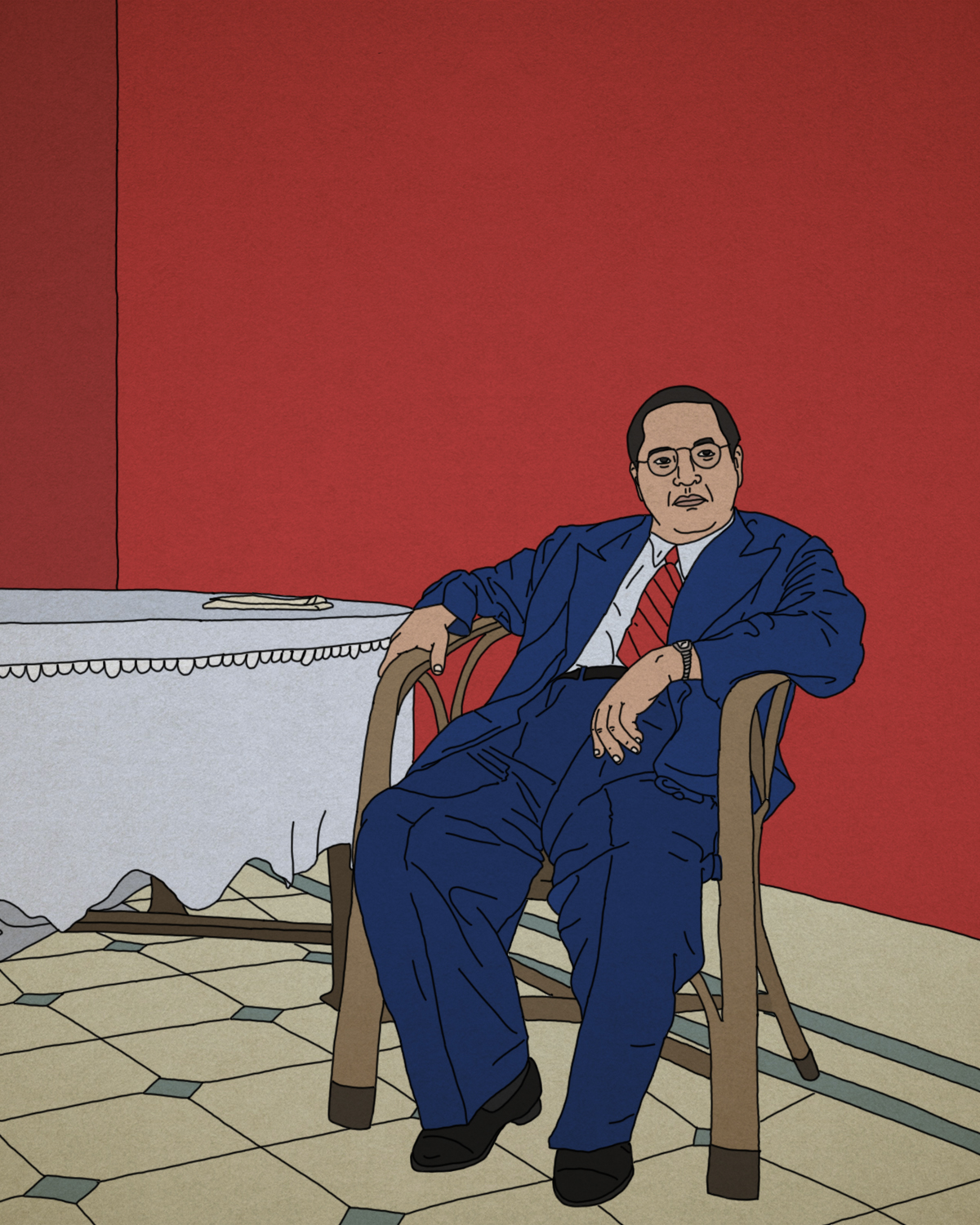 Ambedkar was very aware of his father's contribution in making him a studious person. But books also offered him a world that had what he sought most: the scope to develop his mind, the freedom of choice to be himself, and an empathy that the world outside rarely offered him. It is no wonder that he made books his world. His father had a lion's share in nurturing his ambitions and fanaticism about books. Ambedkar recalls this in his own words:
"From the beginning, I have enjoyed reading all books, neglecting my school studies. But my father did not like that. He used to say, school studies must come first and, if necessary, other books can be read later. He was proud of the English language, as much as of Marathi. He was very eager to learn English. He always told me, 'Learn all the books from Harvard by heart'. Likewise, he made me learn three books of Tarkhadkar's translation lessons by heart. My father also taught me how to find appropriate substitute words from English for Marathi words and to use them in their proper places. I think I am a little renowned for speaking and writing good English. But the way my father taught me to use the proper word in a balanced way, no teacher ever did. He always tested my knowledge by quizzing me with random words from Tarkhadkar's books. Likewise, he taught me how to use English idioms and language style."3
Ambedkar became the first untouchable to matriculate in 1907 and get a Bachelor of Arts. Keluskar helped him get acquainted with the Maharaja Gaekwad of Baroda, who, seeing his merit and unfaltering zeal for learning, awarded him a scholarship of £11.5 per month for three years, 1913 to 1916. Without much delay, after settling his responsibilities at home, Ambedkar boarded a ship and landed in New York, which was waiting for him to change his life forever.
"In New York, he lived and ate with other students. Indian and American students were on good terms. He used to participate in plays without hesitation. There was no restriction against dancing with girls or playing tennis or badminton. Bhimrao spent four to five months relishing in such entertaining games and activities. He may have thought that his two degrees, a Masters and a PhD, could be acquired without much trouble, so why bother about studying? So, he participated in plays and discussions which went on until 2 AM. He spent less time studying. Then one night, after chatting with the other students, he returned to bed by 3 AM.
Thoughts started to infuse within his mind: what am I doing? I came here to study, leaving all those I love thousands of miles away. And instead of studying, I am enjoying myself, that too on scholarship money. If I can use this opportunity, then I can build my reputation. Merely acquiring degrees is of no use. Only if I study all my subjects thoroughly will I be counted among the world's scholars. If I study only to acquire degrees, then I can lead a simple life…
Many such currents of thought filled Ambedkar's mind and he grew restless. While the other students snored, his mind was stormed by thoughts and his sleep disappeared. His mind was a cyclone of thoughts. He regretted wasting four or five months very much. By 5 AM, he was up in his bed and resolved that from that moment on, he would spend his life only in studies, not enjoyment. This is how his conscience was awakened. That was his night of introspection. That was the night that marked the beginning of his impressive future life. At night, when the sounds of giggles or shouts come in from neighbouring rooms, Bhimrao would lock the door and windows of his room, stuff his ears with cotton, and study. Every day, bit by bit, he increased the length of his studies. In six months, he was studying twelve hours a day."4
---
Also read | Ambedkar in Dalit Women's Literature and Life
---
At Columbia University, Ambedkar had taken up more courses and credits than one could imagine for the limited period of study. He remained focused and resolute in his aim to become a learned man. Always at the back of his mind was his own and his community's history, pushing him to use all the knowledge he was acquiring for liberation. For his anthropology seminar, he initially wanted to work on King Sambhaji's life and work, but something made him change the topic. He kept thinking—if my knowledge does not address the pain of my community and does not free them from the slavery of untouchability, then what is its use?
Ambedkar decided to present a paper on caste. That paper, titled Castes in India, became seminal in the history of sociological studies, and the rest, as we know, is history. In 1950, Blake Clark, a roving editor of The Reader's Digest, took note of Ambedkar's fanatical engagement with books. He wrote, "Few students on any campus have ever exhibited such a voracious appetite for knowledge. He became absorbed in history, anthropology, sociology, psychology and economics. When he received the degree of Doctor of Philosophy in 1917, he had more than double the credits required."5
When Ambedkar returned to India, he had intended to go back to England for further studies. He was already a highly learned man and the foremost intellectual in India. Yet, in this intellectually poor country, for caste Hindus, he was still an untouchable. The ignorance of caste Hindus did not allow them to see his brilliance. So, when Ambedkar went to Baroda to render his services, as required by the terms of his scholarship, he was treated poorly, insulted and humiliated. None allowed him a place to live, so he took on a Parsi name—Edalji Sorabji—to stay at a Parsi Inn. But his identity was revealed there, and he was given death-threats if he did not leave the place immediately.
The most learned intellectual of the country was treated this way because of his caste. What about how the illiterate members of his community are treated, Ambedkar thought. That day, saddened, he sat under a tree in a garden in Baroda. He thought it over again and again. He could not get over the fact that despite being the country's most educated person, he was treated worse than any human being deserves. He decided to fight the source of this discrimination: brahmanical society, caste society. He, like a Spartan warrior, decided to fight and free his people and everybody who is a victim of caste. That day was the beginning of his relentless fight for justice. And the rest is history.
---
Notes:
1 CB Khairmode, Dr. Bhimrao Ramji Ambedkar, Vol 1, Sugawa Prakashan.
2 Id.
3 Dr. Babasaheb Ambedkar, Navyug, 13/04/1947.
4 CB Khairmode, Dr. Bhimrao Ramji Ambedkar, Vol 1, Sugawa Prakashan.
5 The Reader's Digest, March 1950, p 108.
All translations are by Yogesh Maitreya.Artwork is by Siddesh Gautam (Instagram : @bakeryprasad_azaad)