A dark manhole, caste and COVID-19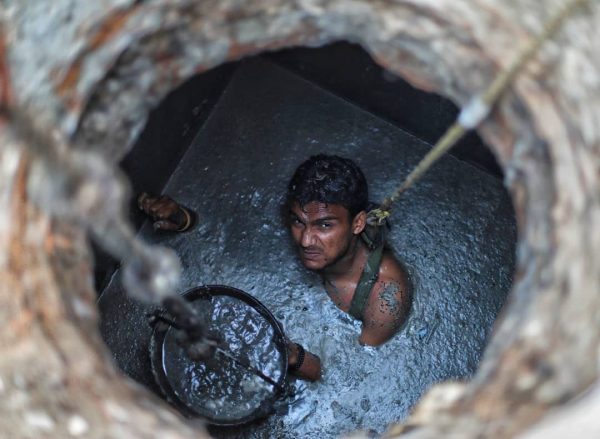 It is 7AM in the morning. The roads are empty. Beside a clogged sewer, a man in his 50s holding a long rod changes to his uniform— a pair of torn shirt and trousers.
Rajan*, a sanitation worker in the "Second Best" realty city of India, goes down the sewer everyday with nothing but a rod and a handkerchief on his face. The foul smell emerges from the deep sewer and soon his whole body is covered in black fluid which is the toilet waste of the nearby high class housing societies.
He opens the lid of the manhole he is about to crawl into. Not only is this dark, cramped hole into which Rajan steps,hazardous, it is also illegal; especially without protective gear. However, with a smile on his face he says, "This is all I know and I have big family to feed."
India is in a COVID-19 pandemic lockdown. The number of coronavirus cases have crossed 6,000 and as the virus spreads, doctors & medical staff across the country report an acute shortage of Personal Protective Equipments (PPEs) to protect them from this deadly virus.
"They gave us some pairs of gloves and a few masks but they were torn after just a day. We asked for more gloves but they said it is going to take time", Rajan says.
He says that when they demanded hand soap, the contractor gave them a cheap soap. When the workers asked for Dettol soap, the contractor refused and said, "what will you guys do with Dettol?"
Despite this callousness, it is the workers who pay for the contractors negligence. As was in Manikandan's case.
Manikandan, working as a manual scavenger in Chennai, lost his job after a group of college students made his video as he was working without any protective gear. And uploaded the video on the internet. He was summoned by the contractor who should have been held responsible, and fired from the job,
"My story has been reported several times, and various newspapers have told my story but still nobody wants to hire me", he said. Manikandan's wife works as a house maid but now she is without a job as well because of the lockdown.
He has no income and his wife is not getting paid as she is not going to work because of the lockdown. "We can be hungry for two days but not everyday. I have two small kids, they don't know the realities and I don't want them to suffer", he said.
Sanitation workers, almost all of whom are from the Dalit community, are rarely given protective gear. And today even in this pandemic, essentials like masks, gloves and hand sanitisers or just simple soap are not provided.
There were at least 110 deaths of sanitation workers and manual scavengers in 2019 due to the absence of proper equipment. As per the 2013 ruling by the Supreme Court of India, manual scavenging is banned and is punishable under the law. The practice is still going on in every part of the country.
For the people from the Dalit community, social acceptance is still a luxury. In a country where Dalits are beaten up for riding a horse on their own wedding, people like Manikandan know that they will continue to suffer under this system.
"I saw the people walking hundreds of miles to go back to their villages on the news. Once I thought of doing the same but I have 12 people in the family. What will I feed them there?", Rajan asks.
Rajan receives a salary of 6000 rupees to support his family of 12. "If I buy gloves and masks with my own expense, how will I manage the household expenses", he says.
The sanitation workers mostly live in densely populated slums, a tinder box for the spread of the virus if it moves into Stage-3. The residents here are the most neglected and marginalised sections of society, that is Dalits and Muslims.
Bezwada Wilson, a renowned Dalit rights activist and the founder of Safai Karamchari Andolan says that these people are being deprived of basic human rights. "How can you ask a person to go into the sewer without any mask, gloves or protective gear? This is just inhuman", he says.
Most of the sanitation workers start working from an early age. Rajan faced discrimination in his school in Chambal, his hometown. He left his studies and came to the city for a better life when he was 17.He didn't get it.
"I am working hard so that my children don't have to do this work", he says now, while taking out the thick black mixture of mud and excreta from the sewer.
"The municipality has provided gloves and masks but they take those when the shift gets over. I clean dry toilets of the private houses in my free time and they do not provide any such protection," says Kartal, a sanitation worker and a manual scavenger from a village in West Bengal.
"Of course I am doing this job because of my caste but I see this as just another job" he says. Kartal, like many other who are working as sanitation workers have accepted the caste binaries which are prevalent in our society.
The country is watching the 24 hour news channels, constantly showing the coronavirus pandemic, but people like Rajan, Kartal and Manikanan are risking their lives to feed their families.
Coming out of the sewer, Rajan asks his colleagues for soap. The colleague gets a cake of soap from a house nearby. "We don't ask for soap on usual days but there is a pandemic, that's why we have to ask the people for soap", he says.
As the clock strikes 3 p.m. Rajan covers the manhole, and removes his 'uniform', a pair of torn shirt and pants, to wear his clean home clothes. Another day over.