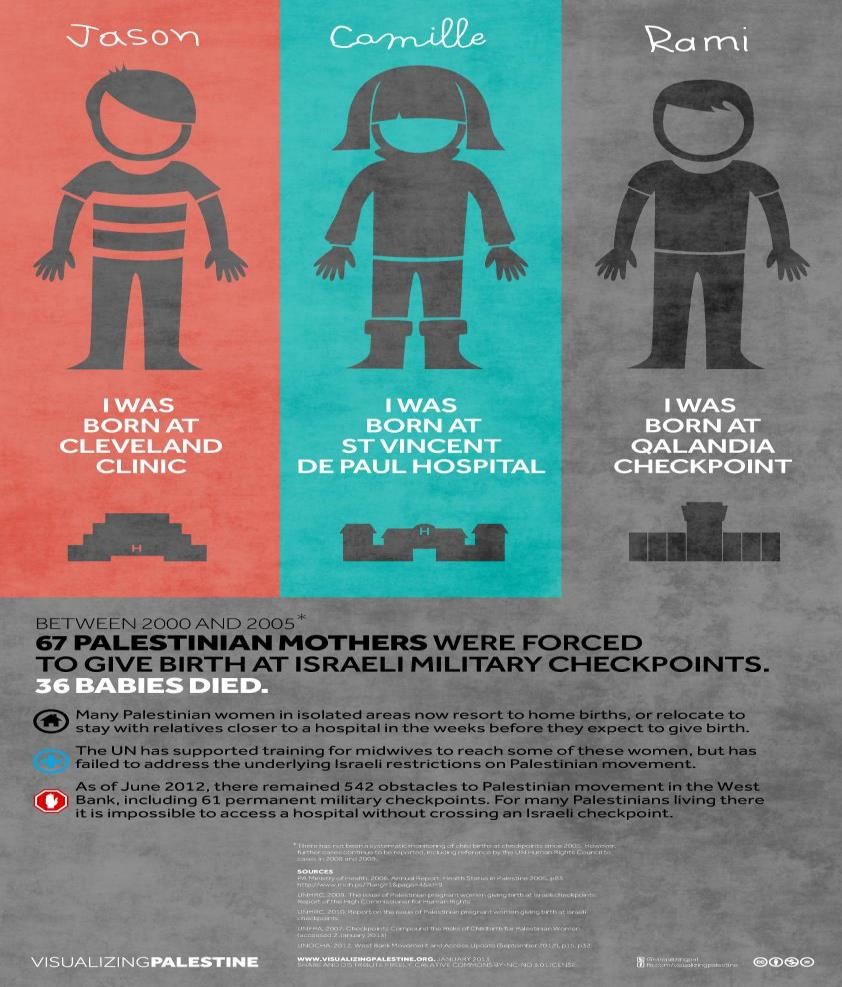 As scholars and activists cutting across fields but united in our admiration of your work, we are deeply dismayed to learn of your acceptance of the Dan David Prize, 2020. This award, that you are sharing with Debora Diniz is awarded by institutions that stand in complete contradiction to the spirit of your scholarship and the policy level changes you have enabled. The prize is endowed by the Dan David Foundation, which partners with Israel Antiquities Authority. It is hosted by Tel Aviv University, an institution deeply invested in advancing Israel's settler-colonial, occupation and apartheid project. Your acceptance of it endorses their complicity.
Reproductive health and gender justice, areas in which your work has been exemplary and effective in bringing change, are among the first victims of Israel's colonial and racist policies. 1 in
1 in 10 Palestinian women in labour are delayed in reaching hospitals and receiving urgent care by Israeli checkpoints, and many are forced to give birth at checkpoints in unsafe conditions. Israel's Zionist project is one of maintaining a Jewish demographic majority, which implies demographic oppression of Palestinian women. Non- white Ethiopian Jewish and African migrants have been subjected to forced contraception and sterilization. Israel's apartheid laws prohibit Palestinians in occupied West Bank from living with their spouses with Israeli citizenship.
Israel's racist regime has found common cause with rightwing, authoritarian regimes world over, and especially with India under Narendra Modi. India is the biggest importer of Israeli arms, totaling up to $1 billion every year. The removal of Article 370 in Kashmir has created a West Bank-like situation of in Kashmir and the amendment to India's citizenship law, which is being strongly protested all over the country, mirrors Israel's law of return and apartheid.
At the same time, seven decades of Israel's settler-colonialism, apartheid and occupation which has been resisted by the Palestinian people is also being challenged now by solidarity groups across the world as well as international bodies. The list of companies operating in illegal Israeli settlements, which has recently been released by the UN's Human Rights Council, is a concrete example of Israel being held accountable for its war crimes and violations of international law.
Israel whitewashes its bulldozing of Palestinian rights, apart from bulldozing actual Palestinian people, through the smokescreen of academic and cultural events, film festivals and other tools of pretending to appear liberal. This well-organized strategy has been documented. In 2004, Palestinian academics and artists called for the boycott of complicit Israeli academic and cultural institutions. Since then, this call has been endorsed and supported world over, including in India. Many academics have declined awards and fellowships, artists have turned down invitations and associations have cancelled tie-ups with institutions that hold up the smokescreen Israel has carefully built. In 2016, British feminist historian Catherine Hall rejected the Dan David prize for political reasons.
Dr Sen, your work has shown how fundamental demands for gender justice and reproductive health can be actualized and made concrete. In a similar way, the Palestinian call for boycott of complicit Israeli institutions is a concrete way of holding Israel accountable for its crimes. We hope you will reconsider your acceptance of the Dan David prize and stand with us in support of Palestinian rights and freedom.
Signatories:
Amar Jesani, Independent Researcher
Anand Chakravarti, Professor of Sociology (retd.), Delhi University
Ania Loomba, Professor of English, University of Pennsylvania
Ayesha Kidwai, Professor, Centre for Linguistics, Jawaharlal Nehru University
Cynthia Franklin, Professor of English, University of Hawai'i
Dakerlin Mukhim
David Palumbo-Liu, Louise Hewlett Nixon Professor, Stanford University
Dr. Mohan Rao, former Professor, Centre of Social Medicine and Community Health, Jawaharlal Nehru University
Dr.Suhas Kolhekar, Health and Environment Activist
Farida Khan, Educationist
Gautam Mody, Trade Union Activist
Githa Hariharan, Writer
Jawahar Raja, Lawyer
Kalyani Menon Sen, Feminist Economist
Kamayani Bali Mahabal, feminist and human rights activist
Keya Ganguly, Cultural Studies and Comparative Literature, University of Minnesota
Latha Ramji
Leki Thungon, Writer and Researcher
Marcy Newman, Independent Scholar
N Jayaram
Natalia Deeb-Sossa, Associate Professor, Chicana/o Studies Department, UC Davis
Neferti Tadiar, Professor, Women's, Gender, and Sexuality Studies, Barnard College, Columbia University
Pamela Philipose, Senior Journalist
Paola Bacchetta, Professor, University of California, Berkeley
Piya Chatterjee, Feminist, Gender and Sexuality Studies (FGSS), Scripps College, Claremont Consortium
Pushpamala N, Artist, Bangalore
Rahul Roy, Indian Statistical institute
Rajni Palriwala, Professor of Sociology, Delhi School of Economics, University of Delhi
Ramdas Rao
Ramneek Singh, Playwright, Theatre Director, Teacher
Rebecca M. Jordan-Young, Professor, Women's, Gender, & Sexuality Studies, Barnard College
Richa Nagar, Professor in Liberal Arts, University of Minnesota
Ritu Menon, Founder, Women Unlimited
Sagari Ramdas , Food Sovereignty Alliance , India
Samar Bagchi, Science Activist
Shirin Rai, Warwick University
Simona Sawhney
Souradeep Roy, Ashoka University
Suhail Shafi
Sumit Sarkar, Professor of History (retd.), Delhi University
Sunaina Maira, Professor of Asian American Studies, University of California Davis
Syed Aleem, Jan Swastha Abhiyan
Sylvia Karpagam, Public Health Doctor and Researcher
Uma Chakravarti, Feminist Historian
Vijay Prashad, Editor, LeftWord Books and Director, Tricontinental Institute for Social Research
Yasir Hamid
Organizations
New Trade Union Initiative
Samidoun Palestinian Prisoner Solidarity Network