Lakhs of Jewellery Artisans Return to Bengal, Owners Face Times Ahead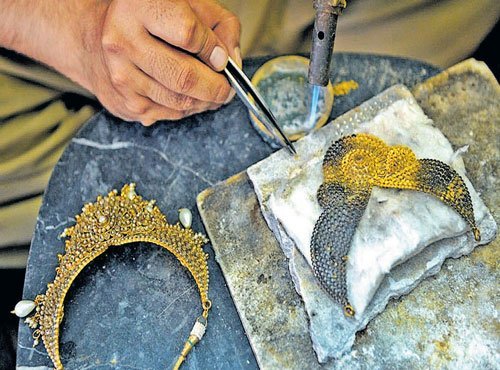 Image use for represantional only. Image courtesy: Deccan Herald
The past three weeks have been tough for lakhs of 'karigars' and their 'maaliks'/'seths' in the gem and jewellery business across the country. And matters the situation is getting tougher with each passing day with the coronavirus-induced lockdown bringing the business to a standstill.
NewsClick spoke to several persons associated with the gem and jewellery business in the past two days, and each had the same assessment – that the prevailing panic-like situation has impacted the 'karigars' (artisans), who give shape to the intricate designs, and their owners, have deployed sizeable funds.
The Prime Minister's GaribKalyanYojana, announced on Thursday by finance minister Nirmala Sitharaman,did not have within its purview jewellery artisans, said and owner, as it doesn't qualify for a "much relevant" welfare scheme, adding that the criteria laid down by the government was rather restrictive.
But, what stands out is that the owners are quite sympathetic to the cause of lakhs of 'karigars', with some of them even saying that they "must be enabled tosurvive and stay fit".
Most owners expected that in a matter of days, one month's business will be lost and it would take anything between two and three months before the situation inches back to normalcy.
An overwhelming percentage of the over 50 lakh 'karigars' in the main manufacturing centres — of which Mumbai is at the top – are Bengali-speaking. From Mumbai alone, an estimated 50,000 artisans managed to get back to their native places in West Bengal when train services were operative.
Several owners said the biggest challenge would be to persuade these artisans to go back once the business inches back to normalcy.
The jewellery business owners, therefore, felt that given the size of the artisan population, the Centre should devise an exclusive welfare/relief package for them, involving the state governments and owners.
In this context, some owners cited the measure for building and other construction workers in the GaribKalyan package.
AnanthaPadmanabhan, Chairman of All India Gem &Jewellery Domestic Council (AIGJDC),told NewsClick over phone from Chennai, that in their conservative assessment, it would take atleast three months before there is some semblance of normalcy in the business. This would mean a loss of at least 25% business under normal circumstances. He said this would be reflected in gold imports. Of the estimated annual requirement of 800 tonnes, 600 tonnes are imported and 200 tonnes are available under the old ornament exchange schemes.
Padmanabhan expected gold imports to fall to about 400 tonnes as when things are normal, as jewellery buying won't be a priority for consumers even then. The situation may improve a bit if customs duty is reduced to 4% from the existing 12.5% to facilitate softening of ornament prices.
The restrictive features of the GaribKalyan scheme vis-a-vis the jewellery artisans, according to Padmnabhan, are wage earning below Rs15,000 and units having less than 100 workers. Large units employing more than 100 persons will be barred automatically. They will also not qualify for free ration. Hence,his plea for a jewellery artisan-specific relief packagethat covers all units of all sizes.
Samar De, the working president of SwarnaShilpaBachao Committee (SSBC), known as Babluda even outside West Bengal, said over 20 lakh 'karigars' were engaged in large, medium-scale and innumerable small-scale units in various 'disciplines' of jewellery manufacture in the state.
'PoilaBaisakh' — the first dayof Baisakh as per the Bengali calendar usually falls on April 14 or 15,and is a much-awaited occasion for ornament-making units to open their new 'khata' (book of accounts) after performing pujaand inviting customers to their. The customers deposit some money to be adjusted in later transactions and the owners distribute sweets.
"We have already got the invitation cards printed and many of these have also been dispatched, with names of 5,000-6,000 invitees. It is certain we cannot hold the function. But, what we have spent on this countis getting added to the loss. Moreover, the extra jewellery demand we cater to in PoilaBaisakh because of marriages, won't be there this time round,De told NewsClick.
According to De, the'karigars' are badly in need of cash.
"Some six months ago, we issued fool-proof identity cards to them. They now also have the much needed health insurance cover and in that too, we have offered them some help. Their health insurance details are available with the Gem and Jewellery Export Promotion Council (GJEPC). These can be the basis for transfer of some cash under the Jan Dhan scheme to their accounts for at least three months," De suggested.
GJEPC is under the administrative control of the Union Commerce and Industry Ministry. The Centre must take a sympathetic viewof the 'karigars' case", De said, adding that in his assessment, it will take at least two months more before the business slowly picks up.
Mumbai-based wholesaler SaiyamMehra thinks it may take up to four months for the business to pick up. One possibility, he said,was that as gold prices were ruling quite high,consumers might try to accommodate jewellery buying in their shopping plans despite budgetary constraints,out of fear and insecurity. In that eventuality, demand recovery may occur somewhat earlier."We can, perhaps, be optimistic that mid-September onward, demand will increase as the festive season will be round the corner", Mehra told NewsClick.
Mehra said business owners would try to help the artisans with remittances under the IMPS (immediate payment) scheme of banks under which amounts below Rs1 lakh can be sent.
Sanjay Kumar Jain,Director in-charge of Madhya Pradesh and Chhattisgarh (elective post) of AIGJDC, had a somewhat different take. He told NewsClick from Raipur that 'karigars' won't suffer as "in deference to the wishes of Prime Minister NarendraModi,businessmen would not starve them of funds. Instead of 12 months, we will have business for 10 months in the difficult circumstances we are placed in".
RajaramMahadeoDeshmukh, President of Goldsmith Coordination Committee (GCC), told NewsClick from Mumbai that the city, including Navi Mumbai, was home to some 2.2 lakh 'karigars', a vast majority of whom were Bengali-speaking. There were signs of the crisis deepening, he said, adding that nearly 50,000 'karigars' had left their place of work for different places in West Bengal. More artisans were planning to leave the city but to their bad luck, train services were cancelled.
"We will try our best to bring them back, otherwise the business will suffer. Their skill level is high", Deshmukhsaid.GCC has under its umbrella 10 registered associations, including Islamic Welfare Bengali Association, whose members are engaged in the job of polishing the jewellery.
The key jewellery manufacturing centres in the country are Mumbai, New Delhi, Kolkata, Rajkot, Coimbatore, Trichy and Jaipur.