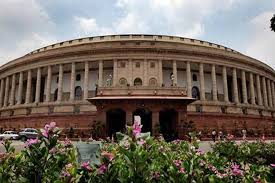 Taking note of the rising graph of crime against women in the country, a parliamentary panel has sought strong measures to prevent such occurrences while suggesting remedial steps to develop a zero tolerance policy against such heinous acts.
Concerned over the steady rise in crimes against women, the committee has pitched for denying bail to the accused and filing charge sheet against accused in 30 days for such crimes.
The Standing Committee on HRD Ministry, in its report on 'Issues related to Safety of Women", has also sought disposal of cases of crimes against women in a time- bound manner.
Referring to the quest for justice in the 2012 Nirbhaya gang-rape case, the 31-member committee said it was a "blot on our collective conscience" while advocating that such cases be disposed of within six months.
Tabling the report in the Rajya Sabha recently, the committee, headed by Bharatiya Janata Party (BJP) MP Satyanarayan Jatiya, noted that the system was not functioning in a way to provide timely justice and asked for introspection on the issue by the ministries of law and home affairs, along with associated law enforcement agencies.
Examining the issue threadbare, the committee noted that as per the National Crime Records Bureau (NCRB) data for 2018, the total number of all forms of crimes against women has been rising continuously since one decade.
In 2012, the number of such crimes was 2,44,270, which rose to 3,59,849 in 2017 and 3,78,277 in 2018.
Crimes against women transcend geography, class, culture, age, race and religion and in India, these have many manifestations, such as domestic and sexual violence including rape, sexual harassment, child sexual abuse, trafficking for commercial sexual exploitation, harmful practices, such as dowry harassment, honour related crimes, acid attacks, witch-hunting, child marriage and sex selective abortion among others.
The committee highlighted that that the spurt in crimes against women indicated that the present mechanism was not working satisfactorily and a more humane and effective system needed to be evolved through interventions at various levels. The committee has made 32 recommendations under five categories to address the issue.
LEGISLATIVE FRAMEWORK
The committee noted that despite the number of legislations being in place regarding discrimination and violence against women, such incidents were unabated, which was a cause of grave concern, indicating ineffective implementation of legislations. It recommended strict implementation of legislations relating to safety and security of women, filing of charge sheet in such cases within 30 days, denying bail to the accused and expediting the disposal of pending cases within six months so that timely justice was delivered.
The parliamentary committee also recommended 33% reservation for women at all levels, right from panchayats to Parliament, at the earliest to increase representation of women in decision- making process.
LEGAL FRAMEWORK
The committee noted that public hailing of police action in the Hyderabad gang-rape case echoed the sentiment of the society that the guilty be punished immediately and was a call for introspection for both the Ministry of Law and Justice and Ministry of Home Affairs.
The panel thus recommended the setting up of permanent Fast Track Courts with appropriate legislative backing, along with the mandate to decide the cases within six months of occurrence of incident. It also suggested balanced distribution of Fast Track Special Courts in states to expedite, adding that ideally there should be one FTSC every 500 km.
INFRASTRUCTURE DEVELOPMENT & INSTITUTIONAL STRENGTHENING
The committee called for setting up women cells in all the police stations of the country with dedicated trained female police officers/staff for handling gender-based violence cases to instil confidence in victims of sexual violence with regard to lodging of complaints.
It also strongly recommended that the Ministry of Home Affairs should operationalise a single helpline number for registering all complaints in cases related to safety of women. This number should be prominently displayed at all railway stations, public transport and other public places.
Noting the current conviction rate in rape cases at only 32% against filing of chargesheets in 86.6% cases, it recommended that the Ministry of Home Affairs should set up one forensic laboratory in every state capital within two years.
The pilot project 'Safe City Proposal' for eight cities shoul be expanded to cover rural and urban areas in all states urgently the Home Ministry should integrate planning for women's safety in coordination with Ministry of Urban Development for all 100 smart cities.
Observing that there was no comprehensive law for the prevention of human trafficking, the committee recommended that a National Anti-Trafficking Bureau having police officers, NGOs, and other stakeholders should be established with powers to investigate cases involving two or more states, along with power to co-ordinate with international law enforcement agencies and formulate measures for combating and prevention of trafficking in children & women.
It also urged the Ministry of Road Transport and Highways to co-ordinate with States for providing safety features in public transport and creation of a special cell to receive and deal with emergency situations.
The committee observed that while some states had proposed CCTV surveillance, panic button and controllers in public transport, no data was available to assess whether these proposals had been actually implemented. It recommended that Ministry of Road Transport and Highways should frame a unified policy for mandatory installing of CCTV surveillance, panic button and controllers in public transport across the country in a time-bound manner.
The committee also noted with concern the lack of any mechanism to register incidents of sexual harassment and violence in trains and recommended that the Railway Ministry in coordination with the Home Ministry should set up a mechanism to lodge the case in the train itself and complaint centres should be set up at every station.
The two projects of video surveillance system at 983 stations and 67 stations of Konkan Railway, planned by the Ministry of Railways, was insufficient keeping in mind 8,500 operational railway stations in the country with over 9,200 trains operating daily. The committee, therefore, recommended that the same should be implemented at all the stations across the country.
ROLE OF EDUCATION
The committee recommended inclusion of chapters on moral values in school curriculum and NCERT textbooks for students right from an early age. Also, universities and colleges should pro-actively generate awareness about the responsibility of the citizens to make cities safe for women by organising camps in their respective areas.
Observing that crucial evidence is lost due to delay in conducting medico-legal examination of victims, the panel recommended that the Health Ministry should strengthen medical centres, especially in rural and remote areas and regularly update doctors and para-medical staff on handling victims of violence with empathy and due sensitivity as also on the legal requirements to ensure that loopholes in the medico/legal report are not exploited by the accused.
EFFECTIVE UTILISATION OF NIRBHAYA FUND
The parliamentary panel noted that out of the total appraised amount under the Nirbhaya Fund of Rs 7,436.66 crore for 32 different projects/schemes across the country, only Rs 2,647.89 crore had been disbursed by the Ministries/Departments concerned and recommended that Ministries/Departments should ensure that the funds are utilised promptly for women's safety.
A status of implementation of the projects/schemes under the Nirbhaya Fund should be overseen by a Committee under the Chairmanship of the Cabinet Secretary.
It pointed out that the majority of states had utilised only 20-30% funds allocated to them under One Stop Centres (OSC), Women Helpline (WHL) Schemes and recommended that the Ministry of Women and Child Development should have direct quarterly meetings with the state governments and UT administrations to monitor the expenditure of funds on these schemes.