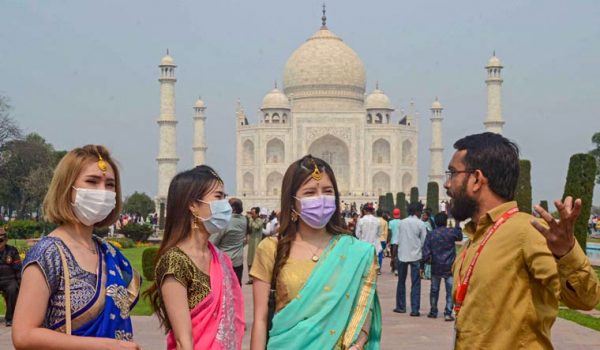 Rabindranath Tagore, India's first Noble laureate, thought Mughal Emperor Shah Jahan immortalised the sorrow he experienced over the death of Mumtaz Mahal, his favourite wife, by building the Taj Mahal to entomb her. The ethereal beauty of the Taj Mahal, in Tagore's poetic imagination, was "one tear droplet/on the cheek of time", destined to glisten forever and enchant all.
Yet, today, there are no tourists to marvel at the sparkle of the Taj Mahal, as its gates were clamped shut on 18 March to check the community transmission of Novel Coronavirus. This turned an estimated five lakh people dependent on Agra's tourism industry, which thrives on the allure of the Taj Mahal, distraught, even weepy.
Long before Agra was placed under a lockdown, tour operators were flooded with cancellations of bookings, hotels and restaurants had started to shutter down, at least temporarily, tourist guides were whiling time, curio shops did not even register footfalls, let alone sell, artisans were mulling selling momos or plying e-rickshaws, and sundry others faced the prospect of lay-off.
It seemed Coronavirus was doing to Agra what Aurangzeb had to his father, Shah Jahan, who was reduced to helplessness as he languished in his son's custody for eight years.
Yet talk to any person in the tourism industry and he or she will likely tell you that the Bharatiya Janata Party's policies debilitated Agra's tourism industry before it was ravaged by Coronavirus. They will likely ask: is not a person with hypertension and diabetes particularly vulnerable to Coronavirus?
Yes, you will reply. And they will likely mutter, well, that is as true of Agra.
They will say that Agra started to sniffle in August, the month in which the government read down Art 370. The city's eyes, so to speak, welled up in the weeks ahead of the Supreme Court's judgement on Ayodhya. Tears began to trickle down the cheek of the tourist industry at the enactment of the Citizenship Amendment Act and the protest it provoked.
"Tourism registered a 25-30 per cent decline because of the socio-political instability," said Rajiv Saxena, vice-president, Tourism Guild of Agra, whose members are travel companies, hotels categorised by stars and large emporiums. "It is now zero," he said.
Saxena and others recall the months of social tumult for a reason—had the number of tourists visiting Agra not dipped before the Coronavirus fear gripped India, the tourism industry would have had a better capacity to absorb the losses brought about by the shutdown. They had also hoped for a turnaround between January and April, the months in which the Chinese and Iranians visit Agra.
The Chinese travel abroad during their New Year holidays, which began from 24 January and ended on 8 February this year. An estimated 15,000 Chinese were booked to visit Agra. They were to be followed, in March-end, by the Iranians, who too go on foreign sojourns during their Nowruz, or New Year, holidays. Agra expected around 10,000 of them this year.
Alarm bells began to ring in Agra as news of people dying of Covid-19, the illness caused by Novel Coronavirus, became global in January. The city's fears were confirmed when Beijing imposed a ban on outbound group travel from 24 January.
"Travel bookings made five-six months earlier were cancelled," said Sunil Gupta, chairman, north, Indian Association of Tour Operators, and whose company, Travel Bureau, is among the major players in Agra.
Typically, when Chinese travel companies make a booking of, say, 25 persons, their Indian counterparts buy air and rail tickets, book hotel rooms and safaris. Payments, at least partly, are often made in advance. Cancellations have the Chinese demand refunds.
Their Indian counterparts accede to such requests subject to receiving refunds from airlines and hotels, which mostly offer to adjust the dues in the next round of bookings. And that is still months away. For one, tourists refrain from visiting India in its scorching summer. Tourism registers an upward crawl from July, which is when the Europeans begin to trickle in, and then the curve shoots up from October. For the other, no one has a clue about the impact of Coronavirus on the global economy and the psychology of travellers.
"When my foreign clients ask for refund, I have to say I will do so as soon as I get my refund. It is a very unpleasant situation," Gupta said. It is natural for proprietors to strive to preserve their liquidity even as they tighten their belt. For instance, even before Agra was locked down, Gupta had asked his staff to not come to office. He will pay their salaries, but he, at least, saves money on establishment overheads such as electricity.
Outfits smaller than Gupta's, however, will choke without funds, particularly those which were hit by the sluggish demand in the preceding months. Rakesh Chauhan, president, Hotels and Restaurants Association, which comprises members who cater to what are called budget tourists, closed down his hotel, Pearl of Taj—Homestay, even before the lockdown.
"Hotels did not close down even during the Emergency," Chauhan said. His anger got the better of him as he, agitatedly, linked the closure of hotels to the social upheaval weakening Agra's tourism industry. He said his earnings were eroded by 50% by March—and now, it is zilch.
Chauhan saw no benefits accruing to him and the tourism industry from the reading down of Art 370 and the building of a Ram temple in Ayodhya. "I will benefit when I go to greet Muslims on Eid and when they come to play Holi with me. Peace is essential for tourism," he said.
It does seem strange why the discontent in Kashmir should discourage tourists from visiting other parts of India. Saxena, of the Tourism Guild, explained, "For them, the disquiet in Kashmir is not in Kashmir, but in India. A lynching in Ajmer is not in Ajmer, but in India. They are scared of coming here."
Foreign tourists are said to spend anywhere between $2,500 and $15,000 during their 10-day stay in India. "This is akin to foreign direct investment," Saxena said, adding, "Just as FDIs go to countries with social stability, tourists visit places where there is social harmony."
It is not easy to tailor the world's perceptions and memories. The Modi government, for instance, has been hard-selling India as the land of yoga. Yet, for most global travellers, the Taj Mahal is India's crowning glory. Yoga does not have to replace the Taj Mahal in the government's showcasing of India, just as a batsman's quest to master the reverse sweep does not mean he should cut out the straight drive from his repertoire.
No wonder, Saxena was shocked to find the Taj Mahal missing from the 2020 calendar he received from the Ministry of Tourism and Culture. Saxena said, with a chuckle, "The irony is that when American President Donald Trump came, he was taken to the Taj Mahal. Why did they not take him to Haridwar to do yoga?"
Agra's Superintendent Archaeologist, Vasant Kumar Swarnkar, pooh-poohed the claims that the number of tourists visiting Agra had been on a declining curve. The average daily footfalls at the Taj Mahal swing between 30,000 and 35,000, including children below 15. Around 10-15% of these footfalls are of foreigners.
"These figures are from the ticket sales at the Taj," Swarnkar said. "There was no noticeable decline in any month other than December, which was because of the anti-CAA protests."
I bounced Swarnkar's statistics with all those who I had spoken to earlier. Their refrain was: "Do you still have faith in official figures?" They said their perception of the decline in the tourism industry is based on their account books and the occupancy rate. One person said that footfalls at the Taj are irrelevant to him unless visitors spend a night in a hotel in Agra. Another said that the official count of tourists at the Taj includes also those from South Asia. But Agra's tourism, he said, derives its financial vibrancy from travellers coming from Europe, the United States, the United Kingdom, and Southeast Asia.
These are the regions sensitive about human rights and states crushing political dissent. Their societies, having witnessed social stability for decades, recoil from even a hint of violence. Their shying away from Agra, even before Coronavirus struck India, depressed sales at the city's emporiums, which retail handicraft items such as elephants, jewellery boxes, and marble replicas of the Taj Mahal.
Prahalad Agarwal, president of Agra Tourist Welfare Chamber, an association of emporium owners, said, "The annual average sale of handicraft in Agra is Rs 1,500 crore. We suffered a decline of 20-25 per cent from August onwards."
Agarwal, too, ascribed the dip in sales to the social turmoil in India. He asked me: Would I visit a place witnessing unrest? I said I did not visit northeast Delhi during the days that district was rioting. Agarwal pointed out, "For you, the violence was confined to northeast Delhi. For us in Agra, the entire city of Delhi was rioting." Likewise, to foreigners, each city or state symbolises India as a whole.
Even before Coronavirus infected India, Agarwal had been worrying about the impact that the 20-25 per cent dip in sales could have on artisans. A decline in turnover implies stocks piling up at emporiums, which would prompt their proprietors to reduce their purchase from artisans, who, in turn, would feel compelled to look to other sectors to sustain themselves.
Agrawal said, "These artisans learned their skills from their fathers, and they from the earlier generation, and so on. If they leave the handicraft sector, it would be a blow to India's heritage."
The Modi government's propensity to adopt socially divisive policies has been matched by its failure to reverse the economic slowdown, which will further de-accelerate because of Coronavirus. "Our items are decorative, luxury items. When people have less money, they spend on necessities," said Sunil Kumar Verma, president, Agra Marble-Stone Hastakala Graha Udyog Samiti, which has artisans and traders as members.
Verma estimates that the decline in sales of curios has been between 40-50 per cent since August. This reduced his capacity to advance money to artisans who supply him products; it has further shrunk because of Coronavirus, as a pending export order of Rs 25 lakh, of which items worth Rs 15 lakh were ready for shipping, have been put on hold.
"I can only offer my sympathy to them," Verma said. He interrupted our conversation to say I must talk to his visitor, Sanjeev Saxena, who was introduced to me as one of the most skilled of Agra's artisans. Over Verma's mobile, Saxena lamented, "There are just no purchasers. Some of us who are Hindu want to sell momos, and those Muslim are thinking of selling biryani."
The face of Agra's tourism is the tourist guide. It is he who interacts with tourists, takes them around the historical places that dot Agra, and narrates charming stories regarding them. They guide tourists what to purchase from where. On average, they earn Rs 40,000-Rs 50,000 a month, although some supplement their income by running small businesses on the side, or freelance as teachers.
"Coronavirus has made them jobless, that too in February and March, which is our peak season," said Sanjay Sharma, president, Approved Guides' Association of Agra. Sharma said the government must subsidise the guides in these hard times, and create a safety net for them in the long run, such as devise a pension scheme.
Such demands will likely emerge from other sectors as well, underscoring the enormous economic challenge confronting the Modi government, which, as has been its style over the last six years, prefers to pursue the politics of communal polarisation to maintain its electoral sway. This is where the multiple voices from Agra should come as a warning to Modi: It is impossible for any government to completely insulate its people from nature's fury, but what it can certainly do is to desist from consciously causing social upheavals.'