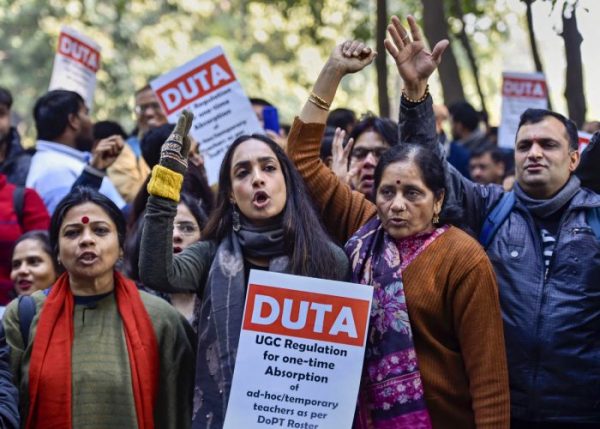 The teachers of Delhi University colleges, which are funded by the Delhi Government, have been awaiting their salaries for two months amid the pandemic. Teachers allege that the delay has severely affected them, mentioning that they have resorted to borrowing after their savings were exhausted.
The issue flared up after the Delhi Government declined to release grants in the long pending issue of the formation of governing bodies in colleges, which are funded by it.
A teacher from Vivekanand College told NewsClick that they had not received their salary for February and March, at a time when the country is facing a pandemic. She said that "life in metropolitan cities comes with a cost. I have not received my salary for two months. My husband also teaches in Maharaja Agrasen college which is also fully funded by the Delhi Government. Even if one person in the family had received a salary, we would not have faced this crisis," she added, mentioning that as ad-hoc teachers, they would be worse off. Most of the teachers receive their salaries for the period between May and August in September. "So, our salaries must immediately released to help us sustain in these times," she added.
Another ad-hoc teacher said that there was a tussle between the Delhi University and the Delhi Government over the formation of governing bodies. "But why should our salaries be stalled? I had asked my friends for some money to help me sustain. Now, even my savings have been exhausted," he added.
Bhupinder Chaudhary, a representative of the Democratic Teachers Front, said the issue has been pending for long. He said that in the absence of governing bodies, the colleges have been appointing teachers without due process. The Delhi Government objected to it and asked for representation since it was funding these colleges. Some forces wanted to limit the influence of Aam Aadmi Party (AAP) in these colleges and resisted the formation.
"The colleges, under ambit of the Delhi University have 15-member governing bodies. The Delhi University sends a list of persons eligible for appointment to these posts. In this list, Delhi Government gives its nod to five members. Additionally, it proposes 5 members to the body. Rest of the five members are recommended from the university administration, teachers from different colleges on rotational basis, and the principal of the college," he added, mentioning that the Executive Council of Delhi University had approved the formation of governing bodies recently. "I hope the issue will be resolved now," he said.
In a letter to Chief Minister Arvind Kejriwal, Delhi University Teachers Association President Rajib Ray said: "It is totally unacceptable that these colleges have not received grants despite numerous reminders and as a result, the teaching and non-teaching staff, which includes a large number of ad-hoc teachers and karamcharis working on contract basis, have not received salaries for the past two months (January onwards). Colleges have absolutely no grants to pay salaries and this would mean that employees will go without salaries for three months in a row!"
He further mentioned that "in the present context of the Coronavirus pandemic, when Governments (including yours) are going an extra mile to make citizens feel secure, we believe that it is your duty to ensure the release of salaries immediately so that the livelihood and lives of the employees and their families are not put in jeopardy. Not doing so at this hour of crisis would be inhuman and criminal."
Delhi Government funds 28 colleges in all – 12 fully and 16 colleges partially. The 12 colleges are Indira Gandhi Institute of Physical Education & Sports Science, Shaheed Sukhdev College of Business Studies, Shaheed Raj Guru College , Deen Dayal Upadhyaya College, Dr Bhim Rao Ambedkar College, Acharya Narendra Dev College, Bhagini Nivedita College, Keshav Maha Vidyalaya, Maharaja Agrasen College, Aditi Mahavidyalaya, Mahirishi Balmiki College of Education and Bhaskara Charya College of Applied Science.
Sixteen colleges, that are partially-funded by the Delhi government, are Shivaji College, Motilal Nehru College, Laxmi Bai College, Shaheed Bhagat Singh College, Maiteryi College, SPM College for Women, Satyawati College, Vivekanand College, Rajdhani College, Kamla Nehru College, Gargi College, Swami Shardhanand College, Kalindi College, Bharti College, Sri Aurbindo College and Delhi College of Arts and Commerce.