The vigil at Shahi Idgah against CAA-NPR-NRC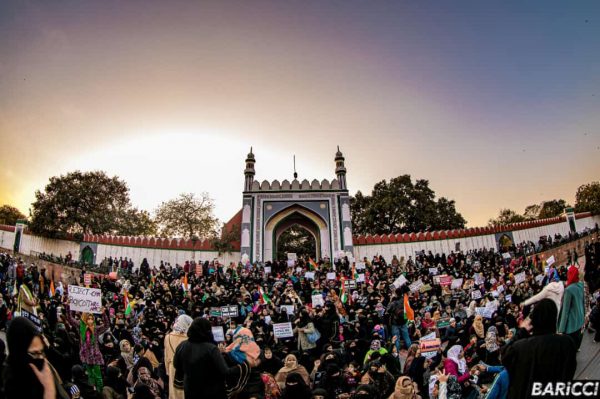 Delhi: At the 17th century Shahi Idgah in the city's centre near Sadar Bazar, a community vigil against the CAA–NPR–NRC enters its forty-second day. "Fewer people have been coming since the past few days," says Niad Ahmed. "There was a juloos (procession) twice today."
A volunteer shares that the Shahi Idgah sit-in has been underway since January 23. Although the protest is led by women, the men of the community have been instrumental— from setting up the plastic roofs to sweeping, cooking, and taking overall care of the vigil.
I see women being ushered to the insides of the idgah, while the men clear the water pooling in the plastic roofs. Everything is happening here in such an inclusive environment, with women of all ages, men and children, although the skies of Delhi have opened up generously tonight.
"More people will come when the rain recedes—and many chose to stay as the rain got stronger."
A few days ago when thunder was crackling all over Delhi, the people of Shahi Idgah stayed together through the storm, a meteorological metaphor for their stand in politics.
The giant words 'Hindu Muslim Sikh Isai, Hum Sab Hain Bhai Bhai' are written in Nagari on the main poster at the stage set up by the entrance. Not just words scribbled on vinyl, but something everyone here is saying, meaning each and every word.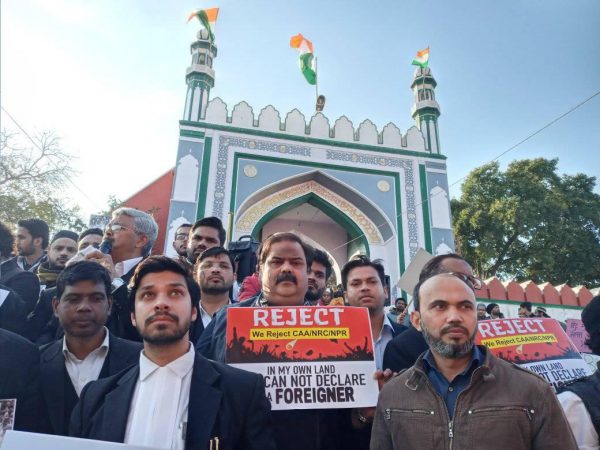 "Police have been increased in the area ever since the protest, and they have not been placed here in the best interest of the people coming to Shahi Idgah," says another volunteer. They report that one of the police personnel entered the idgah and started doing a headcount of the ladies sitting there.
Many accuse the police of threatening and not listening to the Muslim public of Sadar Bazar.
The community's Muslim women, who regularly sit in the Shahi Idgah in their chosen burqa, are protesting non-violently against the CAA–NRC–NPR, and also against the patriarchy. The stereotype that a woman in purdah cannot do much—these strong women are challenging the notion, voicing their opinions boldly with the chanting of slogans of Azadi.
But rumours reach here too. Several times they have heard rumours that armed men are coming to attack them, and many women flee terrified to their homes. At the same time, many more women, especially the elderly, don't move from their places saying, "Marengey toh yahin marengey"— If we must die, we'll die here.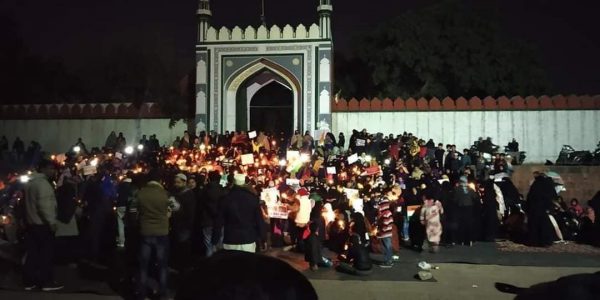 Junaid (name changed), a father who was talking about the disastrous Indian economy says, "We bring our kids here too. And won't our kids ask us, what did you do for us? Our fathers and grandfathers gave their lives for freedom from the British—we will also fight for our children's rights."
There has been no media coverage of this place, many people said. One woman feared that, with Sadar Bazar being Asia's largest wholesale market, if any sort of violence were to take place here it would hit the already battered Indian economy.
The concerned father is joined by two more men talking about how things have changed ever since the BJP won the general election. Every Holi one man's Hindu neighbours would bring him out to celebrate, and they would celebrate Eid together too. Recently they have been feeling a certain kind of animosity against them from their neighbours.
Niad Ahmed says that in every competition it is obvious someone will lose. He speaks about elections, healthy competition and accepting defeat graciously. "Does it mean you will kick us out of our homes because we didn't vote for you?"
"People like us don't have birth certificates. We were born at home, in our villages where there's no such provision; in my time there wasn't even a hospital in the village. It was quite small, not much bigger than this park. We were about a hundred households there. There was a Hindu-Muslim argument, and the whole village was set on fire – destroying all our homes, all our documents. Where will we get them from now?"
He claims there was a fight here as well on Sunday, but other people I ask deny this, saying it's only rumours floating around.
"Why would we fight amongst ourselves anyway?" Ahmed continues. "They didn't take anything of ours, nor we theirs. Our fight is with the government. We oppose what the government is doing. This place was stuffed full of police earlier, there were cops in uniform all over the park. They were on duty 24 hours a day. But no one has made any allegations against anyone else here. If someone wants to give a speech, they give it and leave. If they want to create something, they do so," he says, pointing at the artworks hanging all around.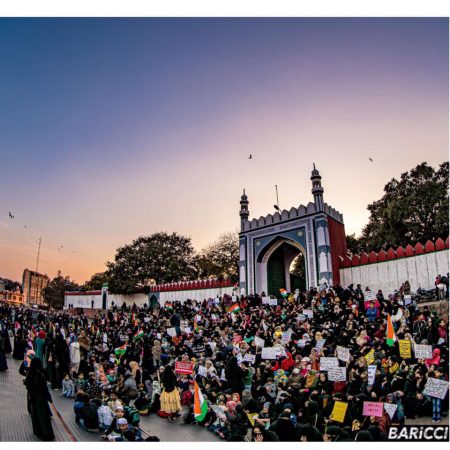 I ask Naaz (name changed), a young volunteer at the protest, if this protest too is being led mainly by women. "Everyone is coming. It is not only about women or Muslims, the consequences (of CAA-NPR-NRC) will be faced by each and every person below the poverty line. Below the minority line. It is about everyone."
The rain had started pouring heavily now, and many people went inside the Idgah for shelter. I asked another volunteer, Salma (name changed) what motivates people to stay here, even women who spend the night despite the rumours and fear.
"They are more furious. They already knew about the scenario and we told them further. They were watching the news and got to know that the NRC will exclude us from our country, where we have been living for 40 years, 60 years. The central government saying, 'We would exclude you.' The central government singling out the community, further alienating them…
"This is the thing which had so much impact. This place (the sit-in) has become so close to their homeland that they are not willing to get up. If we say it's raining, please go back, they refuse, 'No, hum hain toh yahin tike rahenge, yahan se jayenge nahin' (As long as we're here we will stay put, we won't leave this place)."
What about the economic impact? The physical and mental strain? "There are a lot of people coming here, lots of women coming. They share the responsibility, there are shifts here. Some people stay in the morning, half of them stay in the evening, and there is another shift at night. Economically, we have our brothers, uncles… only they are supporting us in this effort," says Salma.
Are they receiving any kind of aid? "No, no. We are not accepting anything, even if they offer. This is because, already the government is levelling allegations that these women are being paid, they're sitting out there for 500 rupees – we don't want allegations of this kind. We are for ourselves. We can economically sustain ourselves."
As far as support is concerned, "We want more and more non-Muslims to engage with us. More and more non-Muslims, or any other caste etcetera, they have to be with us. Because if they are only targeting Muslims, this is OUR land – Hindu, Muslim, Sikh, Isaai, everyone. So we have to stay together to protect our Muslim brethren. If they have the mentality that they will only target Muslim people, then the Hindus and everyone else should come together and protect us.
"We have been inviting a lot of non-Muslim people here, but we've got a poor response – maybe they aren't willing to come, I don't know. We know there are a lot of non-Muslims staying in the area, but they are all against us. Once we got in a rally and when we were going from here to the road, a glass bottle was thrown on one of our volunteers, injuring his head. This is the response we are getting from our neighbourhood," she says.
The Shahi Idgah protest doesn't seem to have much of an internet presence? "Today is the 42nd day. When it was the 20th day there were a lot of media coming, a lot of YouTubers, but now not a single person comes. We don't know why this is happening. We are doing everything like perfectly – we are coming, sitting, people are coming and giving speeches. But the media people are not responding and they aren't putting a light on us. You can say it's a godi (lapdog) media."
Here an uncle listening to our conversation applauds and says "Good, good!"
"One time when the plastic roofs burst open during the rain, the young men were almost in tears. All the setting up and man-work is done by the men, and when something breaks like this it breaks their heart," Salma concludes.
She says she's a third-year student of political science, and almost all the volunteers here are of the same age group. "Most of us have regular college, we are managing that and this as well. If my classes get over at 4, then by 5 I am here. In the mornings, I leave home around 8 and come here directly. This is not a complaint. I can do this for myself – everyone is doing it for themselves."
Arham, another volunteer, points out that the protest was very well attended in the early days. "When the elections were on, non-BJP party leaders came here, they speechified a bit, afterwards no one returned. There have been lawyers, journalists – we've given everyone a good welcome here."
Tonight there is a performance by Dastak, a progressive artists' forum. People present say that professional singer and comedian Izhar Khan has visited the sit-in, Bhim Army chief Chandrashekhar Azad Ravan visited on February 21, activist and former civil servant Harsh Mander on February 25, and scientist and Urdu poet Gauhar Raza on February 17.
By now torrential rain is pouring down. Arham explains why the rain means nothing.
"Look. Everyone from our brothers to the ladies are standing here with each other, contributing. And all of us here oppose the bill the government has passed. The secularism India was famous for the world over – the government has shattered it within India. They've smashed up the Constitution. That's why we are all standing here today, against these moves. You can see it's raining – yet none of these ladies are willing to concede defeat. The government must withdraw it."
What's the plan ahead? "We are here till the government announces its decision. The government keeps postponing the date. Until the government announces it has decided not to pursue this bill, we will remain here."