Charred homes, exploded cylinders: Children in relief camps recall Delhi Violence
The communal violence that broke out in North East Delhi in the last week of February left scores of families homeless, who are now forced to reside in different relief camps. Even as a big question mark looms over their livelihood, the victims are now uncertain about their children's future, who have suffered the most. The children are not only struggling with their education but also bear bitter memories of violence and arson. NewsClick visited one of the relief camps at Idgah in Mustafabad to understand how these children are coping with the trauma of the violence that left them homeless.
Mohd. Farmaan Sajid, a resident of Jauhari Pur in Gokal Puri, was studying in Class V in a local school. He said that he was forced to flee from his home with his family after it was looted and set on fire. Soon, Sajid is joined by Faisal, Maaj and Abu Zar, who studied in classes Nursery and III in Manav Convent Public School and class VI in DRP Public School, respectively. The boys shared their horrific stories. Maaj, who is only 5 years old, said that he heard that acid was poured on a victim. Similarly, Abuzar said that he is missing his school friends in the camp. Although, the children have settled temporarily, their trauma is reflected in their conversation with each other.
The doctors and the counsellors at the camp, while acknowledging the distress, told NewsClick that much needs to done to instil confidence and do away with the bitter memories of the children. A visit to the DRP School revealed that the signs of violence are still visible on the walls. A local resident, who requested anonymity, said the school was ransacked and the furniture was set to fire. He said, "It was devastating to see the school in flame. Who does this to a school?"
Ranjana Prasad, a member of Delhi Commission for Protection of Child Rights, said that they have a created a new interactive area in the camp where the children are gradually coming to terms with their new life. Explaining their engagement with the kids, she said, "On the first day, they were frightened, arrogant and angry. When we asked them to draw on drawing sheets, they drew burnt houses, exploded cylinders, scattered stones and blood. Some kids even tore the sheets. However, slowly and gradually, we built confidence in them. Now, we have 350 students who come daily to this corner and are attended from morning to evening as one would do in the school." When asked about the possible impact of riots on the psyche of children, she said, "Children have short memory. Of course, the incidents will have some impact. However, we are monitoring them closely and are confident that they will recover."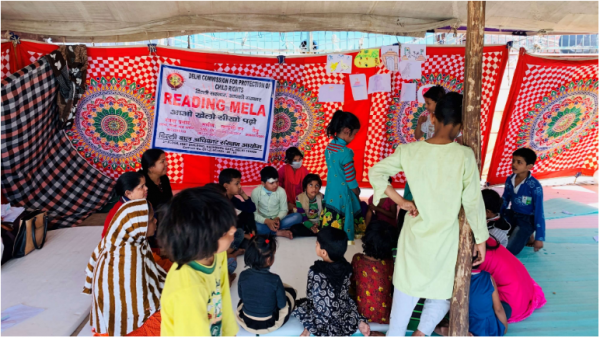 Another executive, who is working with the commission, said, "Every child here meets a psychologist everyday to ensure that they do not have any hidden trauma in them. You must have noticed that some children are extrovert and expressive whereas some choose to remain tight-lipped. These introvert children should be the main focus. Now, people may have concern for them but they should not ask them to recall incidents. It only aggravates their misery. The sad part is that every child here knows that they have come here from their homes and they did not do this for pleasure. At the camp,we are trying to normalise that even if you have abandoned your home, you will not be deprived of any facility here. You will have food here, your school is here."
Commenting on the impact of the riots, Ann Philipose, a psychologist and family therapist, said that the children above the age of 3.5 years do remember the incidents that happened and their reaction to it may vary. She said, "They get angry, scream loudly or may have nightmares too, but therapy can help them recover from trauma." Talking about whether the incidents can result in a prejudice against a community, Philipose said, "It depends on the narrative. One may find the families which say that rioters have no religion. Similarly, few families may choose to build the narrative that members of a particular community made them homeless, looted their property or worse killed their dear ones. So, I guess narrative is quite important in dealing with trauma and family must remind it."