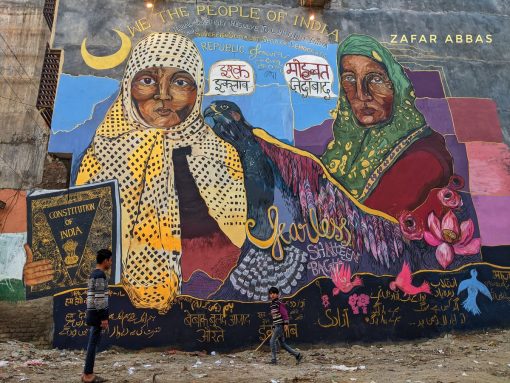 Last December, artist Navjot Altaf was going through a security check in Raipur to board a flight to Mumbai. As her handbag went through the metal detector, the policeman on duty remarked: "Iss ke andar loha hai." (Is there an iron item inside this?) He was referring to her house keys inside the bag.
"Loha is not the same as having a bomb," Altaf retorted.
Altaf had scarcely finished uttering the word 'bomb' when she realised that a security alert had been triggered. She was immediately taken to the security in-charge at the airport who insisted she be taken to the office of the Police Commissioner as the first step before being put under detention.
It took Altaf two hours to persuade security personnel at the airport that she had used the word 'bomb' in a flippant manner and could hardly be mistaken for a 'terrorist'. She was finally let off after a written apology.
"I then realised the double standards that exist between the ruling dispensation and the common man. While the Chief Minister of Uttar Pradesh can get away with saying, 'Boli nahi goli se samjhaya jayega' A lesson will be taught with bullets not speeches) and a minister at the Centre, Anurag Thakur, can sloganeer 'Desh ke gaddaron ko' with a crowd responding with 'Goli maaro saalon ko', (shoot the traitors) my simply making the point that a set of house keys could hardly be mistaken for a bomb, could have led to my arrest," said Altaf.
The arrogance of the present regime, she believes, is very similar to the arrogance on display during the dark days of the Emergency implemented by Indira Gandhi in 1975. Altaf had done a black-and-white protest poster in 1976 against the curtailment of civil liberties. It is on display as part of the SAHMAT show titled 'The Constitution of India at 70'.
"Prior to the implementation of the Emergency, we used to keep talking about the need to change our Constitution in order to make it more liberal. Today, our focus is to save our Constitution, a wonderful document of hope, for the powerless. Else what power do they have?" she asks.
Fifty-two young artistes have their work on display at the SAHMAT show. This is protest art at its best. Twenty six-year-old Photojournalist Sanna Irshad Mattoo's photographs starkly reflect the horrors of encounter deaths. One moving photograph titled `Mahjabeen looks over her fiancé Sharjeel', shows a grief-stricken woman looking into the face of a handsome man who seems to be in a deep slumber. Sharjeel, a civilian, was killed in an encounter in April 2018.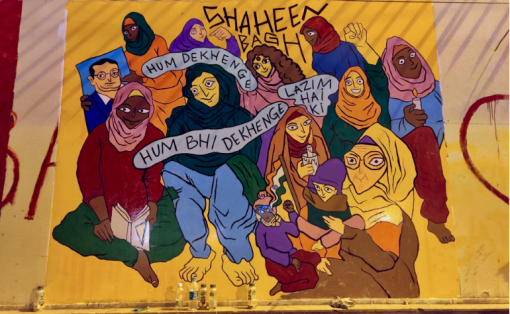 Simar Puneet started attending protests at Shaheen Bagh when they first began, because his montage of thumb-sized protest images have been juxtaposed against the image of Ambedkar. His work titled `The Vehicle of Life` is reinforced with the quote: "The Constitution is not a mere lawyer's document, it is a vehicle of life, and its spirit is the spirit of the age."
Anupam Roy's poster demanding the striking down of NPR, NRC and the CAA (National Population Register, National Register of Citizen and Citizenship Amendment Act) carries Ambedkar's warning that "If Hindu Raj does become a fact, it will no doubt, be the greatest calamity for this country. No matter what the Hindus say, Hinduism is a menace to Liberty, Equality and Fraternity. On that account it is incompatible with Democracy. Hindu Raj must be prevented at any cost."
Artistes are determined to bring about change through their work. No place signifies this as determinedly than in Shaheen Bagh where public art through the use of posters, blows-ups of photographs, graffiti and paintings on walls and even on entire stretch of road, show the immense diversity of expression by the protesters. Every possible tool has been employed, often with wit and humour. The iconic words 'Hum Dekhenge' from a poem by Faiz Ahmed Faiz has been written across a large installation created in the shape of a human heart.
Even the recently concluded India Art Fair was not devoid of a fair share of protest. A performance art piece inspired by the women in Shaheen Bagh was stopped by Delhi police personnel who made a beeline for the Italian Cultural Booth (on the basis of an anonymous phone call) and took away one of paintings. One of the performing artistes, Gargi Chandola, subsequently explained that the artwork was not about a particular protest but to "celebrate the resilience and strength of women."
Perhaps, one of the few works at the India Art Fair that directly alludes to protests at Delhi's Shaheen Bagh was Probir Gupta's 'A Poem of Instruments'. The installation carries the image of a microphone and typewriter to symbolise a voice resonating and carrying with it the testimonies of women at Shaheen Bagh. "It is a multi-layered piece dedicated to Shaheen Bagh but I use the visual language to make my point," said Gupta.
Similarly, artist Mithu Sen, who has her work on display both at the SAHMAT and the India Art show, admits to being extremely disturbed by present political developments. "My work reflects the political and societal crisis around me. I use my art to help release myself from the trauma and horror taking place around me," Sen said.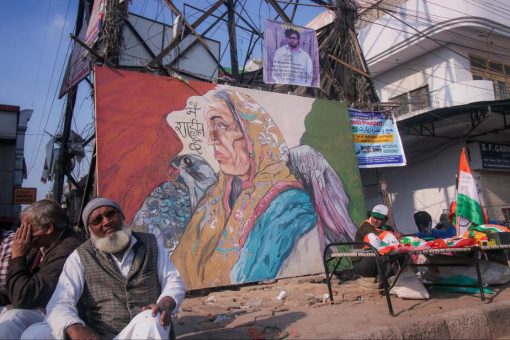 The configuration of protests only take forward protests by writers, film makers, academics, scientists and civil servants who are drawing attention to challenges being posed to the nation by Hindutva politics. Prior to the 2019 general elections, 600 intellectuals, writers, film personalities and theatre luminaries had urged the people to vote out the BJP.
Earlier, dozens of writers had returned their national awards protesting against increasing intolerance. One of the most prominent ones was writer Nayantara Sehgal, the niece of Jawaharlal Nehru, who has been disturbed by the fact that "India's culture of diversity and debate is now under vicious assault."
Historian Romila Thapar had, at the time of the release of her book, `The Public Intellectual in India', told this writer that "India was at a turning point. Things can go one way or the other. But at this point it is hard to tell which way things will go."
What upset Thapar was the "considerable shrinking of liberal space". To her, the returning of awards showed there is "little space".
Have we been able to retrieve this liberal space and is the government paying heed to these protests? The answer to the latter is a definite no.
The government persists in edging out all liberal voices as they did most recently when they did not allow dancer and activist Mallika Sarabhai to address the annual National Institute of Design convocation. Mahatma Gandhi's grandson Tushar Gandhi was not allowed to speak at Modern College in Pune because a fringe Hindutva outfit forced the cancellation of his address.
Prof. Thapar had described these fringe elements as "terrorist groups". "Who is a terrorist? It is someone who creates terror. If someone takes a gun and shoots at a Malala Yousafzai, we call him a terrorist. If someone takes a gun and shoots Kalburgi, what do we call him?' Thapar asked.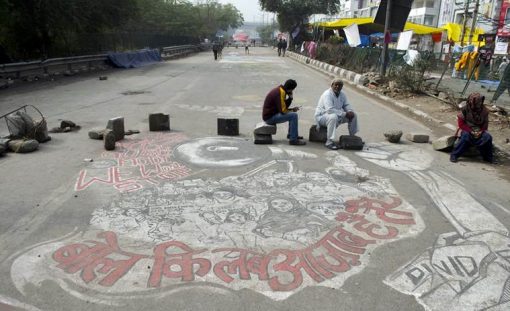 Though she is cited extreme examples, the fact is that Right-wing Hindutva groups who author Salman Rushdie alluded to as "thugs indulging in thuggery", continue to hold cultural and academic institutions to ransom.
There are analysts who claim that Narendra Modi's populist government is determined to continue to mobilise the 'real' people against elites, particularly the literary and cultural elites. However, protests in Shaheen Park have dispelled this myth with thousands of women sitting on a day-and-night Satyagraha.
The Modi government may not find it conducive to reach out to these women. The question is how many people will they dub as ultra nationalist? Altaf points out that demonstrations do create their own momentum and pressure points. She cites the example of how anti-Vietnam protests in the sixties spread across the world, finally forcing the US to withdraw its forces from that country.
The protests in Shaheen Bagh and other cities have led people to realise the importance of our Constitution. Not only has it emerged as a bestseller but young children sitting with their parents in protest at Shaheen Bagh have been hearing discourses on it. Whether the Modi government reacts or not, it is heartening to see that both artistic and street level protests seem to have become the order of the day.
---