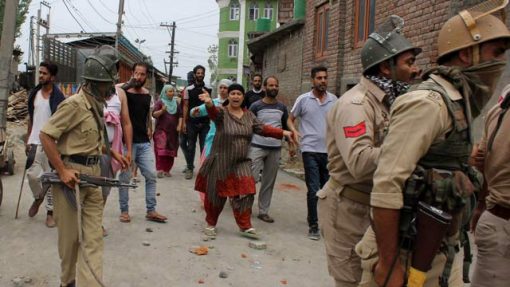 Srinagar: With people in Kashmir using Virtual Private Networks (VPN) to circumvent the limited access to internet in the region, those, especially in South Kashmir, say the security forces are physically checking mobiles to inquire about VPN usage. This, days after the government restored partial internet services.
However, the Army denies that its personnel were involved in any such crackdown.
In South Kashmir villages of Anantnag, Shopian, Khonmoh and Kulgam, many youth alleged that Indian Army personnel stopped them at checkpoints. "They check if anyone is using VPNs and if you have one in your phone then you may even get beaten up," a student of Kashmir University from Shopian told NewsClick.
Sanam Aijaz, a senior journalist based in Srinagar, was driving back from South Kashmir on the national highway when he was stopped close to Lethpora area. After stopping his vehicle, the soldiers asked him if he was using VPN on his phone. "I said I am, which provoked them," Aijaz told NewsClick.
"It was a close shave. I told them it's just a VPN not an AK-47," Aijaz added. The journalist said he was saved after a local cop identified him and intervened.
On January 24, mobile data services were restored to all networks including pre-paid and post-paid SIMs. Its speed, however, has been restricted to 2G and access has been restricted to what the government terms as "whitelisted sites". Over 300 white-listed sites include email services, news websites, entertainment networks and government portals. A majority of sites, however, including social media networks, still remain banned.
Netizens across the Valley have resorted to the use of VPNs to access banned websites and many also claim that they use VPNs to increase their internet speed as well.
"They once caught me with VPNs, and I had installed five of them. So, they beat me up," a student of Imamsahib village of Shopian said.
A private teacher from the locality said it has become a "cat-and-mouse" situation. "I uninstall the VPN when I leave my home for work but then I have to re-install it daily," the teacher added.
According to an eyewitness from the area, many youths have allegedly been beaten up by the security forces for using VPNs in Nowpora village in Kulgam and in the villages of Matribhug, Pahnoo and Zinapora in Shopian.
"Many believe that since they are not able to create a firewall, that the internet will remain this way (restricted). So, they have installed VPNs. More people are now using it after the security forces began checking them. They do so to irritate them and, in some cases, they are using VPNs to protest the scanning of phones," the teacher added.
However, Col. Rajesh Kalia, the Army spokesperson based in Srinagar, dismissed the locals' accounts, saying: "Army personnel are not involved in any action of this nature."
---