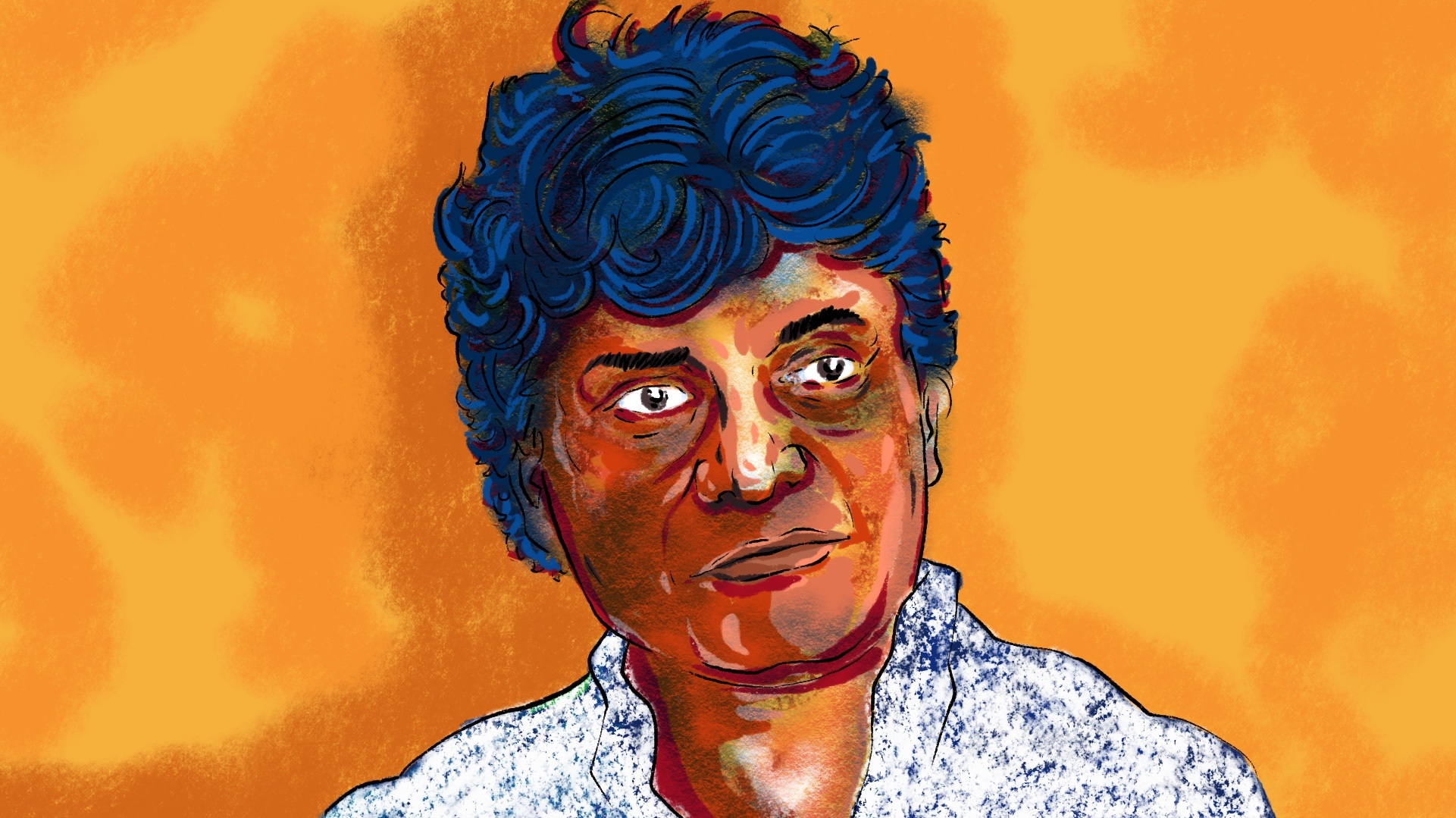 Prahlad Shinde. Illustration by Satwik Gade | Image courtesy: Firstpost
Frederick Engels paved the way for historical materialism as a framework to understand the world in Anti-Dühring, where he notes that "Actually, each mental image of the world system is and remains limited, objectively by the historical conditions and subjectively by its author's physical and mental constitution."1
We must understand what Engels may have meant in the context of music in India, which for the purposes of this write-up means Ambedkari Shahiri or Jalsa. We are well aware of historical materialism and how through it we can understand society and the [cultural] world, but it needs to be testified and critically examined when applied to the phenomenon of Ambedkari songs.
The Ambedkari phenomena in songs is purely constructed and shaped by musicians and singers of the dalit, or ex-untouchable, community. This raises an important question: why did the dalits find it necessary to transform Ambedkar, the philosopher and intellectual, into song and/or music?
There are many explanations, but in the context of music, probably, only one answer is plausible. The historical experiences of the formerly untouchable (now dalit) communities were so depressing, their circumstances so dire, that the intensity with which Ambedkar fought for their emancipation turned him, over time, into an emotion. To put it simply, Ambedkar is the most powerful emotion among members of the dalit community. Out of the entire range of emotions, he is the source of their strongest feelings. Bheem Geete, or the songs of Bhima (as Ambedkar is known) transform these emotions into a conscience call.
---
Also read | How Bhimrao Kardak and His Troupe Brought Ambedkar in Song
---
And it is the family of Shinde (or Shindeshahi) which gets the largest share of the credit for creating an unhindered legacy of Bheem Geete.
Pralhad Shinde and his descendants have been singing Bheem Geete for three generations, or nearly seven decades. In all, the family has contributed seven or eight singers, lyricists and musicians, Pralhad being the most notable among them. There is also Anand Shinde, his son and Adarsh Shinde, his grandson.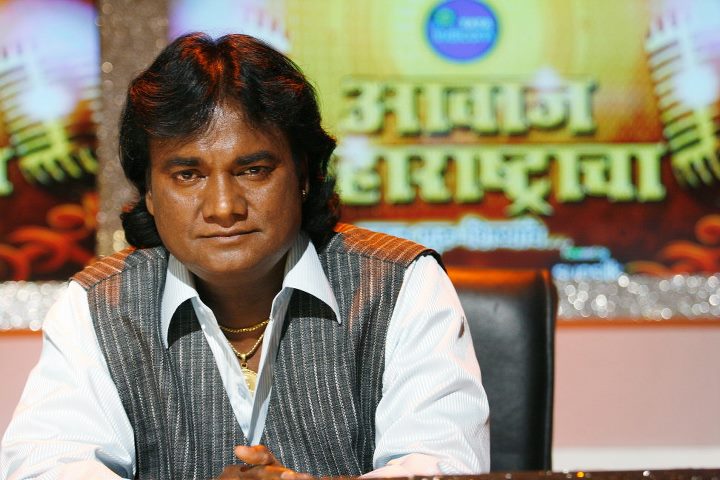 Anand Shinde | Image courtesy: Yogesh Maitreya
Pralhad had a sonorous voice with an enchanting quality that could mesmerise. To a Marathi-speaker, Shinde's voice has an effect akin to what petrichor does to the nose. But Shinde's life was no bed of roses. Indeed, no dalit artist had a life of leisure in which he or she could produce music in complete peace. Some time back, I started researching Pralhad Shinde, hearing his songs etc, and I then wrote perhaps the first article on him in the English language. This great singer, who marked a cultural breakthrough, had not a single of his works explained or rendered in any language other than his native tongue. In Marathi, of course, Pralhad's life and work is well-documented.
"The life and work of Pralhad Shinde is a metaphor of cultural mutation which doesn't seem to fit within western theories of resistance, persistence, survival and revival. This is essential to note if we are to understand his life," I wrote2 elsewhere.
Born in 1933 in Pimpalgaon, Ahmednagar, Pralhad Shinde grew up with music all around, as also grief. His parents used to sing kirtans or devotional songs on the streets to earn a living. Pralhad, too, started accompanying them.
Did music affect the young Pralhad in the same way that it affects others, who explore it for leisure? How is "singing to fight hunger"—when music is the only means of sustenance and brings no recognition—to be understood? This question is especially crucial considering India's caste-society's hostility towards Dalit artists?
It turns out that Pralhad was a true pragmatist as he started his career. For one, he sang many songs in commercial as well as folk styles. Yet, it is his lifelong association with Bheem Geete and his commitment to propagate Ambedkar's vision that defines him as an artist.
"Chandrabhagechya Tiri, Ubha Pandhari, Toh Paha Vitewari," sung by Pralhad is virtually an anthem in Maharashtra, especially among people who travel for the annual Vari or procession of Vitthal in Pandharpur. Then consider the song written by Wamandada Kardak and also sung by him:
Jari Sankatachi Kal Ratra Hoti
Tari Bhimraya Tujhy Sath Hoti.
[Though there was a night of calamity/ But we had your company.]
This number, too, has been immortalised in millions of hearts and minds.
Scholars may mistakenly brand these lyrics as hagiographic accounts, but they are really accounts of history that were never written by this country's historians. It is these histories that Pralhad narrated to people through his songs. Shinde had the rare ability to inject Ambedkar into the mass imagination. His singing, therefore, was transformative to an extent that not even many books are. Shinde sang hundreds of songs, each leaving an everlasting impact on listeners.
---
Also read | In Chokhamela's Bhakti, Past Transforms into Radical Present
---
The history of the struggles and triumphs of dalits, which have been buried by Savarnas, is resurrected, exhumed and kept alive by such songs. Pralhad Shinde passed on this legacy to the next generation, who proved as capable to carry Ambedkar further along on their distinctive voices.
Anand Shinde, the second-generation torch-bearer of Shindeshahi, is a legend in his own right in Maharashtra. The continuing tradition of Bheem Geete would remain incomplete without taking his contributions into account. His songs have turned Ambedkar into a symbol and pride and intellect among the dalit communities of the state. His musical style has easily navigated the transition from the pre-technological world to today's highly-technological world.
He, too, has sung many popular songs, but like his father, his commitment to Bheem Geete remains uninterrupted.
Bheem Geete was limited to Marathi language and Maharashtra as a region, but it was recently discovered in the north, in the rap of young dalit artists. It has carved out a space in the popular imagination. Who listens to them and where matter, but the ideological location and time-sense of this music matters even more.
In May 2015, in Shirdi, Maharashtra, Sagar Shejwal was killed by elite-caste goons. Why? Because Sagar's phone rang and the ringtone was a song that extols the might of Babasaheb and his works. The goons found this intolerable. They dragged him, thrashed him and crushed him. He succumbed to 25 barbaric injuries. Their intention was to terrorise the dalit community.
A few months after the incident, in June 2016, Anand Shinde sang:
Tari por hi wajavtil,
Babasahebanchi ringtone na.
Still the boy will continue to play
The ringtone of Babasaheb.
This was cultural retaliation to the terrorism of so-called upper caste goons. This song has garnered 11 million views on YouTube and it is a popular ringtone among dalit youngsters. The episode shows how, even today, Babasaheb is intolerable to elite-caste youth.
In in this hopeless situation, songs and singers such as Anand Shinde become even more important than philosophers or intellectuals. Perhaps this is no comparison, but such is the impact of Shinde's songs. Of course, even Babasaheb knew of the revolutionary effects of these songs.
Today the Shinde family is prosperous, widely recognised and respected by millions. This is because they committed to Ambedkar's movement on the cultural front. But it is the inclusion of generations of dalits into music that has made Bheem Geete a catalyst that rejuvenates the community's spirits while the world stands against them. This is why more and more youngsters from the Shinde family are solely associated with music, as lyricists, singers or composers.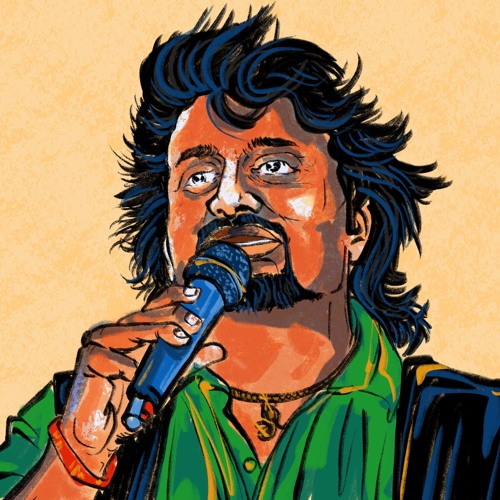 Adarsh Shinde. Illustration by Satwik Gade | Image courtesy: Firstpost
Adarsh Shinde, who was born in 1988 in Mumbai, is probably the most famous playback singer in Marathi cinema today. His songs get millions of hits online. Yet, within the dalit community he is as popular as his grandfather and father were as a singer of Bheem Geete. Unlike his father and grandfather, Adarsh has been trained in what is inappropriately called "classical" music. By the time he started working, his family had already acquired fame and financial success in the Ambedkari community and beyond.
In his first album, Adarsh sang alongside his father and an uncle, Milind Shinde. He became well-known when he participated in a singing reality show on the Marathi TV channel, Star Pravah. So far, he has sung more than 1,500 songs, many for Marathi and Hindi films. He has received the prestigious Dadasaheb Phalke Award for his contributions to film music."3
---
Also read | From Mahars to Buddhists: The Culture of Protest
---
Again unlike his father and grandfather, Adarsh belongs to an era that is witnessing a very different phase of the dalit movement, thanks to the widespread use of technology. Today, an individual can become famous and decide not to remain with any movement. But the Shindes are a prominent example of how fame can and must be used to deliver the promises that history has been demanding: justice for and liberation of dalits.
That is why I say4: "… they also identify with their own history, which is otherwise erased by Brahmanical agencies. Given the nature of society in India, which is brutally divided along caste lines, where Dalit artists like Adarsh Shinde have been historically made invisible and erased, his rising as a significant voice gives Dalits a sense of identity and belonging—a feeling that has been lost in the midst of the crisis in the politics of the Dalit community."
The more caste society suppressed them, the more intense the assertion of its victims became. This is the transformative effect of music, as the Shinde family has done it for generations. Babasaheb's assertion was bloodless and profound a revolution since it essentially freed the minds of people. The Shindes carried forward the sound of this revolution in their own way.
---
Notes:
1 Friedrich Engels, "Anti-Duhring", People's Publishing House (p) ltd, 2011.
2 Yogesh Maitreya, "Dalit Shahirs of Maharashtra: Pralhad Shinde's Dual Approaches to Music, Firstpost, July 28, 2018, <<https://www.firstpost.com/long-reads/dalit-shahirs-of-maharashtra-prahlad-shindes-dual-approaches-to-music-4841801.html>>.
3 Yogesh Maitreya, "Adarsh Shinde Takes Forward Third Generation Legacy of Bhi Geete", Firstpost, February 9, 2019, <<https://www.firstpost.com/long-reads/dalit-shahirs-of-maharashtra-adarsh-shinde-takes-forward-third-generation-legacy-of-bhim-geete-5971481.html>>.
4 Id.
---
Disclaimer: The views expressed in this article are the writer's own, and do not necessarily represent the views of the Indian Writers' Forum.