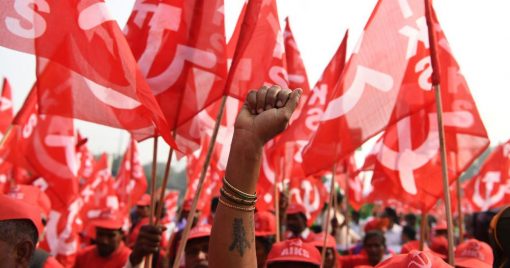 Even as the country is seeing massive protests against the divisive decisions of the Narendra Modi government to impose the CAA-NPR-NRC on the country, lakhs of industrial workers and other employees, along with farmers and agricultural workers are preparing for a historic one-day general strike on January 8, 2020. The demands include a complete reversal of the economic policies being followed by the Modi government as also an end to the attack on the Constitution and pushing of divisive, communal agenda through citizenship-related laws.
This coordinated strike action is likely to paralyse the country, if past strikes are anything to go by. It will converge various streams of protests that have taken place against privatisation of public sector enterprises, invitation to foreign capital, introduction of anti-worker labour codes, wage freeze, price rise and record levels of joblessness that are destroying the economy and the future of youth. It will also gather together the continuing movement of farmers against increasing debt and refusal of the government to ensure remunerative prices for their produce, that has led to large-scale economic distress and even suicides among farmers.
The call for this strike was initiated in September 2019 at a National Mass Convention of Workers organised by the joint platform of 10 central trade unions along with almost all the independent national federations. Support to this call was extended by national convention of All India Kisan Sangharsh Coordination Committee (AIKSCC) in November 2019. The AIKSCC is an umbrella forum of over 100 farmers' organisations.
In the first term of the Modi-led BJP government, three all-India strikes by workers were held –- on September 2, 2015; Sept 2, 2016 and the two-day strike on January 8-9, 2019. Since the imposition of neoliberal economic policies on the country began 28 years ago that opened the doors of India to global capital and privatised large sectors of society and economy, workers have gone on strike 19 times, pushing back several unjust and harsh policies.
Recent Struggles
Since the Modi government got re-elected in May this year, it has set a rapid pace on two fronts: neoliberal reforms and Hindutva-oriented changes. On the economic front, it has pushed for large scale sell-off of the public sector, even disinvesting such profit-making enterprises like Bharat Petroleum (BPCL) with plans for selling off more of such enterprises. It has also initiated disinvestment (or corporatisation) of the defence production sector, Railways, banks, etc. In order to please foreign monopolies, the government has opened up India's strategic coal sector for 100% foreign direct investment (FDI), thus opening up the country's mineral wealth to foreign conglomerates.
Meanwhile, it has pushed through several changes in existing labour laws that will increase the rate of exploitation of workers, reduce their wages and shackle their rights to form trade unions. This is being done to appease big industrial houses and foreign companies by assuring them of cheap and pliant labour in the country.
As a result, even in the short period since Modi 2.0 was established, a strong reaction of protest emerged. Tribal communities have been fighting in Bailadilla (Chhattisgarh) and in Odisha, against takeover of land for mining.
Railway workers and their families came out in thousands to protest against corporatisation of several production units which is nothing but a precursor to privatisation.

Over one lakh workers of 41 ordnance factories started a month-long strike in August 2019 forcing the government to backdown from its plans of privatisation. After this victory, the strike was called off on the fifth day.

Over six lakh coal workers went on one-day strike in September 2019 against the government's decision to invite 100% FDI in the coal sector.

Bank employees observed a massive strike in October 2019 against the government's decision to merge 10 public sector banks into four. It received active support from the officers' unions resulting in near total strike effecting banking operations.

A country-wide full day strike of all refineries, marketing and pipeline workers of BPCL and HPCL was held in November 2019 against the privatisation of BPCL and HPCL.
Besides these, there have been numerous other local, regional or industry-level struggles spanning thousands of workers. Only recently, the construction workers held an unprecedented march to Parliament against changes in labour laws that demolish protection provided to them. Journalists, too, protested against such changes in the laws governing them. Anganwadi workers and other scheme workers have held large protests in several states.
Significantly, the joint platform of trade unions has also become a leading and influential voice in issues that affect the country's people, not just those relating to workers and employees. For instance, the joint platform has been actively leading the protests against the CAA-NPR-NRC conspiracy launched by the Modi government. At its call, demonstrations have been held across the country in working class centres.
In fact, working class organisations are raising the demands of the peasants, agricultural workers, issues of unemployment, violence against women, privatisation of public health and education etc. They have raised their voice against the attacks on the democratic and constitutional rights of people in the name of 'urban naxals', against attacks on dalits, adivasis and minorities etc. They have criticised the amendment to the RTI Act to cripple it, amendment to the Unlawful Activities Prevention Act to make it even more draconian and vindictive, and abrogation of Article 370 without consulting the people of Jammu and Kashmir, in fact by gagging them. It has strongly denounced the communal forces which are creating conflicts and providing an opportunity to the government to deflect the attention of the masses from their core issues and were endangering the basic ethos and core values of Indian Constitution.
Rural Bandh – Farmers Too Joining In
Meanwhile, the second major stream that has decided to join the workers is that of farmers. They have struggled over the past few years against Modi's policies of empty promises while squeezing the farmers, grabbing their land, allowing MNCs to dump agri-produce in the country, using farmers' distress to fill the coffers of insurance companies and other such exploitative decisions.
The AIKSCC has decided to observe January 8, as a Grameen (rural) Bandh with road blocks, protest demonstrations, and work stoppages in almost all districts of the country. Their major demands include minimum support prices that are 50% more than total cost of production (C2), complete waiver of all farmer debt, effective protection from crop damage, disaster compensation, implementation of Forest Rights Act, and others.
The combination of workers and employees of all types, with farmers is bound to create a powerful force that will take the whole country within its sweep. Reports from various states indicate that enthusiastic preparations are in full swing. The Modi government's attempts to divert the attention of people from the sinking economy and ruined lives by initiating such communal and divisive policies like calling for citizenship verification or discriminating against one minority community can only be rebuffed by this unity of working people.
---