With clenched fists and rousing slogans, thousands of students poured into the streets of different cities across the country to extend their support to the agitating students of the Jawaharlal Nehru University. In a rare example of unity, the support also came from the students of the private institutions like Ashoka University and O P Jindal University who marched with the students and formed a human chain at Connaught Place in the national capital to highlight the crisis of increasing fees in higher education.
The JNU students have been on strike from October 28 after the varsity administration approved the new hostel manual and revised hostel and mess fees. An independent analysis by The Print suggests that the overall hostel, mess and other expenses of an average student may soar to Rs 55,000 to Rs 61,000 per annum from existing Rs 27,600 to Rs 32,000, making it the costliest central university in the country. This apart, the new hostel manual has introduced dress code and curfew timings, limiting the movement of the students within the campus. However, these provisions were struck down after mounting pressure from the students.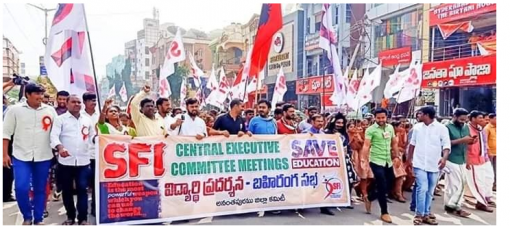 NewsClick spoke with Ujjwal Katiyar, a student of post-graduate diploma in liberal arts from Ashoka University, whose story explains how the costs in higher education have meteorically risen in the past decade. Katiyar said that he did his schooling from Jawahar Navodaya Vidyalaya. "Then, I joined Allahabad University for my graduation. Till this point, my parents could manage to pay the expenses. However, the fess for my present course at the university is Rs 10 lakh. I could get the scholarship, but other students are still compelled to pay this fee. This is why I support JNU students in their struggle."
Rahul, a student of MBBS from All India Institute of Medical Sciences, is enraged over the reports of up to tenfold hike in the fees, which may push the existing fee between Rs 4,000–Rs 6,000 to Rs 60,000–Rs 70,000. Rahul said, "My parents are not much educated. It is only due to the subsidised education that me and three of my siblings can study and establish ourselves. With the proposed fee hike, the students like me will be forced out of the campus. I may go back to the village and work in the field."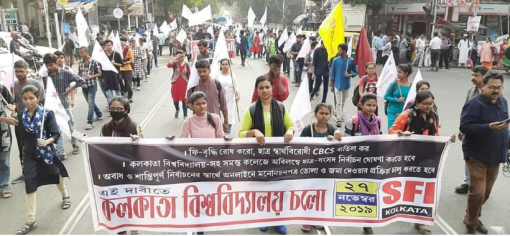 Far away from the national capital, thousands of students from Presidency University thronged the College Street in Kolkata. The students from the Calcutta University too organised a march; whereas, the JNU alumni marched from Raja Subodh Mallick Square to Dharamtala.
Subhanil Chowdhury, who teaches at the Institute of Development Studies, said, "Education is the only medium through which poor can climb up the ladder in an unequal society like ours. Fee hike and privatisation are aimed at taking away this sole ladder from the poor." He added that the current JNU administration is towing the line dictated by the Bharatiya Janata Party.

The students of prestigious university also got support from the students of Jawaharlal Nehru Technological University in Anantapur, Andhra Pradesh. Talking about the rally, SFI General Secretary Mayukh Biswas said, "The students of JNTU and other institutions marched to express their solidarity today. The issue of fee hike has rattled the students across the nation and that's why they have taken to the streets in such large numbers." Extending its support to JNUSU, Mizoram University Students Council said, "The students of Mizoram University extend their support and stand in solidarity with JNU. We also urge the government to shift its priority towards inclusivity in building a nation, that in fact, starts with affordable education to all."
---