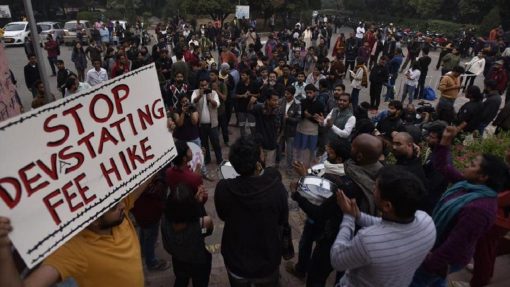 In a move, which can be called as unprecedented unity of students in the recent times, various students' organisations and unions across the country will observe National Day of Protests on Wednesday in solidarity with the ongoing struggle of Jawaharlal Nehru University (JNU) students.
The protest day comes days after the appeal from the JNU Students' Union (JNUSU) for united struggle for affordable and accessible education. The JNU students have been on strike from October 28 after the varsity administration approved the new hostel manual and revised hostel and mess fees. An independent analysis by a news portal suggested that the overall hostel, mess and other expenses of an average student may soar to Rs 55,000 to Rs 61,000 per annum from existing Rs 27,600 to Rs 32,000, making it the costliest central university in the country.
The appeal by JNUSU read, "Privatisation of education is the grim reality of education in India today. Policies such as the Draft National Education Policy, financial autonomy and the HEFA loan have made fund cuts and fee hikes the norm in all universities. Also, private universities across the country have developed as exclusionary enclaves imposing abhorrent fee structures and dismissing any scope for democratic functioning. In the light of looming crisis in higher education we therefore make this appeal to students across all universities, colleges and universities to observe a National Day of Protest in defence of affordable and accessible education on 27 November."
Responding to the appeal, various student unions have planned to observe protest day in their respective campuses. Talking to NewsClick, the presidents of Hyderabad Central University, Presidency University, Kolkata and Tata Institute of Social Sciences explained their reasons for observing the protests.
Mimosa Ghorai, the president of Presidency University Student's Union said that they have made an appeal to all to participate in the rally which will be begin at College Street and culminate at S Mall. While the university is still highly subsidised, there were attempts to raise fees in the past. For example, the administration now charges Rs 500 for an admission form even if a students does not qualify for admissions post counselling. Shuvajit Sarkar, state committee member of Students' Federation of India, said that the protest is for more than the issue of fee hike. "We have seen how students' voices were muzzled by the state government led by CM Mamata Banerjee. Even our basic demands were met with brute repression. The protests are about restoring democracy in campuses," said Sarkar.
A similar concern was shared by Subhanil Chowdhury, former JNU alumnus and presently a faculty at Institute of Development Studies, Kolkata. Chowdhury, with assistance of other alumni, is also organising a protest in Kolkata. Talking to NewsClick, he opposed the fee hike and said that increasing fees in order to pay the salaries of the contractual and mess workers is totally unjustified. He said, "I am a professor of Economics. It is a well-recognised fact endorsed by Left-wing economists as well as Right-wing economists that if a country needs to prosper, it must invest in education and health. What we see in India is that the contribution of the central government in spending over education is hardly one percent of the Gross Domestic Product (GDP). Whereas, the rest two percent is contributed by the state governments. In this scenario, if it cuts spending and hikes fee, it will definitely hit the marginalised the most. For example, the girl students who wish to continue their studies are always under the family pressure for marriage. If a university is highly subsidised, a girl will be able to continue her studies. The government is snatching this opportunity away from them."
Students at the Hyderabad Central University are too planning to observe the protest day. The campus has seen a slew of protests over discrimination commencing from the suicide of Rohith Vemula. Abhishek Nandan, the president of Hyderabad Central University Students' Union, told Newsclick that the campus is able to host thousands of students from various parts of the country only because education is cheap here. Presently, a student is paying Rs 1,800 to Rs 2,000 per month for various facilities. If the fee hike can be imposed in JNU, it can be done here too. The administration has tried to impose fee hike in the past, but the students' resistance compelled them to roll back. However, it is a joint fight and we stand by the students of JNU."
Similar protests are expected in Himachal University, Shimla, Maharaja College in Ernakulam, Kerala, Pondicherry University and other university campuses.
---