Joblessness has settled at 8.5% in October, almost double of what it was two years ago but the government still has no plan or vision to fix it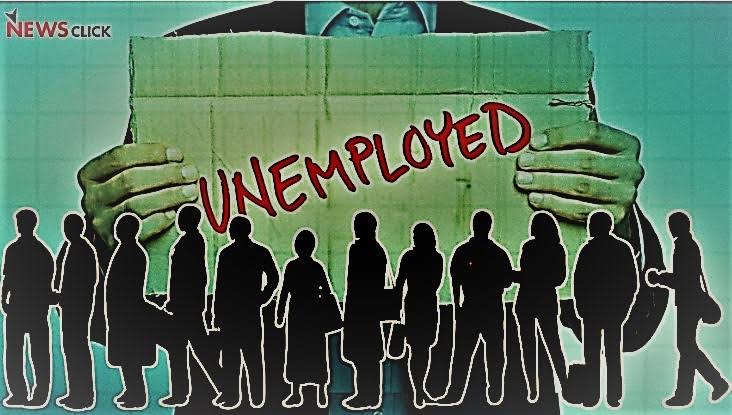 The Bharatiya Janata Party (BJP) government at the Centre, led by Prime Minister Narendra Modi, has been busy 'fixing' Kashmir, Ayodhya, and other issues, even as Modi himself has starred in the 'Howdy Modi' extravaganza in the US, spent meaningful time with Chinese President Xi Jinping and otherwise paid attention to various international issues. But there is a storm brewing right here in the country that Modi and his government colleagues seem to be blithely unaware of — the unstoppable tide of joblessness that keeps growing and growing.
The latest monthly average of the unemployment rate, as estimated by the Centre of Monitoring Indian Economy (CMIE), stands at 8.5%. That's almost double of what it was in November 2017. It has been rising relentlessly since then.
Even more distressing is the fact that the employment rate (share of working age population that is gainfully employed) has shrunk in these two years. In November 2017, a total of 43.83% of the working age population was employed and now it is 43.1%. [See Chart below]
This may not seem much but remember – the population of working age population is growing constantly as more and more people cross the age of 15 years and start looking for jobs. So, even if the share of employed remains constant, it actually means a lesser number is getting jobs.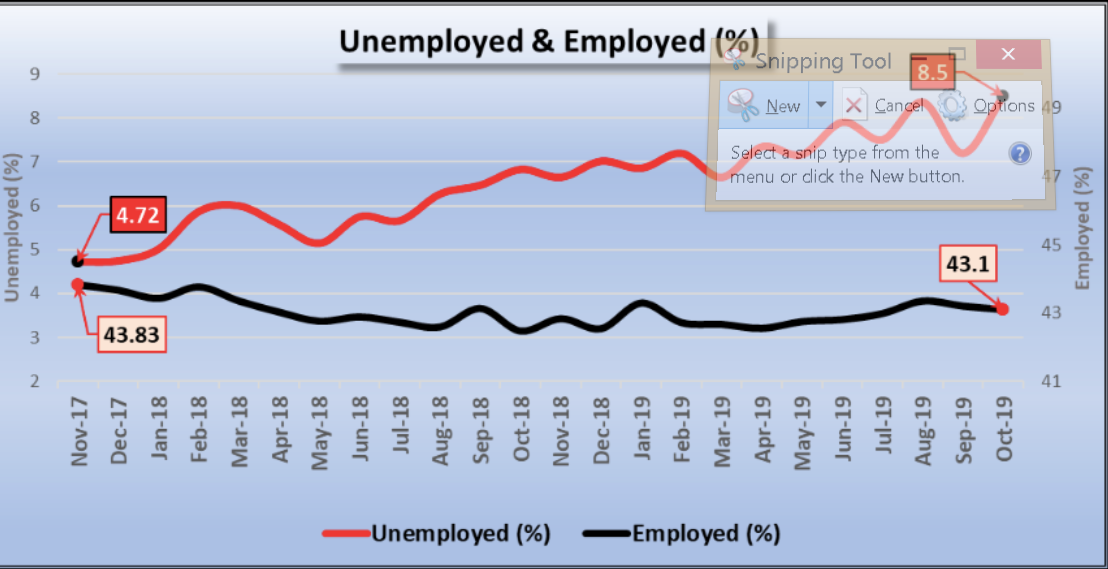 Note that at any one point, the share of employed and unemployed will not add up to 100% because there is a vast number of people who are not in the workforce at all – they are either studying or, the largest share are women who are not working at all.
Undoubtedly, India is facing a severe jobs crisis that is worsening. The latest uptick in jobless numbers is a direct result of the slowdown that has gripped the economy since September. This has led to vast numbers of industrial workers getting retrenched or simply thrown out. The numbers run into lakhs and span diverse sectors – from automobile and auto-part making to textile to cement, steel, transport, construction, leather, gems and jewellery, etc.
Besides this, the demand slump that has caused this slowdown has also affected sales of consumer products, both fast moving consumables as well as durables.
Although the Modi government has acknowledged the slowdown – at least in deeds if not in words – its response has been typically senseless. The government has announced a slew of measures to give concessions to the corporate sector in a rather childish belief that this will spur investment and rekindle the faltering economy. The Centre slashed the corporate tax rate from the current 30% to 25.17%, including all cess/surcharge. In addition, measures easing taxes on new companies, share buybacks, capital gains, etc. were also announced. These concessions add up to a staggering Rs.1.45 lakh crore, which finance Minister Nirmala Sitharaman described as a "stimulus" to the economy, but which actually means that much loss of taxes.
The government has also announced roll-back of enhanced surcharge on foreign portfolio investors, infusing Rs 70,000 crore in banks and Rs 20,000 crore for housing finance companies through the National Housing Bank, a Rs 50,000 crore scheme for promoting exports, a Rs 10,000 crore scheme for helping real estate developers in completing unfinished houses, a roll-back of angel tax for start-ups, and so on.
The Centre has even set up a fund of Rs 25,000 crore to help builders finish their projects, which are estimated at over four lakh dwelling units. Besides these tax concessions and bail-outs, the government has also grabbed this opportunity to declare the merger of several public sector banks, open up the coal mining sector for 100% foreign direct investment, ease bank credit regulations to provide more funds for investment, etc.
The Modi 2.0 government has set a dubious record of giving freebies to corporates – in just 120 days it has announced 33% more concessions than the whole of last year. In the combined five-and-a-half years of the Narendra Modi-led Bhartiya Janata Party (BJP) rule since 2014, Rs.5.76 lakh crore worth of corporate freebies have been announced.
Yet, there is no attempt to address the jobs crisis directly. All the measures listed above are meant to help corporate bigwigs. There is no guarantee that they will use this money to expand investment and create capacity in order to provide jobs. It is bizarre that a government that swept to power in the first term, promising one crore jobs every year, has so completely forgotten its promise.
The recent Assembly election results have proved that ultra-nationalist rhetoric is no longer going down well among people who are weighed down under the economic crisis. This trend is bound to magnify as time passes and Modi's attempts to divert public attention through Kashmir or Ayodhya are not going to prevent mass discontent.
---