My Voice Is the Gallows for All Tyrants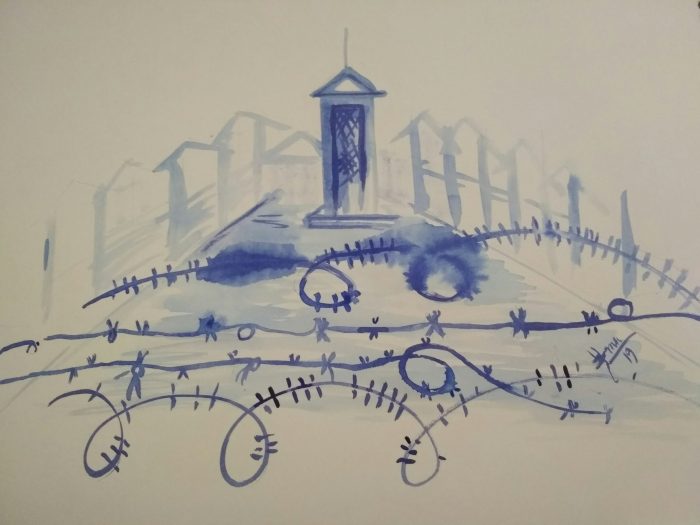 Uzma Nawchoo, 'When we were small, things were really simple; they just used kaend-taar (barbed wire) to create a cage. Now when we are adults, we are caged in something avant-garde called razor wire', 2019.
More than seven million Kashmiris remain suffocated by the Indian government. The curfew that went into effect on 5 August is still in place. The media is not able to get into the state and offer a report of the situation. Telephone and internet services have been shut down. Over two thousand academics, journalists, and politicians are in prison or under house arrest. Most recently, the Indian government arrested Farooq Abdullah (age 82) under the Public Safety Act of 1978 (which Amnesty International calls a 'lawless law'). Abdullah's father – Sheikh Abdullah – was the unchallenged leader of Kashmir's liberation movement in the 1940s.
Despite the production of a state of fear, brave people have come out on the streets to protest the situation. A senior government official said that there have been at least 722 protests since 5 August. This is a testament to the steadfast determination of the Kashmiri people to prevent their elimination. But their protests and their words are not being amplified. It is as if Kashmir has vanished from the map.
Amongst the brave Kashmiris is Mohammed Yusuf Tarigami, the leader of the communist movement in the state. Tarigami, who comes from a small village in southern Kashmir, has spent the past fifty years fighting for Kashmir, dreaming of a Kashmir free of war and poverty. He won a seat in the Jammu and Kashmir Legislative Assembly four times (1996, 2002, 2008, and 2014), an assembly which the right-wing government in New Delhi suspended. Prisons are as familiar to him as the Assembly. There is 'accumulated anger' inside Kashmir, he says, anger that has no easy political outlet. To learn more about the situation in Kashmir, please read the Tricontinental: Institute for Social Research Red Alert #1.
---