Jamia students go on strike against show cause notices served to 5 students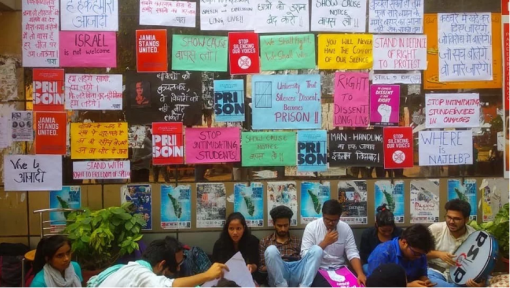 Over 200 students of Jamia Millia Islamia (JMI) on Monday, October 14, sat on a protest dharna in the campus against the administration of the university following show-cause notices issued against five students.
The students have been served show-cause notices for "protesting peacefully" on October 5 against Israeli participation in an international conference titled Global Health Zenith Confluence 2019 on Medical Infrastructure Planning organised by the Faculty of Architecture and Ekistics, held on October 5 and 6 at Dr Ansari Auditorium.
In separate notices to the students, Jamia Proctor Waseem Rizvi asked them to submit their replies till October 15. In case, they fail to submit the explanation within the stipulated time it shall be presumed that they have nothing to say in their defence and disciplinary actions shall be initiated against all five as per Jamia rules and regulation.
Unhappy with Israeli participation in the confluence, a group of students had carried out a peaceful protest on the same day, demanding to remove Israel from the partnership.
Anas Jamal, student of B.A Turkish who has been served show-cause notice, told NewsClick, "The incident took place on October 5. We organised a peaceful protest at Ansari Auditorium and later we dispersed. The proctor was there and asked us the reason behind the gathering. We explained to him that allowing participation of such a country will be equivalent to whitewashing Israel's violation of Palestinian human rights and international law."
He further alleged, "But, I, along with others, were isolated by the proctorial staff. We were thrown into an official vehicle while being beaten and manhandled and were locked inside the proctor's office compound. One person was being picked up by four guards. The Proctor himself pushed me inside the car."
"They assaulted us physically. Our hair was pulled and phones were broken. We were locked inside the proctor's room. Even inside the room, we were surrounded by 15 guards who pushed, slapped and kicked us. Our fellow protesters were outside and the same guards tried to snatch their placards. Now, that same Proctor is calling our parents and informing them that we are goons of the university and attempting to spoil the campus atmosphere," he added.
Another student, Abudarta Khan, who is a student of BA Programme, told NewsClick, "Firstly, the Proctor denied any sort of inquiry and action against those assaulted. Later, he agreed to a fair inquiry and assured us that action will be taken against the guards. When they inquired, they found in the CCTV footage that the guards and the proctor's advisor had manhandled students. However, they are not doing any fair inquiry. From the point we were detained, they did not want to include that CCTV footage. The proctor made a call to my father and told him that his 'son is trying to make a riot. If he does not apologise, Jamia administration will file an FIR'. We will continue our protest until the administration takes back the show-cause notices."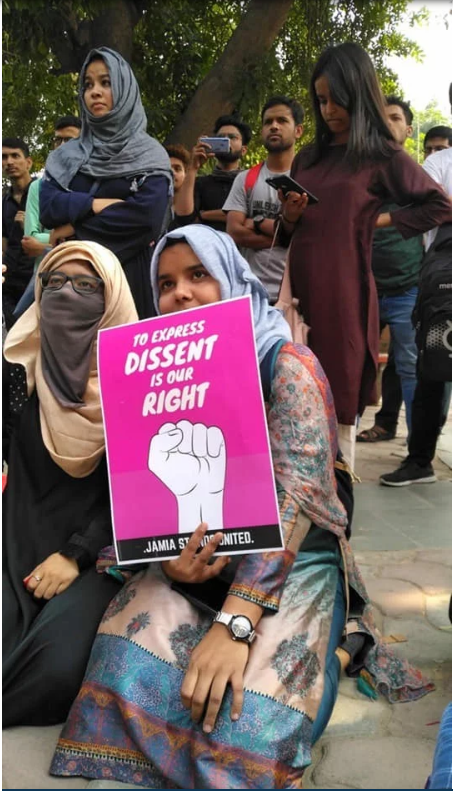 NewsClick approached Waseem Ahmed Khan, the Proctor of Jamia to find out his reaction to the issue. He said, "This conference was not in the collaboration with Israel but a delegate from Israel was there to present a paper. If the students had any objection with this, they should have informed us rather than holding a protest. The students misbehaved with the deputy proctor and security guards and broke the gate. They came here for study or disrupting the atmosphere of the campus? Such protest is nothing but a gimmick to become a leader. If students have the right to dissent, then the Israeli delegate also has rights to express his views."
However, students countered the proctor's statement. "There were several pictures, banners and hoarding were displayed inside premises where it was clearly written that Israel was in collaboration with the conference. The proctor is lying," alleged a student.
It should be noted that this is not the first time where students were served show-cause notices for a protest. Earlier, students who had protested for 10 days against the Head of Department (HoD) of Fine Arts over allegations of sexual harassment and passing lewd comments had also been issued show cause notices.
---