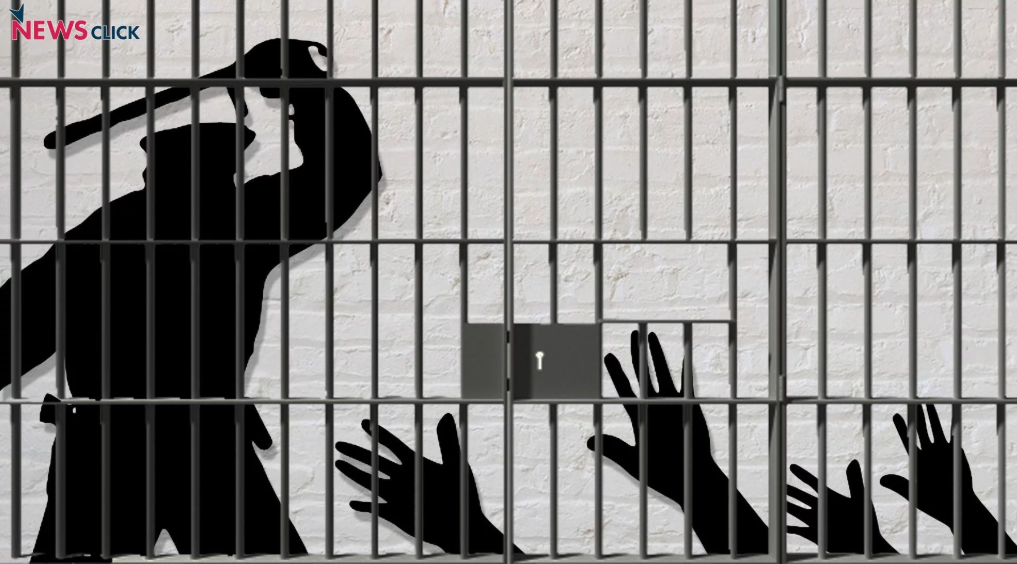 Image courtesy Newsclick
Hashim Iqbal Khan Pathan, a 28-year-old daily wage earner and resident of Keshod taluka in Junagadh district of Gujarat, would step out of his house every morning to find work that fetched him money to provide for his mother, his only family. However, on August 8, Hashim did not return home like usual. On the day, Junagadh police had arrested him for allegedly being drunk.
When no one turned up for bailing Hashim out by the end of the day, he was transferred to Junagadh central jail as he was arrested under Prohibition Act. A day later, he was brought to Junagadh civil hospital unconscious with multiple marks of injuries on his body. The next day, Hashim died in the hospital.
"Hashim is survived by his mother, his only family. He was uneducated and earned his livelihood by working as a labourer wherever he was hired for the day. His mother did not know that Hashim was arrested and even if she did, she could not have afforded to bail him out," Irfan Shah, Junagadh-based human rights activist told Newsclick.
"Hashim's mother and rest of the relatives were informed after he died in Junagadh civil hospital. The local police told us that he (Hashim) was an alcohol addict and that he began to crave for alcohol while in jail and became violent and injured himself. However, injuries on Hashim's body were not consistent with the narrative of the local police. There were marks on his chest and back and lower back which could not have been self-inflicted. The injuries suggested that Hashim was thrashed in jail," added Shah.
Subsequently, local activists and relatives of Hashim raised a hue and cry and refused to accept the body.
"We demanded investigation of the matter, suspension of the accused police personnel and compensation of Rs 25 lakh for the family," Shamshad Pathan, Gujarat-based minority rights activist and advocate wrote in a statement on behalf of Alpsankhyakh Adhikar Manch.
Following this, the Range Inspector General of Police of Junagadh agreed to carry out an investigation and a team of doctors were put together for the post- mortem in Jamnagar district.
"We will begin the investigation on the basis of the post-mortem report," Pradipsinh Jadeja, Deputy Superintendent of Police, Junagadh, told the media.
However, Hashim's family is yet to receive findings from the post-mortem report or the police investigation.
"We will meet the Range Inspector General of Police, Junagadh again demanding the delay in revealing a post-mortem report," said Irfan Shah, the activist who had received the body on behalf of the family.
133 Custodial Deaths between 2017-2019 in Gujarat
The Gujarat government, in a response to a question asked by Vadgam independent MLA, Jignesh Mevani in the Assembly in July this year, stated that there have been 133 custodial deaths between May 2017 and April 2019.
The government also informed the House that only in six cases out of 133, some action has been taken against the accused police personnel. In one case, a Police Sub-Inspector, a Head Constable and a Constable have been arrested and are in judicial custody, in a second case three Head Constables have been imposed cash fines, in a third case salary increment was stalled for an Assistant Sub-Inspector and a Constable for three years, in another case an Assistant Sub-Inspector was reprimanded. An FIR was lodged against a Police Inspector, four Police Sub-Inspectors and three Head Constables in one case while in another case, two Police Sub-Inspectors, one Assistant Sub-Inspector and three Constables have been chargesheeted. Two Gram Rakshak Dal (GRD) personnel have also been suspended on accusation of custodial torture.
The government had also informed the Assembly that so far a total compensation of Rs 23.50 lakh had been given to families of people who died in police custody.
---