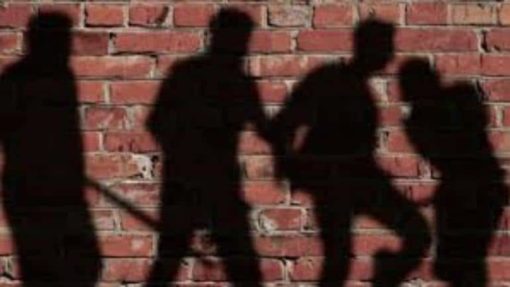 Image Courtesy: News Central 24×7
Five dalit men have been attacked between May and July this year in Gujarat by men belonging to upper castes, amongst which, only one victim has survived the attack. The data compiled by Scheduled Caste and Scheduled Tribes Cell, Gandhinagar revealed that 16 cases of murder were registered until May this year.
On July 8, Haresh Solanki, a 22-year-old dalit man was hacked to death allegedly by his wife's family members, who belong to an upper-caste family in Varmor village near Ahmedabad, as he attempted meeting his pregnant wife at her parents' house in the village.
On June 27, Piyush Sarvaiya, brother of Lalji Sarvaiya – who was burnt alive in his house in Una by a mob belonging to upper castes in 2012 – was attacked by men accused of killing his brother. Arjanbhai Makwana, one of the convicts who had been out on parole, and Arshi Vaja whose father and brother are convicts in the murder of Lalji Sarvaiya, reportedly rammed their motorcycle into Piyush's motorcycle and thrashed him as he fell down. Sarvaiya, however, survived the attack.
On June 19, Manjibhai Solanki, a 55-year-old dalit deputy Sarpanch was attacked with pipes and iron rods by upper caste men of his village who had been reportedly irked as Solanki has helped dalits of the village to lodge cases of atrocity against the men. Solanki succumbed to his injuries en route to hospital.
On June 12, Prakash Parmar, a 34-year-old worker in a ceramic factory was killed allegedly by men belonging to Darbar caste in Surendranagar to avenge the complaint against them lodged by Prakash's brother. On May 22 this year, Rajesh Sondarva, son of a dalit RTI activist, was thrashed to death near Rajkot by men accused of killing his father a year ago. The accused in this case too were out on bail.
In March this year, Minister of Social Justice and Empowerment Ishwar Parmar told the Gujarat Assembly that crime against dalits in Gujarat had rose by 32% from 2013 to 2018.
Parmar further stated that in the year 2018, 49 cases of atrocity were registered in Ahmedabad district, 34 cases were registered in Junagadh, 24 in Surendranagar district and 23 in Banaskantha district.
As per the data of Scheduled Caste and Scheduled Tribe Cell, 568 cases of atrocity against dalits have been registered till May this year. There have been 16 cases of murder that have been registered, 30 cases where victim(s) have been grievously hurt and 36 cases of rape. The data also reveals that the number of cases of atrocity against dalits have been soaring each year since 2010. In the year 2010, total number of cases of atrocity registered was 1,006, in the year 2011, it was 1,083, 1147 in 2013, 1,355 in 2016, 1,515 cases in 2017 and 1,544 cases in 2018.
Noticeably, number of cases of rape has gone high from 39 in 2010 to 51 in 2011, 70 in 2013 and 108 cases in 2018. In the year 2019, 36 cases of rape have been registered till May.
"One has to keep in mind that dalit women are at the receiving end of both gender and caste violence. While a dalit woman might be facing domestic violence at home, she also is at the receiving end of sexual violence met out by the upper caste men at her work place," said Manjula Pradeep, a Gujarat-based dalit and women's rights activists, while speaking to Newsclick.
"Increase in the number of cases of rape also means that more cases are being reported. However, the numbers also raise a question on how safe actually Gujarat is for women," added Manjula.
"These numbers are tip of the iceberg as there are a greater number of cases that go unreported. While most of the times it is fear of upper-caste men that keeps dalits from reporting, there are also times when they are paid to not report to the police," Kantilal Parmar, a dalit activist associated with Navsarjan, the oldest dalit rights organisation in Gujarat, told Newsclick.
"Dalit women face both gender and caste violence. Outside their homes, women who belong to higher castes are treated with a certain dignity that dalit women are not. For instance, a woman belonging to Darbar caste would be addressed with the word baa and not called by just her name. A dalit woman, especially who earns her living by working as a labourer is usually mistreated and casteist abuses are hurled at her by their bosses at work who are mostly upper caste men. Dalit women also stand a risk of being sexually harassed by these men at work," added Parmar.
Notably, in many villages of Gujarat, dalit women are not allowed to cover their heads in front of the upper-caste men, while women who belong to upper castes observe a purdah system by covering their faces and heads in front of the men outside their family.
There are many such social rules formed by upper caste residents that dalits in multiple villages of Gujarat have to abide by for their safety and survival in the village.
In Limbodra village in Kalol taluka of Gandhinagar district, where there are about 1,000 households of Darbars and only 100 families of dalits, the Darbars have ensured implementation of multiple diktats regarding dalits. Generations-old restrictions on Limbodra's dalits include not wearing new clothes, not sporting a moustache, not getting shaved by village barber or ride a horse on one's wedding to name a few.
In 2017, two dalit youths – one from Limbodra and another who was visiting the village – were thrashed by the upper-caste men for having a moustache.
In the same year, a dalit youth in Anand district was thrashed to death for watching garba (a dance form practised during the festival of Navratri in Gujarat). In another incident in Bhavnagar district, a dalit man was thrashed as he had the word "banna" (a word used to call Darbar men) written on his motorcycle.
In another incident in 2017, dalits of Rantej village in Becharji taluka of Mehsana district, protested against the discrimination in a village function where there was separate seating arrangement for dalits. As dalits stopped picking carcasses as a mark of protest, the upper-caste villagers called for social and economic boycott of the dalit families. When some upper caste villagers tried helping out the dalits, they were fined Rs 2,100 for the act.
In 2018, a dalit man was killed for owning and riding a horse in Bhavnagar district. In the same year, a 13-year-old dalit boy was brutally thrashed for wearing mojri and a gold chain in Mehsana. In a similar incident in Mehsana, another dalit youth was thrashed for sporting a photo of Shivaji on his motorcycle.
---