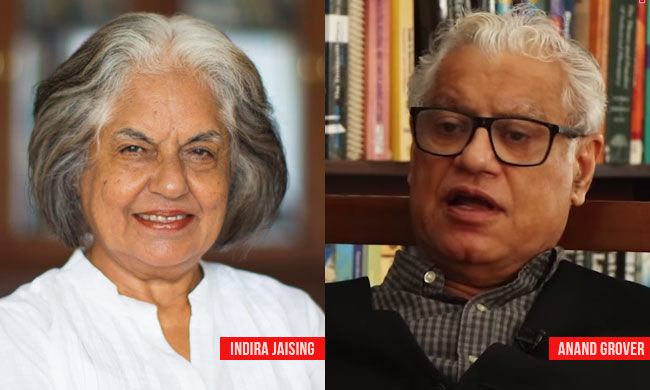 Several lawyers, writers, artists, journalists and academics have issued a joint statement condemning the registration of FIR by CBI against the NGO Lawyers Collective and its founder Senior Advocate Anand Grover for alleged violations of Foreign Contributions Regulation Act.
"The registration of an FIR against them under the Foreign Contribution Regulation Act, Prevention of Corruption Act and the Indian Penal Code, on the very allegations that are already under challenge before the High Court of Bombay, is a clear sign of executive haste and overreach. Pillorying them in this manner would deprive vulnerable sections of society of the benefit of representation of such high calibre and commitment. We do not wish to see a future where the voices of people such as Indira Jaising and Anand Grover are curtailed and the attempt of the State to do so must be strongly criticized", said the statement titled 'Standing up for those who stood with us'.
They have called upon the Central Bureau of Investigation (CBI) and the home ministry to "desist from the unjustified and vindictive use of criminal law" against its founders Indira Jaising and Anand Grover.
The signatories include persons such as Anand Patwardhan, documentary maker, Anup Surendranath, Law Professor, Javed Akthar, artist-lyricist, Naseruddin Shah & Ratna Pathak Shah, actors, Teesta Setalvad, social activist and Senior Advocates Rajani Iyer, Gayatri Singh, and Sanjay Singhvi, and a lawyers such as Karuna Nundy, Veena Gowda, and Trideep Pais etc.
They said, "The work of Lawyer's Collective in general and Indira Jaising and Anand Grover, in particular, has contributed to changing the lives not just of individuals but of citizens of a democratic republic. They have not only represented the rights of individuals and communities such as slum dwellers, workers, trade unions, prisoners, SC/ST associations, Bhopal Gas tragedy victims, women, LGBTQ+ and other marginalised communities as lawyers, but have also contributed immensely to the discourse of human rights and state accountability as public intellectual".
Lawyers Collective had expressed "shock and outrage" at the CBI action. In the statement, it said that it has "reasons to believe that its office bearers are personally being targeted for speaking up in defence of human rights, secularism and independence of judiciary" and to "silence them as they have taken up sensitive cases in the past".
Last week, the National Human Rights Commission had called for a report from the CBI regarding the case, after noting that the FIR was registered almost three years after MHA filed a report against the organization. Based on the timing of the FIR, the Commission headed by former CJI Justice H L Dattu observed that it needed to examine the issue to "make it non-discriminatory and avoid arbitrariness".
Read the entire statement here.
---