Aabhaasam: Democracy Travels at Night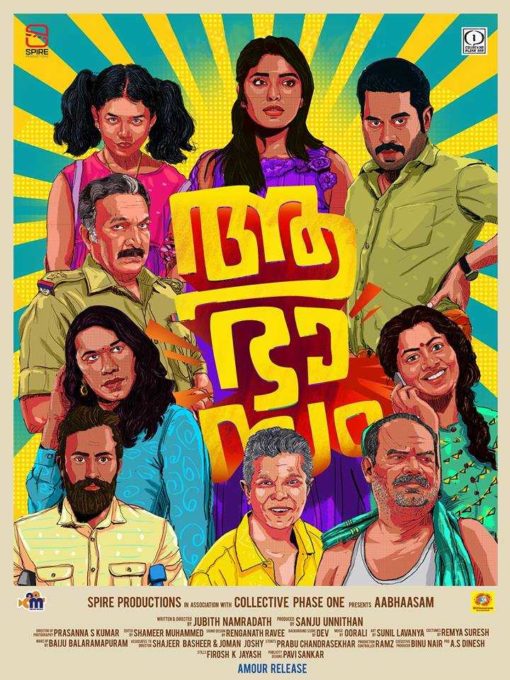 Image Courtesty: IMDb
How does this country deal with desire? Is desire something elusive and coveted? Is it mythical? Is it seduction or is it about power? Is it sinful? Is it taboo? Is it secretive and bashful? Shall we give into it with abandon? Is it provocative or matter of fact? Are there rules to lust, longing and sexuality? What line can never be crossed? What follows when that line is crossed, when it is furtive and predatory when it's about control? How do we view the words, "craving", "appetite" and "consumption"? Whose word is law? Whose boundaries do you reject? Judith Namradath's Aabhaasam (2018), searing, witty and sometimes macabre Malayalam film is about asking these questions.
Judith sets the story in an inter-state bus owned by Democracy Travels and Tours. Each bus is named after a political figure: Gandhi, Godse, Marx, Jinnah and Ambedkar. The majority of the film's events occur on the Gandhi bus, though the others make brief appearances. Godse's driver and cleaner are constantly plotting to derail the Gandhi bus or woo away the passengers. The Jinnah bus leaves ahead and breaks down, while the Gandhi bus's staff jeer unkindly, refusing to pick up the stranded passengers. When a customer calls the travel office to book a ticket to Kottayam, she's told that,"Jinnah has left, Marx is full. There are two seats in Gandhi. And there are seats in Godse and Ambedkar."
The passengers come from such diverse backgrounds that their interactions often verge on the absurd. An Ayyappa bhkatar heading to Sabarimala finds himself next to a white tourist over-eager about spirituality. When he tries to explain the birth-story of Ayyappa, he baffles the tourist by simply stating that the deity's father was Shiva and his mother was Vishnu. He's plainly too conservative to tell the steamier side of the story: Vishnu becoming Mohini in order to seduce Shiva. Or the many readings of their union as either same-sex or of it taking into account gender-fluidity. Finally, the Ayyappa bhaktar tells him that sex is inessential to divine births. "Like Jesus, you know?" he says in a desperate attempt to wriggle out of a conversation about fornication. Yet, the Mohini myth provides an interesting axis for the plot. It ties into the conversation about sexuality and gender identities. Rima Kallingal's character and another passenger, an inter-sex person who sells curios by the roadside, have hauntingly familiar arcs. Both of them in their own ways are devastatingly alone. Both are travelling alone. Both face the quandary that many who love their solitude do: they are also terribly lonely in a world that dehumanises them, preys on them and rejects their identity. One as a single woman comfortable with her sexuality, the other as an inter-sex person whose physical and emotional longings, their tenderness towards children and their pain from constant humiliation is only met with disregard and open hostility. Each of them appears to have a forest stream to hide away. A place they are freely themselves, but where unfulfilled longing and a vague foreboding hangs in the air. Whether this is a real place or their own internal worlds is never disclosed. The story simply switches to that place while they sit lost in thought on the bus.
As the Mohini myth stepped in and out of the story, I thought of the sensual and enchanting dance form of the Mohiniaatam, of love and eroticism between mortals or between the devout and their god in Indian poetry and repeated cultural erasures packaged as "traditional values" in the present. "Tradition" and 'morality" have become murderous words in the far-Right political climate India lives in. The groups that kill and intimidate in the guise of preserving "Indianess" operate as if the country imported sexual pleasure sometime in the recent past from the west. Those who read Indian literatures, whether it is Tamil agam poetry or the Sanskrit Sattasai or the Raddhika Satawanam written in Telugu and many other texts, can attest to the high quality of erotic writing that are centuries old.
They occupied a wide range of attitudes, themes and moods. In agam poetry, the lovers have to be equally matched in every way. Fidelity (or the lack of it) often plays a crucial role. Even the female voices have almost all been written by men. These moods and themes signify entire real landscapes that mirror each other1. But take the Sattasai poems of Vijaka or Vidya as she was also known on the other hand:
To her Daughter2:
As children, we crave
little boys
pubescent we hunger for youths
old we take elderly men.
it is a family custom.
but you like a penitent
pursue a whole
life with one husband.
Never, my daughter
has chastity
so stained our clan.
India under the BJP with its Hindutva-complex ignores all this: these legacies. Last year's Sabarimala row inevitably came to mind while watching the film. The way a Supreme Court verdict intended as a step towards women's rights was taken as an affront to "religious sentiments". Some spoke of the "deity's right". Others spoke of unclean women who would distract the celibate Ayyappa. Many rioted and assaulted the women pilgrims. Even the Indian National Congress that insists that it is a secular party held rallies against the entry of women of menstruating age to the temple. Shashi Tharoor, INC MP from Thiruvananthapuram, registered his displeasure despite his claims to being "progressive" and a "liberal".
At one point in the film, the Gandhi bus finds itself held up at night in the middle of nowhere by the Tamil Nadu police who are looking for two "dangerous Maoists". The Godse bus catches up and stops. The cleaner/conductor hops on to the Gandhi bus offering limited tickets to the vexed passengers. Unsurprisingly, the Ayyappa bhaktar takes the offer, cheerfully proclaiming, "Bye, I'm going to my people" and hurries off.
Another passenger on the bus also has a need for invoking Mohini. He runs a canteen that provides inexpensive food. With the increase in crimes by cow vigilantes and lynch mobs, following the beef ban in other parts of the country, he is worried. Over the phone, he and his manager back at the canteen hatch a plan regarding the beef curry on the menu: change its name to "Maya Mohini" and print it in Malayalam. The hugely popular dish passes into legend, or is it myth? Enticing, irresistible and without equal, a beef dish becomes a "femme fatale" in their conversation. Beef in India is now a secretive pleasure that can get some people killed. Yet, even in the places it is banned one can procure it if you know the right place – furtively.
Other passengers include inter-racial couples unapologetically demonstrative in their affection. A Pentecostal husband and wife who break into tone-deaf singing of hymns and loud "hallelujahs" and "amens" during the bus ride. They are pointedly mortified by physical intimacy between anyone, as is an older man travelling with his wife and small daughter. As he grumbles violently about it, an exasperated co-passenger enquires if he's from the Shiv Sena much to the man's chagrin. "No! I was Communist in my college days" he replies, visibly insulted.
There are darker places that the film goes to. An inebriated passenger seems to be pathological lustful. He babbles drunkenly on the phone about women he sees on the bus as "items" and stares gormlessly at them, making them extremely uncomfortable. He has no concept of consent. Then a male passenger feels him up in the semi-dark bus and he flees to another seat muttering about indecent people. The little girl on the bus keeps thinking back to an uncle her family has recently visited. He is someone that the family appears to hold in high regard. He also appears to have abused her. She is confused and haunted. The bus's cleaner is a lecherous man who passes crude comments regarding the women passengers to the driver. Multiple times he gropes them. He attempts to molest. He attempts rape.
If the MeToo movement has made one thing plain, it is that men who are sexually abusive are also vindictive. They are vengeful when survivors fight them and when women stand up for each other. In the film, veteran actor Nassar plays a Tamil Nadu police officer who has been tasked with finding two "dangerous Maoists on the run". He is the embodiment of police brutality and overreach. He beats up a man in custody, is tyrannical with his subordinate officers, verbally abusive and has scant respect for lawful procedure. While searching the Gandhi bus, he roughs up people. The cleaner lies to him that Rima and the inter-sex passenger are the people Nassar is looking for. He knows fully well that they are not. He does it because the two of them foiled his attempt to molest Rima. They are slapped around and dragged away in a police jeep.
In reality, Divya Gopinath has come out with a testimony regarding Alencier Ley Lopez about his sexually predatorial behaviour during filming. Both have roles in Aabhaasam. Judith Namradath has stood firmly and publically by Divya Gopinath. As the MeToo movement continues to fight against a dismally broken system, male allies are far too uncommon. In that light, Judith's stance is highly commendable. The screening of the film at the India Habitat Centre was followed by a panel discussion on the Women in Cinema Collective (WCC), of which Rima Kallingal is a member. Actor Padmapriya also a member and film critic Anna M Vetticad were present. WCC has been fighting sexual harassment and abuse in the Malayalam film industry for two years. Despite multiple allegations in various film industries across the country, nothing like the WCC has come together. The question that hung unanswered during the discussion is, why is that despite the unique and critically essential work that the WCC is doing, the powerful news-media organisations of Delhi and Bombay pay little attention to it.
---