Poll Code Violation by Modi, Shah: SC to Hear Plea Against EC's Inaction on Tuesday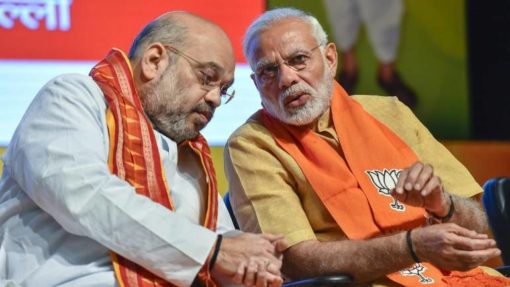 The Supreme Court shall hear on Tuesday a petition by Congress MP and party women wing president Sushmita Dev accusing the Election Commission (EC) of shying away from taking action against Prime Minister Narendra Modi and Bharatiya Janata Party (BJP) president Amit Shah for Model Code of Conduct (MCC) violation in their election speeches.
The plea was mentioned before Chief Justice Ranjan Gogoi on Monday. Dev has complained that verifiable evidence has been led by the Congress on the MCC violation by Modi and Shah for delivering hate speeches and invoking armed forces in their campaigning despite a clear ban by the EC.
When Congress MP and Senior Advocate Abhishek Singhvi made the mention, the Chief Justice inquired whom the violations were alleged to be by. As Singhvi cited the names of the PM and the party chief, Chief Justice Gogoi initially remarked, "So be clear…you will be heard last"
"The lack of decision despite cogent evidences, representations and exhortations to the Respondent/ECI demonstrates abdication and indecision and a complete absence of justice, in ensuring a level playing field in ensuing General Elections for the Lok Sabha. The inaction, omissions and commissions by the Respondent/ECI are in complete and direct violation of Articles 14 and 21 of the Constitution and which are impeding free, fair and unbiased General Elections, 2019" — the petition states.
The petitioner submitted that since March 10, 2019, i.e. the date on which General Elections 2019, were notified, the Prime Minister, Narendra Modi, and the BJP President, Amit Shah, specifically in sensitive areas and States, have ex-facie violated the provisions of the RP Act and the Election Rules and the process, thereof.
"The Prime Minister in blatant violation of the MCC held a rally on the day of polling in Gujarat on April 23rd, 2019 i.e. date of voting for the third phase of the election." — the petition states.
Objection has been taken to certain statements of PM Modi, including a comment made in Hindi in Wardha on April 1 – "How can the Congress be forgiven for insulting the Hindus in front of the world? Weren't you hurt when you heard the word 'Hindu terror'? How can a community known for peace, brotherhood and harmony be linked with terrorism? In the thousand years of history, not a single incident shows an act of Hindu terrorism. Even the British historians could never find it".
And a few by Shah, such as "Rahul had defamed the Hindu religion all over the world. Even the court has stated that there is nothing like Hindu terror" and "Rahul should apologise for defaming the Hindu religion by linking it to terror".
Earlier, the EC had taken stern action against BSP President Mayawati and Uttar Pradesh Chief Minister Yogi Adityanath for similar violations, banning them from the campaigning for a stipulated period.
---