Bhed-Bharat: Uttar Pradesh
According to the reports of the National Crime Records Bureau (NCRB), over the last five years, crimes against dalits and adivasis have increased in India. Uttar Pradesh is one of the states where the highest number of atrocities are committed against dalits. The NCRB data shows that 25.6% of all reported crimes over the past few years were against attacks on dalits. Most cases of atrocities recorded against dalits and adivasis included crimes against women in the form of assault, sexual harassment, stalking, voyeurism and insult to modesty.
The following excerpt from Martin Macwan's Bhed-Bharat highlights the cases of atrocities committed against dalits and adivasis in Uttar Pradesh between 2014 and 2018.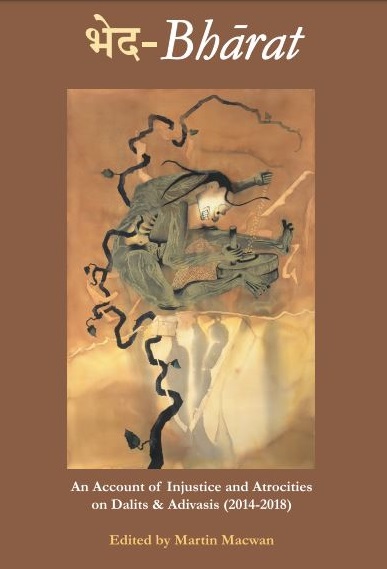 ---
Uttar Pradesh
DALITS
2014
Violence erupted in Sikandra Rao, a town in Hathras District of Uttar Pradesh, after the death of a married Dalit woman who was allegedly gang-raped and set on fire.
The mob, protesting her death, pelted stones at the police and the police retaliated by firing blanks into the air to disperse the crowd.
The police said that on July 11, the victim was kidnapped from her in-laws' house. On July 12, she was dumped outside her mother's house in Sikandra Rao. On Monday evening, some men allegedly barged into the house and set her on fire. Before the victim succumbed to her injuries, she told the police that seven men had gang-raped her.
Two men have been arrested in connection with the crime.
Hindustan Times (English, 16 July, 2014); Hindustan Times (Hindi, 13 July, 2014)
2015
A 90-year-old Dalit man died after he was brutally attacked with an axe and set on fire for trying to enter a temple at Hamirpur in Uttar Pradesh, police said on Friday. The victim, identified as Chimma, had gone to the Maidani Baba temple with his wife, son and brother on Wednesday evening. He was stopped from entering the temple by a man named Sanjay Tiwari.
When Chimma did not relent, Tiwari allegedly attacked him with an axe and then set him on fire.
The incident took place in the presence of several other worshippers in Bilgaon, a village on the boundary between Hamirpur and Jalaun Districts located 140 km from Kanpur.
Police said Tiwari had been arrested after he was nabbed by other people present in the area. They said he was drunk at the time of the incident.
An eyewitness said Tiwari had asked Chimma and several others not to enter the temple but they refused.
He said Tiwari became furious and attacked the Dalit man with an axe. While Chimma's wife screamed for help, Tiwari doused the elderly man with kerosene and set him afire, the eyewitness said.
Hindustan Times (2 October, 2015)
2016
On 10 January, 2016, an 8-year-old Dalit boy sat down to defecate in a nearby field in a village under Paraspur police station in UP. The field belongs to Raghvendra Singh aka 'Masterji'. The boy had no idea of the consequences of his action. 'Development' has not touched most villages, so defecating in the open is the only option available to most Indian villagers.
"Raghavendra Singh beat up the boy mercilessly and made him pick up and remove all the human faeces found on his 20 bigha field," the boy's elder brother Sarju told reporters. "His people gheraoed our family for three days and threatened to beat us all up if we lodged a police complaint," he concluded.
Other Dalits of the village are under pressure to state that there is no tension in the village.
However, the family, along with the little boy have migrated to the boy's maternal uncle's village Dhanohi, since they are scared of further persecution.
The police have registered a complaint against Raghvendra Singh, Gulab Singh and Babu Singh for inhuman treatment meted out to a Dalit child.
Hindustan Times (Date not available)
2016
While the entire nation mourned the CRPF men who were killed in the militant attack at Pampore on Saturday, an unseemly display of caste prejudice halted constable Vir Singh's funeral at his village, Nagla Kewal in Shikohabad, of Firozabad District.
Upper castes of the village refused to allow public land to be used for the cremation of the slain soldier, who is from the Nat (acrobats) community. It was only after the intervention of District officials that villagers agreed to give up a 10 by 10 metre plot for the last rites.
The 52-year-old Vir Singh was the sole bread earner of his family, who joined CRPF in 1981. His family stays in approximate 500 sq foot one room home with a tin shed as roof. He left behind his three children, including a 22-year daughter (Rajni) who is pursuing MSc and two sons – 18-year-old son (Ramandeep) pursuing BSc and 16-year-old (Sandeep) who just cleared intermediate.
His younger brother Ranjeet is a labourer, while his septuagenarian father Ramsneh is a rickshaw-puller in Firozabad. Father of the brave soldier Ramsneh said, "My son gave up his life to protect the land of our country, but over here our own people have objections to give a 10 by 10 sq meter land for his cremation. I don't know who will now take care of his children."
The Times of India (27 June, 2016)
2017
Earlier this year, in April and May, communally sensitive Saharanpur in UP, that has 26% Dalit population and 10% Thakurs, had been rocked by inter-caste violence.
On the morning of October 15, Savitri Devi, a Dalit woman collecting garbage from homes in Uttar Pradesh's Bulandshahr District, accidentally 'touched' a bucket belonging to Anju, an upper caste Thakur.
The innocuous incident which shouldn't have merited any attention however triggered an attack on Savitri in the caste-stratified locality. Here's how her neighbour Kusuma Devi described the incident: "Anju stormed towards her, punched her repeatedly in the stomach and banged her head on a wall. She kept accusing Savitri of 'defiling' her bucket by touching it," reported the Indian Express. Later, she says, Anju's son Rohit joined his mother in beating Savitri with a stick.
Savitri and her unborn child died six days later. Her husband, Dilip Kumar, said he had taken his injured wife to the District hospital the same day. But the hospital refused to treat her, saying that there was no external bleeding and she seemed fine. On October 21, Savitri's condition worsened and Kumar took her to hospital, where authorities declared her dead, the Indian Express report said.
On October 18, when Kumar went to file a complaint with the Kotwali (rural) police station, Tapeshwar Sagar, the SHO informed him that the police have not registered a case since no external wounds ('no injury') were found. Two days later however, a police team visited the village and verified the assault on Savitri. An FIR was subsequently lodged.
The Wire (26 October, 2017)
2018
Two Dalits were tonsured and paraded in Rasra Police Station area in Uttar Pradesh's Ballia District allegedly by Hindu Yuva Vahini activists on charges of stealing cows, the police said.
The two men were then arrested following an FIR filed on the complaint of one Pravin Srivastava, under Section 379 and 411 (punishment for theft) of IPC for allegedly stealing cows. One of the two men later filed a police complaint, saying the incident took place on Monday when some Hindu Yuva Vahini activists stopped them with two cows.
In a complaint to the police, Uma Ram alleged that his and Sonu's heads were shaved off by Hindu Yuva Vahini activists. They were then paraded around Rasra town with tyres around their neck and placards with "hum gai chor hain" (we are cow thieves) written on those.
On Ram's complaint, the FIR was lodged against 15 known and unknown persons under section 342 (wrongful confinement), 323 (voluntarily causing hurt), 504 (intentional insult with intent to provoke breach of the peace) and 506 (criminal intimidation) of IPC and the Scheduled Castes and Scheduled Tribes (Prevention of Atrocities) Act. SP Anil Kumar said Deputy SP Avdhesh Chaudhary has been asked to investigate the matter.
The Indian Express (11 January, 2018)
2018
Dalit woman Devla of Madanapura, at a distance of 26 km from Shahjahanpur, will now get toilet. Sudhir Yadav, BDO of Madanpur thanked Hindustan for highlighting the pain of Devla and delivering the message of Devla to him. He told that the ADO has been directed to make an application on behalf of Devla at the earliest so that a toilet can be constructed in Devla's house. He also informed that the houses of Dalit colony which do not have a toilet will soon get one as early as the Baseline Survey gets completed.
There is no toilet in the house of Devla in Madanapur. Whenever she used to go out for toilet, a goon from the village used to molest her. Devla stopped going out for toilet out of fear.
Devla used to defecate in the house itself, her husband Om Prakash used to throw out her faeces. Devla and her husband also complained to the police, but no action was taken against the man who used to harass her.
When Hindustan published the matter, the Madanapur Police became active, the police raided the accused's hideout, but he was able to run away. Meanwhile, the BDO recognised the matter and entrusted it to the ADO Panchayat to provide a toilet to Devla.
Hindustan Times (Hindi, 6 February, 2018)
2018
A Dalit was allegedly assaulted and forced to drink urine by a group of men in Uttar Pradesh's Badaun District. According to reports, the incident took place on April 23 when the victim refused to harvest their crops.
Though the incident took place in Azampur Bisauliya village of Badaun District on April 23 when the Dalit man was harvesting his own crops, an FIR was filed Saturday, April 28.
The 43-year-old Dalit named Sitaram Valmiki, who has a small farm, was harvesting his wheat crop when a member of the Thakur community asked him to harvest his crops. When he refused to harvest his fields, a few men of the upper caste reportedly thrashed, and ill-treated the man.
"Vijay Singh wanted me to harvest his field. He didn't want to do it himself because the weather was bad. When I refused, they started beating me… They also pulled my moustache and forced urine into my mouth," the Indian Express quoted Valmiki as saying.
Valmiki also told news agency ANI that the accused men tied him, dragged him to the village and beat him with slippers. The police confirmed that the Dalit farmer had been assaulted and an investigation is on.
"The preliminary enquiry has found the allegation of assault to be true. Probe into the other allegations is on," SP (Badaun), Kumar, told the news outlet.
Vijay and the other accused men, who were identified as Vikram Singh, Sompal Singh and Pinku, were arrested Monday for mistreating Valmiki.
The Hindu (1 May, 2018)
2018
Bike-borne assailants shot a Dalit woman in Meerut on Saturday, days before she was scheduled to submit her statement as a prime witness in her son's murder case, The Indian Express reported on Monday. Doctors said Savitri Devi sustained severe brain injury and is in a critical condition.
The Uttar Pradesh Police have initiated an inquiry into the shooting and the absence of the police gun-man who was assigned to protect the 55-year-old outside her home in Rajapur village. On February 1, Devi had requested Meerut Superintendent Manzil Saini for security till she gave her statement on February 6.
Devi's son Chetan was shot dead in 2015 after an altercation with his neighbours. The police filed a First Information Report against 14 people, all of whom are from the Jat community. Three of the accused named in the FIR are out on bail.
The police have not made any arrests yet. "Around 10.30 am on Saturday, Savitri Devi was working in a field around a kilometre from her home," said Station House Officer of Saroorpur Police Station Rishi Pal Singh. "The assailants arrived there on a bike and fired at her."
Circle Officer Sardana, Santosh Kumar Singh, said the police gunner assigned to protect Devi claimed he was feeling unwell. "On Saturday, Nand Kishore returned to the police station and said he was feeling unwell," Kumar Singh told The Indian Express. "Another gun-man was sent to the victim's house, but she was attacked before he reached.
Scroll.in (5 February, 2018)
ADIVASIS
2014
A joint survey of Bonded Labour published recently by the Gandhi Peace Foundation and the National Labour Institute paints a despairing and grim picture of their miserable condition. The report estimates that in eight states – Andhra Pradesh, Bihar, Gujarat, Karnataka, Madhya Pradesh, Rajasthan, Tamil Nadu and Uttar Pradesh – there are at least 2.17 million bonded labourers.
The incidence of bonded labour is the highest in Madhya Pradesh where 11.8 per cent of the agricultural workers are bonded. However, the populous Uttar Pradesh has the largest number- 550,000.
Called by a plethora of local names – padiyal (Tamil Nadu), jeetam (Andhra Pradesh), sagri (Rajasthan) and 'lagua' (Madhya Pradesh) – the bonded labourers are little more than commodities to their masters. They have lost their constitutional right to freedom to choose and move to new jobs. In India, one labourer out of 20 is a bonded labourer.
This is about 6.1 per cent of the 37 million agricultural labourers in these states. Findings show the incidence of bonded labour to be higher than the Government estimate of 4.2 per cent. When the proportion of bonded labourers to the total agricultural labour population in the country is calculated, the figure is around five per cent.
The survey has demarcated seven areas with a high incidence of bonded labour and it has identified 12 Districts as "bonded labour Districts"- each with over 40,000 labourers.
Contrary to the commonly held belief that peasants and labourers borrow mainly for unproductive (and wasteful) purposes, the survey shows that domestic expenditure is the most common reason for taking loans. On an All-India level, 47.5 per cent stated that they obtained the loans to meet household expenses.
The survey also revealed that 13 per cent of the labourers were in bondage because they belonged to a particular caste or their family had a tradition of bondage to the family of the 'master'.
The survey explodes the myth that usurious rates of interest were responsible for bonded labour. According to the report, 45 per cent of the bonded labourers do not pay any interest. The fact is that wages are so low, none can pay back a loan in their lifetime.
The report says that 58.1 per cent of the bonded labourers were being held against loans of less than Rs. 500, 19.9 per cent against loans between Rs. 500 and 900 and 21 per cent over Rs. 900.
The report also says that bonded women labourers are used for prostitution in the Jaunsar Bawar area of (former) Uttar Pradesh. The women belong to the Kolta caste who are taken into bondage by Brahmins and Rajputs. They are sent to brothels in towns or set up in their own villages; and their earnings are also appropriated by the 'masters'.
Sixty per cent of them feel that they have to work for an "indefinite period". They do not, says the report, "See any possibility of freeing themselves from bondage except to wait with the faint hope that the master may sometime reconsider their case and release them."
Ten per cent of the bonded labourers have been working for more than 10 years or since their childhood and 10 per cent for more than 20 years.
India Today (22 February, 2014)
2015
Eight out of 10 claims for land title by forest dwellers under the Forest Rights Act were rejected last year, tribal affairs ministry data shows.
The Opposition put the Centre in crosshairs in Rajya Sabha over the passage of the Compensatory Afforestation Bill, which critics say will further undermine tribal rights and harm the environment by introducing government plantations in areas traditionally used by tribal communities.
The Forest Rights Act (FRA), in force since 2006, was intended to "undo the historic injustice" towards Adivasis by giving them legal titles to forestland and resources. A 2015 study by Rights and Resources Initiative, an international coalition working for Indigenous Peoples' Rights, estimated that tribal people have legal title for less than 10 per cent of the land they have traditionally used.
Rejection rates have spiked since the advent of the NDA government at the centre, ministry data shows. Between May 2015 and April 2016, the rejection rate rose to 79% for 2.7 lakh claims decided.
Karnataka, Tripura, UP, Bihar and West Bengal turned down over 90% of the claims they decided in 2015-16.
The Act requires gram sabha consent for mining and development projects in forestland, but at least thrice in two years, the environment ministry issued orders to exempt certain project categories from this requirement.
Tribal rights activist Shankar Gopalakrishnan said, "During the UPA, FRA was a contested law with efforts by the environment ministry and government departments to undermine it. But in the past two years, bureaucracy and business lobbies are more dominant. This is reflected in several U-turns the tribal affairs ministry made on the dilution of FRA. State governments are also responsible for the high rejection of claims. But an overall pattern in year-wise rejection reflects a change in the national policy climate and the signals being sent from the Centre."
States claim they have issued titles to an aggregate 4.4 million hectares since the Act came into force — double the 2.2 million hectares they distributed in six decades of land reforms. Even so, forest communities have title to only a small fraction of the lands they have traditionally relied upon.
According to Forest Survey of India and Census data, over 32 million hectares of forest land is used by villagers in major states. An additional 8 million hectares is controlled by local communities in north-eastern states where FRA hasn't been implemented, says Rights and Resources Initiative.
The land allotted to forest dwellers under FRA constitutes 10% of this 40 million hectare.
The FRA rules mandate every village with forest land in its boundaries should have community rights over forestland commonly used by its residents.
There are over 1, 71,000 such villages, but only a quarter of them have received community rights titles. The Act also says an individual claimant can be granted title for up to 4 hectares, but the average size of land holdings for which titles have been granted is 1.6 hectares, according to the ministry.
In March 2015, government's own think tank NITI Aayog said in an internal communication that "the key features of Forest Rights Act (FRA) have been undermined by a combination of apathy and sabotage during the process of implementation."
"In the current situation the rights of majority of the Adivasis… are being denied and the purpose of the legislation is being defeated. Unless immediate remedial measures are taken, instead of undoing the historical injustice to Adivasis and other traditional forest dwellers, the act will have the opposite outcome of making them even more vulnerable," it said.
Last week 70 Indian and 10 global organisations wrote to the Rajya Sabha Chairperson Hamid Ansari demanding that the Compensatory Afforestation bill should not be passed in the current form. The organisations blamed the forest bureaucracy for poor implementation of FRA due to its "obstinate opposition to empowerment of gram sabhas and democratization of forest governance". The letter argues that the Bill, which seeks to handover Rs. 42,000 crore to forest departments for plantation, "will serve only to empower the notoriously unaccountable forest bureaucracy to further deprive the forest dwellers and Adivasis of their livelihoods by forcibly undertaking plantations on their customary lands."
Scroll.in (1 August, 2016); Hindustan Times (Jul 28, 2016)
2016
It was 23rd March of 2016. A tribal woman living in village Kataiyadadi falling under Bargarh Police station Jurisdiction in Chitrakut District, had gone to answer nature's call in the evening at about seven o'clock near the railway tracks outside her village. A man, Chhota Shiv Pujan raped her there and threatened serious consequences if she talked to anyone about the incident.
On 29th June, 2018, two years later, the Judge presiding over the fast track Court sentenced the accused to 10 years imprisonment and a fine of Rs. 26,000. The Court ordered a compensation of Rs. 20,000 to the victim.
Livehindustan.com (29t June, 2018)
2017
Uttar Pradesh did not have a single seat reserved for Scheduled Tribes since 2000 when Chakrata, the only ST Assembly seat, went to Uttarakhand. Now, for the 2017 assembly election, the Election Commission has reserved Duddhi and Obra seats for STs, with the Allahabad High Court on Wednesday dismissing a petition challenging the EC's decision based on the Census of 2001. Akhil Bharatiya Gond Mahasabha had been raising the demand for several years
In 2012, the UPA government passed a Bill to empower the delimitation committee to get revised data on the basis of 2001 and 2011 Census to notify ST reserved assembly seats in UP. This committee held a hearing session in Varanasi in 2013-14 and recommended that ST seats be declared.
The Gond Mahasabha claims that the absence of delimitation had deprived Adivasis in Uttar Pradesh from contesting in 208 Panchayat elections. The number of assembly seats reserved for STs should also be higher, it says, with Adivasis constituting 1.82% of the population in the 1981 census.
The increase in ST population in the state is attributed to shifting 10 of the tribes from the Scheduled Caste list to the ST list between 2001 and 2010.
National Herald (28 June, 2017)
2018
Caste certificates are being denied to Adivasis in Uttar Pradesh because they don't look tribal, the National Commission for Scheduled Tribes has observed. The state government has accepted that a large number of such cases have come from Mau District in eastern UP.
Commission's chairperson Nand Kumar Sai said that lekhpals and social welfare department officials had been refusing to issue certificates to Adivasis despite all records being in order. "In fact, while fake certificates are being issued to non-Adivasis, the local administration is cancelling certificates issued to genuine candidates. We have asked the state government to investigate this," he said.
The Times of India (30 November, 2018)
This is a part of a mini-series on Bhed-Bharat's coverage of atrocities and injustices against dalits and adivasis between 2014 and 2018.
---
Read more:
Bhed-Bharat: Gujarat