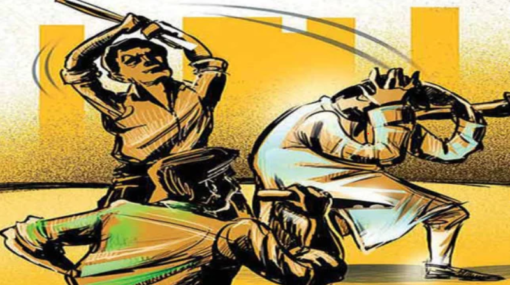 On March 18, Meet Chavda, an 18-year-old Dalit student of arts from Mehsana district of North Gujarat, travelled about 14 kilometre to Dhinoj in Patan district to appear for his class XII boards examination, but he could not.
Chavda was allegedly abducted, taken to an isolated farm, tied to a tree, and was whipped for allegedly being in relationship with a girl from an upper caste.
"I had reached the examination centre at around 1 pm. When I was walking towards the examination centre from the bus stand at Dhinoj village, Ramesh Patel, who I know by face as a state bus conductor, came to me. He asked me to go with him, as he had some work, he said. He took me to another person who was waiting with a motorcycle. They both took me to a nearby farm at Gorad village," stated Chavda in his complaint to the police.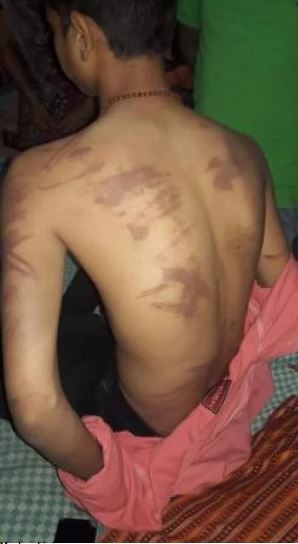 "When I refused saying that I will miss my exam, Patel assured me that he will drop me back to the examination centre in time," he stated further.
"The men tied him to a tree, and started hitting with a stick. When Meet asked them the reason, they hurled casteist abuses and told him that he should not study or take his exams, and rather should work as a labourer," Tarunaben, victim's mother told the reporters.
Notably, though the incident occurred on March 18, Chavda did not tell anyone about the incident. It was only on March 20 that Chavda's mother noticed the lash marks all over his body when he was going for a bath. When inquired about the injury marks, he broke down, and narrated the alleged ordeal. The family claimed that the ordeal lasted for about two and a half hours, and that Chavda was threatened to keep his mouth shut.
However, he was taken to Mehsana civil hospital for treatment, and subsequently, an FIR was lodged with the Patan police.
The FIR was lodged under IPC sections 323 (voluntarily causing hurt), 341 (wrongful restraint), 504 (insult with intent to provoke breach of peace), 506 (2) (criminal intimidation) and under various sections of the Prevention of Atrocities Act.
"The FIR was registered only after the police were informed by the hospital authority. Prima facie, we believe that the incident happened, owing to the victim's relationship with a girl (likely belonging to an upper caste). So, we are currently checking victims' phone records for the same," RP Zala, the deputy superintendent of police, SC/ST cell, Patan told the reporters.
Chavda's family has however, denied knowledge of any relationship of the teenager with a girl belonging to an upper caste. They maintained that they were clueless as to why Chavda was beaten brutally.
The mother of the boy has been the only breadwinner for the family after the father met with a road accident in November last year. He has been bedridden ever since. The family that hails from a village in Chanasma taluka of Patan district had moved to Mehsana district in search of work, and despite all odds, had not stopped Chavda's education.
Chavda, who is still undergoing treatment, appeared for his last examination on March 23 under police protection in Patan. Patan police have also deputed personnel for his security at the Mehsana civil hospital where he returned after taking the exam. Two constables have been deputed at his residence in Mehsana.
"My son's career should not be ruined," urged Tarunaben, while requesting that his year not be wasted, as he was not allowed to sit for the English exam.
Meanwhile, Patan police have arrested two people who have been identified as Mahendra Patel from Dabhi village of Unjha taluka in Mehsana and his cousin Harsh Patel (20) from Dhanodra village from Patan. However, Ramesh Patel, the state bus conductor, identified as the main accused by Chavda, is yet to be arrested.
"In process of our investigation we found that Ramesh Patel was on duty on the day, and was not involved in the incident. However, based on the investigation so far, we have arrested Mahender and Harsh," said Zala.
RAMPANT CASES OF CASTE VIOLENCE AGAINST DALITS IN GUJARAT
The atrocity against dalits has been rising every year as has been revealed by the response to an RTI application by Gujarat-based dalit rights activist Kaushik Parmar. In the year 2018, 1,545 cases were registered, which is the highest number in 17 years. Ahmedabad has been recording he highest number of cases among all districts – 59 in 2001, 62 in 2007, 68 in 2012 and 96 in 2016.
Among the most glaring cases, seven members of a family were flogged in July 2016 in Una of Gir Somnath district that had led to massive protests around the state. However, despite the protests, dalits continue to face atrocities at the hands of upper caste.
In October 2017, one Jayesh Solanki was killed in Anand district for watching garba (a dance form mainly practised during the Hindu festival of Navratri). However, the garba function Jayesh attended happened to be organised by an upper caste community. In the same month, dalit youths from a village in the Gandhinagar district were thrashed for keeping moustache.
In September 2018, Ronak Dabhi, a dalit boy was thrashed by people belonging to Darbar community for having a sticker of moustache and 'banna', a term that upper caste assaulter claimed only Darbars can use, on his motorcycle.
In March 2018, Pradeep Rathod was brutally hacked to death for allegedly owning and riding a horse in the Bhavnagar district.
In November 2018, three dalits were thrashed and attacked with knife for opposing a casteist slur hurled at them in a village in Una taluka.
The information sought by RTI of Parmar states that in more than 30 villages across Gujarat, police protection is provided to the Dalit family after attacks on them. Among these villages, 20 villages fall under Saurashtra region of Gujarat alone.
---