#InternationalWomen'sDay- Working Class Women Take to the Streets Against BJP's Manuvaad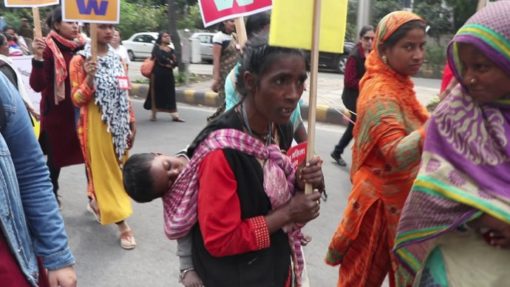 Carrying her child on her back, Rubina, a young mother living in a shelter home in New Delhi's Jama Masjid area left early this morning with other women from the shelter home. "I had to come out and march with my friends, it is for our future." she said.
Several working class women like Rubina, took to the streets of Delhi marching from Mandi House to Parliament street in solidarity with the International Day of the Woman, which witnesses global participation.
The march in the national capital has assumed a symbolic importance as 2018 was a year marked with powerful testimonies of women against sexual harassment in all walks of life and also because India is now headed into its national elections.
Brinda Karat, Politburo member of the Communist Party of India (Marxist) said, "In celebrating resistance of women globally we are remembering working class women, today, in 2019 Indian women are facing a conservative backlash by the forces of the BJP-RSS, they look down on working women, because they are ruining the ideal Hindu family, it becomes important to assert women's autonomy and to resist and fight back."
In the spirit of fighting back, thousands of women thronged the streets of Delhi, with a spectrum of demands, from safety and the right to live with dignity to minimum wages and fair compensation of their work.
"I have to take care of my family in Rs. 4,000 per month. When we ask for our rights, we get beaten up and abused. There is no limit to violence against women, we are struggling every day for our very own equal pay for equal work, we are demanding minimum wages. Mala Devi of the Gharelu Kamgar Union domestic workers union."
From domestic workers to sewage cleaners and home-based workers, the working women united under the banner of the All India Democratic Women's Association (AIDWA) and the All India Progressive Women's Association (AIPWA) shed light on the importance of collective resistance and unionisation.
Urmila Chauhan, a sanitation worker at Jawaharlal Nehru University (JNU) said, "We need to unionise the women workers and stand in solidarity with one another, the power of being in a union is stronger than anything else, the biggest fear for us is to step out of the house and work.
Even amongst working class women, there are sections of women and sexualities that are rendered invisible, Ayesha National network of sex workers, said, "There is a lot of discrimination associated with our work, we are coming together to fight the stigmas."
Pavel from Nazariya working with the LGBTQIA said, "We are here, to talk about bisexual, transmasculine people there is a need to bring out the violence against our communities as well, the silence needs to be broken, sex and sexually needs to be looked into, there is stigma against women and a multifold of identities with respect to women."
The larger message from the march was oriented towards highlighting the multitude of failures of the Modi government and the failures of the central government as far as the policies towards women are concerned.
Maimoona Mollah, Delhi State President of AIDWA said, "This day we are reminding ourselves of our struggles and our resolve for democracy and women's emancipation, be it 33% reservation for women in the legislature, fighting the false claims of the BJP with respect to the ujjwala scheme and its spending of funds meant for educating women for publicity under the Beti Bachao, Beti Padhao scheme.
Speaking to Newsclick, Lawyer Dipika Singh said, "Under this government we have seen systematic attacks particularly towards the Dalit and Muslim women, being in the lowest rung of the caste and class hierarchy and being met with gruesome forms of discrimination and violence and this system of violence will face a significant blow when the BJP is voted out."
The symbolic march was a celebration cutting across quarters of women and marginalised sexualities, it was a celebration of collective resistance and the resolve for a better future for the women of the world.
---