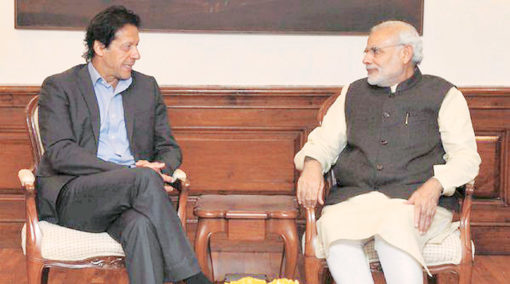 Though the problem of cross-border terrorism and the contentious issue of Kashmir have not gone away, and will in all probability continue to vitiate India-Pakistan relations, the brief hot war between the two countries has ceased.
Peace has been restored after a few aerial attacks staged by both sides. And it is very unlikely that fighter planes will again take on targets in the adversary's territory and regenerate fears in the Western world about a nuclear holocaust in South Asia.
The quick return to peace is primarily because neither India nor Pakistan wanted to go to war in the real sense of the term. The aerial attacks which took place in Pulwama in Kashmir on February 14 after the killing of 41 men of an Indian para-military force by a suicide bomber owing allegiance to the Pakistan-based terrorist group Jaish-e-Mohammad (JeM), were measured actions clearly meant to prevent escalation of the conflict.
Sure enough, as expected of politicians, the leaderships of both India and Pakistan did play to the gallery publicly indulging in hyperboles and resolving to give a "fitting reply" to the adversary. But at the same time, they made sure that actions on the ground were calibrated to prevent escalation.
Saudi Prince's Visit
The impending visit of the Saudi Crown Prince Salman to both Pakistan and India was the first dampener of the enthusiasm for war. Neither country could go to war or assume any extreme posture when the Prince was in the sub-continent. Prince Salman was coming to give US$ 20 billion worth of investments to Pakistan and US 100 billion worth of investments to India, both hungry for investments.
Prince Salman did condemn terrorism but in general terms without naming any country or group. He called for the settlement of all disputes through talks, and announced his investment plans along expected lines. India had thought it prudent to go along with the Saudi Prince as the Joint Communique of February 22 shows. And Pakistan was grateful that it was not mentioned as a sponsor of terror.
However, having pledged to giving a fitting reply for the JeM planned Pulwama carnage, Narendra Modi, who is about to face parliamentary elections in mid-2019, launched a carefully planned and limited airstrike against the JeM in Balakot in Pakistan near the Line of Control (LoC) on February 26, a good twelve days after the Pulwama terrorist attack.
In a carefully worded statement, Indian Foreign Secretary Vijay Gokhale said that the Balakot attack was a "non-military, pre-emptive action". He said that the target was neither military nor civilian but a known terrorist camp in an uninhabited area. The idea was to avoid collateral damage, he explained. Claiming that a large number of JeM cadres were killed, Gokhale said that the target was chosen after intelligence inputs said that the JeM was plotting from there to hit at targets in many parts of India.
Responding to the strike, the Pakistan Prime Minister Imran Khan said that the Indian action was based on the unfounded assumption that the JeM or the Pakistani State had perpetrated the carnage in Pulwama. He accused India of jumping to conclusions even before conducting investigations. He offered to take action against any Pakistanis involved in the planning of the act if India gives "actionable intelligence."
But to douse the fires of anger among Pakistanis, Imran warned India that Pakistan would have no hesitation about giving a fitting reply and that it would do so at a time and place of its choice.
However he held an olive branch saying that India should "give peace a chance" because wars are easy to start but difficult to stop. Those who start a war hardly know where it will lead to, he said, and gave telling examples from world history.
In the meanwhile, India had stepped up its diplomatic activity to get Pakistan named and shamed as a hub and exporter of terror. On February 21 the UN Security Council, including China, passed a resolution condemning the JeM for its heinous act. And without naming Pakistan, appealed to all countries not to shelter and support terrorists.
Earlier on February 15, the US openly supported India, with its National Security Adviser John Bolton telling India's National Security Advisor Ajit Doval that India is entitled to self-defense.
The expected retaliation from Pakistan took place on February 27 when Pakistani planes struck at what the Pakistanis called "non-military" targets in Kashmir "to show the Indians that if their planes can intrude into Pakistan territory, Pakistan can also intrude into Indian territory and get back."
India however maintained that the targets were military and that Indian planes had driven the invaders back.
The aerial combat resulted in the Indians and Pakistanis losing one aircraft each. An Indian pilot's parachute had drifted into Pakistan territory and he was arrested upon landing.
International Pressure Mounted
But the aerial dog fight created jitters in the international community which has a constant fear that India and Pakistan might use their nuclear arsenal. Appeals for restraint came from all major powers, such as the US, France, UK, EU, Russia and China.
This had a sobering effect on war mongers in both India and Pakistan. Pakistani Prime Minister Imran Khan told parliament that use of nuclear weapons is "unthinkable." He again pledged his willingness to enter into talks with India on terrorism and again sought "actionable intelligence" on alleged Pakistani sponsors of terror so that he could take action against them.
And he announced that "as a peace gesture" he would release the captured Indian fighter pilot Wing Com.V.Abhinanandan on March1.
On the Indian side Prime Minister Modi said that the Indians must make sure that nothing happens in India which might give "our enemies a chance to point fingers at us". It is noted that Modi had refrained from drumming up war hysteria even though it might have helped him in the April-May parliamentary elections.
Saner Voices
Meanwhile in both India and Pakistan, saner voices denounced war-hysteria. Former Indian Foreign Secretary Nirupama Rao tweeted: " The western front is not a TV studio anchored by those who are unqualified to dictate strategy and are unconscionable flame throwers. Our political leaders should not take the nation's temperature-readings from the seizure-like screaming on some media.War is not a polite recreation, and to paraphrase Tolstoy, it is the vilest thing in life, and we ought to realize this and not make a game of it."
Columnist and former Col (Retd) Ajai Shukla tweeted: "De-escalate now, while both countries can escape with prestige somewhat intact. Thinking from the standpoint of electoral benefits, rather than from the standpoint of strategic calculation will lead to outcomes that cannot be predicted."
Historian Srinath Raghavan tweeted that to suggest that diplomacy amounts to "backing off" is reckless. A reputation for "resolve" is a highly exaggerated commodity in international politics. Attempts to "get even" by further strikes will draw further retaliation too. "Escalation ladder" is an oxymoron. The metaphor of escalation reminds us that once you climb on to an escalator, you can only get out at the top, Raghavan said.
Pakistani author Anam Zakaria (Between the Great Divide: A Journey into Pakistan-administered Kashmir) told Dawn: "The issues in Kashmir will not be solved by violating the Line of Control. If anything, this will only heighten hostilities on the LoC and impact the Kashmiris gravely. Pakistan needs to have a measured and calculated response in the immediate aftermath; the situation can easily escalate and the consequences for both sides would be catastrophic. This is not a time for chauvinistic nationalism on either side of the border."
Zoha Waseem, of the Department of War Studies, King's College London, said that Pakistani officials should refrain from any promises of escalation and avoid fuelling this conflict further. In the medium and long term, Pakistan needs to try and improve its legitimacy and focus on strengthening its negotiating position vis-à-vis the Afghan peace talks, the FATF and its neighboring countries.
"Further conflict can only be prevented if India and Pakistan resolve their long-standing disputes, particularly the question of Kashmir, and reach an understanding whereby both states mutually respect the other's security and sovereignty," Waseem said.
---