The ninth edition of Theatre Under the Sal Tree, a unique theatre festival held every year in the middle of a jungle in Assam, came to an end successfully but faces an uncertain future. The festival is organized completely under natural settings with no artificial devices, not even a mike to enhance the voice of the actors in the remote Rampur village of Goalpara district.
The organizers use only bamboo and straw to build the stage and seating arrangements for the spectators. But the untimely demise of its founder Sukracharjya Rabha early this year has put the organizers, the Badungduppa Kalakendra, in a deep financial crisis.
"It was a dream project of Sukracharjya Rabha to do theatre under nature. It's a strong message of an eco-friendly life and leading a way of life embracing the nature. This year without his presence, we are having a tough time. This year, we dedicated the festival to the fond memory of Sukracharjya Rabha," Madan Rabha, the coordinator of the festival told The Citizen.
On the last day on December 17, one of the plays that was staged was 'Pebet', by the legendary Heisnam Kanhailal. Sabitri Heisnam, wife of Kanhailal, an iconic figure of theatre in Manipur, performed for probably the last time in her life, performing a crucial role in the play.
"It's definitely a historic moment for us to witness the last performance of Sabitri Heisnam, and also to watch the play at this theatre festival which has already made a mark for its uniqueness," national award winning filmmaker Utpal Borpujari who is based in New Delhi told The Citizen.
Borpujari, who has been attending the festival regularly for the last several years, also appreciated the organizers' efforts to keep theatre close to nature.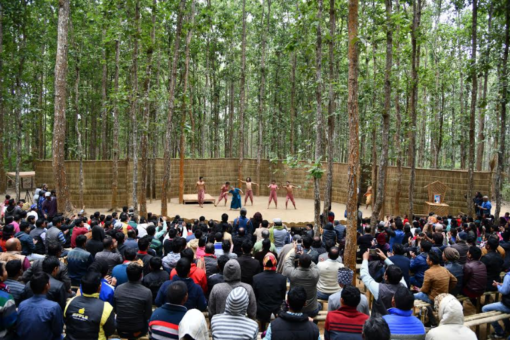 On arranging funds to conduct the festival, its coordinator Madan Rabha further said that though they have approached the state government and other agencies, the organisation hasn't got much support.
"In the absence of Sukracharjya Rabha, we are having a tough time to get finances to conduct the festival. The state cultural affairs department, though it promised us verbally, hasn't released any funds so far," Rabha said.
Theatre groups from across the country and neighbouring Bangladesh participated this year. In previous years theatre troupes from Europe and Latin American countries too have taken part.
In organizing the plays in the lap of nature, its founder Sukracharjya Rabha wanted to spread the message of how to coexist with the nature without harming it. "This is the campaign against global warming, the ever increasing human-animal conflict, and against plastic. Sukracharjya Rabha was a disciple of Heisnam Kanhailal sir who influenced him to do this," said Madan Rabha.
Sukracharjya Rabha was one of the most widely respected theatre personalities of Assam. He died following a cardiac arrest earlier this year. A winner of the Ustad Bishmillah Khan Yuva Puraskar, he was known across the country for his unique brand of theatre.
---