India 2019: Three Fragments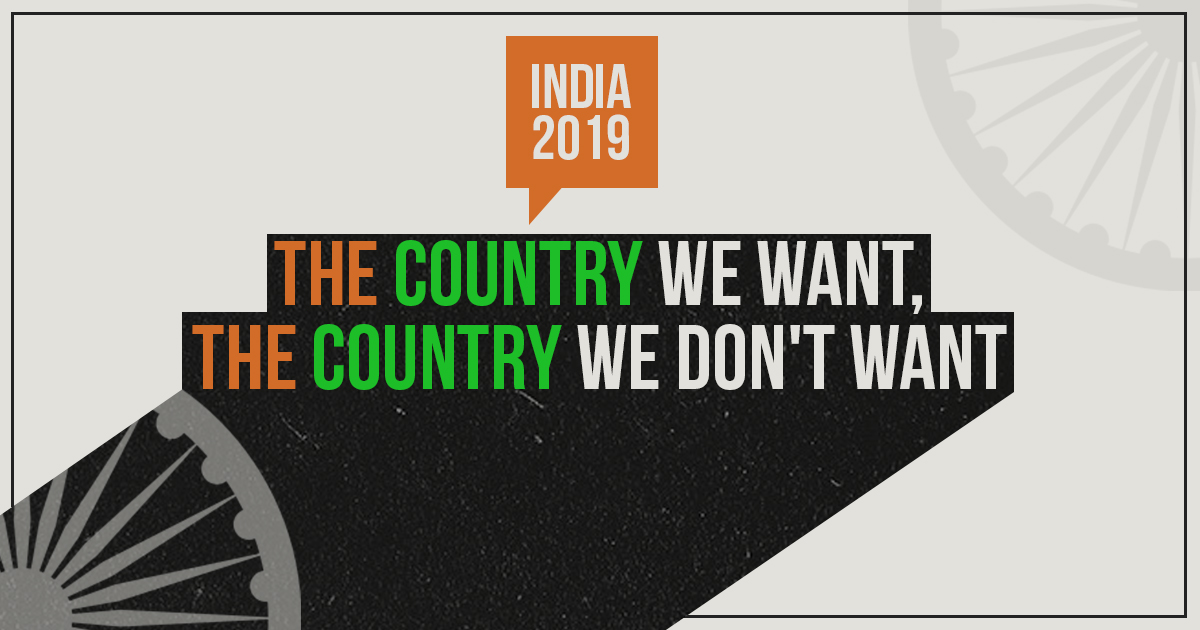 From the Editors:
Is this the India we want?
A country in which citizens are murdered or attacked for being rational; for being critical, for raising a voice of dissent; for just being themselves, Muslim or Dalit or women. Intimidation, threats. Hatred. Lynching. Sickening violence. Students and teachers given the choice between being leashed in thought and word, or being hounded as seditious. Institutions built over the years weakened. The economy and development turned into exercises that mock the needs and aspirations of most people. The secularism, the scientific temper and the rights promised in our Constitution subverted every day. Our democracy, our India, frayed.
But this is our country. It belongs to us, and we belong to it. We have each other for support. We have our poems and songs and films and essays and fiction and art. Our diverse voices.
What is the India we want?
Listen to our fellow citizens speak of the country they don't want and the India they want on the series India 2019 on the Indian Cultural Forum and Guftugu.
---
-I-
India
I have no change to spare,
please forgive me
India four bloodied tenners
and a five-rupee-coin from '02
but I think we always knew
you'd outlive me
I love what you've done with your hair
but डरती थी, बाल गिर जाएँ तो??
India I have exactly three questions
and they are क्यों , why and काएँ-कु?
These दिल्ली nights get cold but
only in places
India this nagging insistence on names
is silly, learn to read faces
तारीख पर तारीख has made
our ventures seem dated
India let's change our relationship status
to Complicated.
India I think I ran into you on the metro
but it might have been a trick of the light
India I'm still broken up
about Hashimpura
India I'm sorry I never learnt to fight
And I'm sorry my mood keeps swinging
between faux sentient and retro
and I'm sorry I banged up your car
and your scooter, and our economy
and I'm sorry I don't appear more penitent
and I'm sorry we never reached the stars.
*
-II-
India I remember the G.K. Books taught me
your rich and glorious history
I wrote down state names and capitals
to memorize 'em, but the bit with the rivers
remains a mystery. Is the Yamuna the one
that resembles your liver? Do people still
deposit their sins in the गंगा? India it is
more blood than water at this point
India और भई सब ख़ैरियत? सब चंगा?
Whenever you are done bcc: eyeing that joint
Two drags apiece and then screw-these-guys,
Home. India you're too crowded to make me
feel this alone. Who decides what becomes
of the myths of our childhood?
What words mean more than some kindness
and a smile would? But India we both know
You and I are too far gone. Fat fish mucking up
a small fucking pond. But India, here's
my notes on the Great Beyond: it's whatever
helps you get through the long, dark night.
India cutting short somebody's days over it
is the exact, diametric opposite of right.
You misspelled sickular, but let's
blame it on 'em presstitutes! India
your dynasties don't give a shit
for the destitute. India it's them damn
anti-nationals. Them damn anti-nationals
with laptops. And placards. And pens.
Some students. Some teachers. Anyone
who knows how to spell dissent. Anyone
fielding on the leg side (or off side, if
the batsman identifies as left-hand).
And the batsman, if he identifies
as left-hand. Help them, India, with
firm elbows and a deft hand and
some rugs on their sobbing heads
we can claim are not recent. India
your infants bawl naked, it's not
decent. India your queues are starving,
let them eat mud. India we're
here to thrash and eat and we're
almost out of cud. How do these
protesters find us, India? They mean to
sink and undermine us, India,
these blog-ranting-non-chanting-
drinking-smoking-fornicating-kissing
(in public?) degenerates. India let's
count our lost and missing while
your moral fabric regenerates.
*
-III-
India we're nearly done here
and you can probably tell me
exactly what I am. India soy
is no substitute for chicken
or ham. India don't worry, though,
the only B-word I'll abuse today
is brother. India finish up that bottle
and I'll get us another. India I can
already see strangers congregating
around a future stain on the pavement.
Will you please whisper my name while
they're screaming of depravement?
I know, I know, the correct form is 'depravity'
India the word of the day is gravity.
I am Perumal Murugan and I'm M.M. Kalburgi
I'm the snap in the गर्दन of a सोने की मुर्गी.
---
Read more:
India 2019: Everything Drowns, Except This Poem
Anand Teltumbde: "The foremost task is to save India in the 2019 elections…"
India 2019: The Nation I Want and the Nation I Don't Want