"Bodhi is an ode to Ambedkar": Director Vinit Chandrasekharan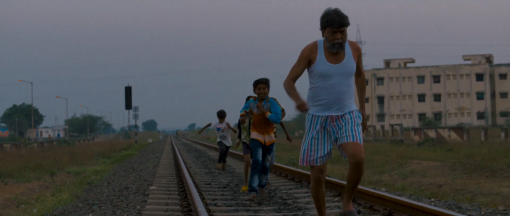 If a film opens with a scene of a farmer hanging himself, as people, including his young son, gather below in mute resignation, you know it's not afraid of causing a furore.
Set in a village in Maharashtra, Bodhi depicts an ideological tussle over land between two minority communities in India – the Buddhists and the Christians. Father Benedict (Shashank Shende) symbolises the all-powerful Church who lures the lower caste farmers into conversion under the pretext of free land and an 'honorable' life of service. The David, standing up to the Goliath-like-Church, is Vinya (Ninad Mahajani), an educated lower caste farmer, whose resistance to conversion is a fight to ensure his peoples' precarious survival.
With a conscientious script and persuasive performances by actors Ninad Mahajani and Shashank Shende, Bodhi has no dearth of compelling scenes. In a staggering instance, Vinya, who had caught the Church's attention owing to his fine spoken English skills, tells Father Benedict, "English is the milk of the lioness, he who drinks, roars." An ode to Ambedkar, the film locks horns with the issue of social mobility which has been as an aspiration for generations of the lower caste community. In another, stand-out scene, Father Benedict, the priest of the Church, supposedly a messenger of God, is introduced like a Devil, with thunder and lighting announcing his arrival as he stands in a menacing long shadow. It is through these moments of light and sound play that the film accentuates its narrative stance.
Speaking only through parables, he explains the plight of all Dalit farmers through the myth of Sisyphus. In Greek mythology, Sisyphus is cursed to push a boulder up the mountain, which falls immediately as it reaches the top and he has to repeat the cycle till eternity. The film holds the Sisyphus myth as an analogy for the minorities in India, who, like Sisyphus are caught in an endless cycle of oppression, and yet, are expected to accept their fate with submission.
Despite a starkly political subject, Bodhi has all the elements of a potboiler: a hero, an anti-hero, an uprising dance song, and a climax. It neither has one-dimensional preachy-dialogues, nor concluding credits stating facts, or figures about farmer suicides in India. It is in the creation of the film as an artefact, that is similar to the world, but not quite, that thoughts and ideas proliferate in Vinit Chandrasekharan's Bodhi.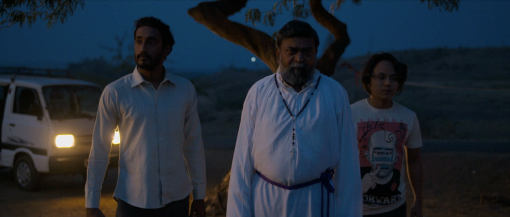 We caught up with the team of Bodhi to know about their research, the importance of the communal in filmmaking, if all Marathi cinema is an ode to Ambedkar and their plans for the film's future.
Kanika Katyal: Please tell us a little bit about yourself.
Vinit Chandrasekharan: I am from Pune. Bodhi is my directorial debut. I did a screenwriting course at Whistling Woods. There, I met some producers who were looking for a writer. They really liked my last film, Juze (which was screened at India Gold, MAMI Film Festival 2017), and we decided to work together.
Ninad Mahajani: I grew up in a small town (Satara) and wanted to be a cricketer. I started doing commentaries imitating players like Geoffrey Boycott, and Ravi Shastri. I would say things like, "Rahul Dravid is like the Rock of Gibraltar in this sea of ruins!" I had no idea what it meant, but people started coming up to me saying, "Tera toh accent hai! (You have an accent!)" And I was like, "This is something new!" So, I went on to do a small radio course. Professionally, I am a software engineer. I worked with Cognizant for two and a half years, then I sneaked out of the company and got an internship with Radio Mirchi, later they offered me a Radio Jockey job.
That's how I started to explore myself. Once I learnt that I could do English, then I thought I could do theatre, then, I realized, oh I had stories to tell! So, I started putting things together. When radio got monotonous, I came to Mumbai.
I am an actor, I want to, still, be an actor and that is where writing began because I wasn't being offered any roles. My look is not [a conventional]one that goes with "most Hindi films" or Marathi films, so I started writing my own stories. I met Vineet through friends and that's how I arrived at Bodhi.
KK: What was the process of putting the film together – getting the writer on board, the time it took to shoot the film, etc.?
VC: We did extensive research for five to six months. Once we knew what we wanted, it did not take too long. There weren't many drafts because we knew where we were going. So,[it took] two weeks to write the script. We were scheduled for twenty days of shoot, but we finished in eighteen. Then edited it in seven days. Took fifteen days to finish the rest of the work, which is unusual for a film. So, we were quite sure of what we were doing. We came up with the screenplay in a day and he(Ninad) took two weeks to write the screenplay. So, it was fairly painless.
KK: What happened after that? How did the location interact with the script? How much of it was constructed, how much was set in real locations?
VC: All of it was real. We shot in Hindrun, which is very notorious. We worked with real people in the film. Three of our background actors were from the Dalit community. So, one day, a fight broke out, and they were beaten up for three hours. We had to stop the shooting.
They were accused of harassing girls but the truth is, that they were beaten up by jealous upper-caste villagers for being in the film. The mother of one of the boys told me so. So, it was a difficult village to work in. There were three such fights in the entirety of the schedule. We had to constantly stop shooting. But the equation of the whole team was so good that even on the back-foot we would wrap up an hour early.
KK: I saw that the credits acknowledged some government officials. Were there any administrative hurdles you had to face while filming?
VC: Luckily, no. Alankar who is the EP (executive producer), his father was the District Magistrate of Dhule at the time. So, there weren't any issues. In fact, we had a lot of protection.
KK: What was the idea behind the title, Bodhi? In a post-screening discussion, you said that the film was initially meant to be called 'Martin', after Martin Luther King. So, what is it about these two solid figures, framing the film's narrative for you?
VC: An awakened individual is called Bodhi. In Maharashtra, people from the Buddhist community are either called Baudh or Bodhi. Hence, the title. 'Martin' was a working title when we couldn't come up with something more meaningful.
KK: Though a significant part of your research came from documentaries on farmers, Bodhi, still is a feature film. Was this a move to widen your audience?
VC: The Dalit and the Buddhist community is our intended audience. Sometimes when you're able to look at a situation from a distance or a place of objectivity, you either see a problem or you don't. This was the producer's way of showing the reality of what's happening, at the same time, leaving the rest up to the viewer/ the subject's discretion.
KK: This brings me to my next question about representation. I assume you're not from the Dalit community?
VC: Yes, and no. I am half from Kerala and half-lower caste. But I understand, this (subject) very well because I know a lot of people from the community, in Pimpri, as well where I grew up.
KK: I ask this because I want to understand the sensitivity, that informs one's approach when working with a community that isn't your own. For example, a film like Sairat was presented as a collective enterprise. How same/different was it here?
VC: See, Vaibhav (Ghodeswar, story writer) is from the lower-caste community. So is his uncle, who is one of the financers, and most of the actors in the film are family and friends from the community, so, we were constantly informed by each other. Even my make-up artist would come up to me and say, "This is not how we do it". So, in that, it was a collaborative effort, even though I was not "from there". People asked us, "Why didn't you take a Marathi director? Why didn't you take a Dalit director?" But how do people know about my identity? My last name is Chandrasekharan, which is my dad's name. Anyway, Vaibhav was very clear, he wanted the story to be objective. But obviously, we chose the narrative, we wanted to make it a little poetic, therefore, there is music.
NM: We were aware of the gravity of the issue. We stayed in the village for three-four months. We visited those churches to get their language right, and so on. It would have been superficial otherwise.
VC: We wanted the character to be educated and speak well. Vaibhav was the driving force behind it. Throughout his life, people kept telling him that his achievements were possible only because of reservation. So, he eventually went to London, on a fully-paid scholarship to Oxford but later couldn't continue due to health issues. Therefore, we wanted the character to not be positive simply for the sake of representation.
KK: I was amazed by the Sisyphus reference! How did that come about?
VC: That was one of the core things that stayed in the film from when Vaibhav wrote it. He is a big fan of Camus's philosophy.
NM: Also, this incident of digging a well, is a real incident. There was a guy, like Manjhi, who decided to dig his own well, because the upper caste men denied him water. So, he digs his own well, it is a real story…
VC: …for his wife, basically, it is also a romantic tale (everyone laughs). About Sisyphus, we wanted to explore the mundane in an entertaining way.
KK: Would it be fair to say that all Marathi cinema or a big part of it is always an ode to Ambedkar and his philosophy?
N: I think what's making you say that is the success of Nagaraj Manjule's two films. They are sort-of what quintessential Marathi cinema is now seen as – with Sairat and Fandry, and even Court. However, apart from them, there is a lot of work being done in Marathi, which is also commercial, educational and all sorts of things. But these have now sort-of become the markers.
VC: But, yes, our film is an ode to Ambedkar.
---
Read more
Mehsampur: The Story of a Film Within a Film
"In a choice between the beautiful and the ugly, the film always chooses the ugly"