Sanjognagar, a semi slum like residential area in Bhuj, Kutch in Gujarat is where a 22-year-old woman Ashiyana fell in love with Majid, a 27-year man. Against the wish of their family, the two got married with dreams of building a life together in a two-room tenement, the home of Majid.
Her dreams and life came crashing down on July 19 this year. Bhuj police picked him up at night from home while the family was having dinner. She hasn't seen Majid ever since.
Majid is not a solitary case. The investigation by Newsclick reveals a chilling history of Muslim men who were picked up by police in the district never to return. Their families have battered their heads against a mute administration and judicial process – but with no result.
Majid didn't have a permanent job. He worked as a driver for whoever would hire him for the day.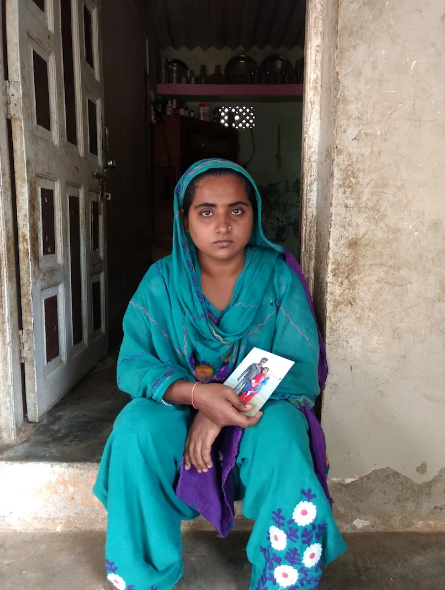 "Police came at around 9.30 pm when Majid, Gulam, his brother, Ruksana, the brother's wife, their three kids and I were having dinner. They asked for Majid at which he identified himself. They took him by his collar and dragged him out of the house. He kept asking what was his fault. In response two police persons began thrashing him and pinned him down on the floor. When I tried to intervene, a third police person held me by my neck and dragged me away from my house, kicked me in my stomach and manhandled me. They thrashed Gulam who is not mentally stable and even slapped his daughter," recalls tearful Ashiyana, talking to Newsclick.
"When things started getting out of hand, Majid asked me to go to hospital and told me he would be home soon. That was the last time I saw him," she said.
"Police broke down the door and rampaged through my kitchen," says Ashiyana standing in the destroyed house that was once her home.
"Majid doesn't even know I am pregnant," she adds.
Ashiyana was admitted to the GK General hospital, a government hospital that has been recently taken over by Adani group. She was discharged abruptly at 2 am.
"I had bruises on my hand and back, and pain in my stomach. They had run some tests and I overheard a doctor tell the attending nurse not to administer a certain medicine because I was pregnant. Hospital authorities did not talk to me at all. They asked me leave at around 2 in the night," tells Ashiyana.
En route home Ashiyana claims she was accosted by a police person who asked her to accompany him to Bhuj A division police station.
"The police thrashed me again inside the police station which must be recorded on CCTV camera," she said.
After the incident, Ashiyana, who was left all alone, spent two nights outside a local dargah. Gulam, who fell sick left the house with the family to live with his wife's family.
After a couple of days a local man noticed Ashiyana and he took her to Heeth Rakshak Samiti and Fala- hul- Muslemin, Bhuj based NGOs. On July 25, the first application on behalf of Ashiyana was sent to the Superintendent of police (SP) of Bhuj.
When there was no response from SP's office, on September 4, the organisations wrote to the Collector narrating the whole incident. The next day local police released a notification declaring Majid an absconding criminal.
"We would like it to be known that complaints have been registered against Majid aka Majlo Adam Theba, resident of Sanjognagar, Bhuj in multiple stations of Kutch district. Under Bhuj taluka police station first complaint number 209/2005, 328/2011, second complaint number 209/2005, 45/10 and complaint number 395/16 under Prohibition Act. B division police has declared Majid MCR. Under Bhuj city police station first complain number 115/15, 07/18, 16/18 and second complaint number 70/18. Under Mundra police station complaint number 89/15," stated a press release issued by Bhuj B division police.
It further stated, "After Hafiza Jehangirkhan Pathan lodged a complaint of thrashing and assault against Majid on July 19, the investigation team went to his house on the same night. However, Majid came to know that police was coming and ran away due to which investigation team returned. Since then he has been absconding. If anyone knows the whereabouts of Majid Theba, they should inform either city A division or B division police, Bhuj police station."
On August 28, Gujarat High Court, in response to a habeas corpus petition filed by Ashiyana, directed the administration to reply by September 6.
"In their response the police have accepted that they did pick up Majid from his house on the night of July 19 and that there was a physical scuffle. But they go on to state that Ashiyana intervened and she took Majid with her," said Shamshad Pathan, the advocate who has filed the petition.
"This doesn't make sense. If Ashiyana took her husband while he was being rightfully arrested then why hasn't the police filed an FIR against her for obstructing police's work," adds Pathan.
Majid is not the first Muslim man in Bhuj to be picked by police and disappeared without a trace. About 80 kilometres from the Bhuj city, in Dhrobana (Khavda), a nondescript village near the border with Pakistan, family of Ismail Julefa Sama has a similar story to tell. They have been waiting for Ismail for 25 years now. Like Majid, Ismail was picked by Bhuj police on July 5, 1993 when his family saw him for the last time.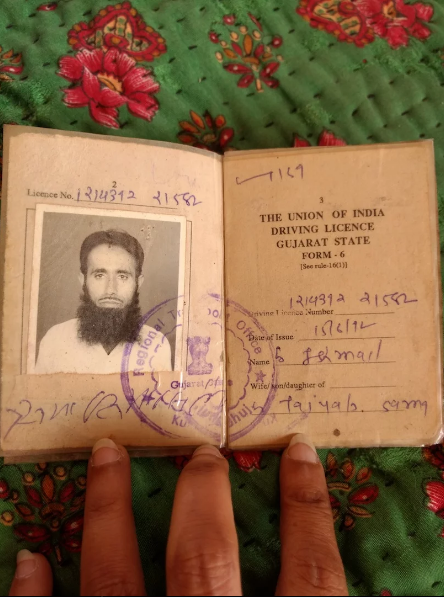 "My brother had gone to Bhuj city for some personnel work. At around 5.30 in the evening he reached the state transport bus stand to take a bus back home. A police jeep of Bhuj taluka police approached him and three police personnel including the driver took him with them. Villagers of Dhrobana who were also at the bus stand saw him being taken away. Later on, July 6, police took Ismail to taluka police station where I myself was present along with other villagers. That was the last time I saw my brother," recalls Meraj Taiyyab Sama, Ismail's younger brother.
"A couple of months after Ismail was taken, police published a notification in a local newspaper Kutch Mitra declaring him criminal and absconding. Next day I had a notice published on behalf of my father in Kutch Mitra refuting the notification of police and stating the incident as it happened. In about fifteen days, a notice from Bhuj police reached our house that stated that three witnesses had seen Ismail at different places after July 6," said Meraj Sama.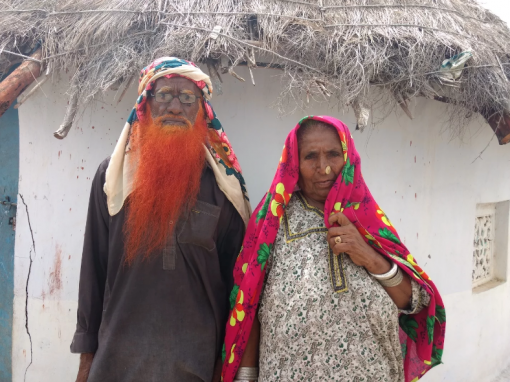 Noticeably, the witnesses police presented in the case of Ismail were the same the Bhuj police presented in a case of the disappearance of Wali Mohammed in 1984. Waghji Andaji Sodha and Gopalji Bhanji Jadeja were police witnesses in 1984 and 1993, both times affirming to having seen the concerned man days after the disappearance. Hussain Rayeb Sama, the third witness that police presented in case of Ismail in 1993 is son of Rayeb Saheb the third witness police had presented in case of Wali Mohammed in 1984.
On April 8 1984, Haji Juma Wali Mohammed Mokha and his son Ibrahim of Paiya village of Bhuj taluka were picked up by district police and they were never seen again. Two days later, on April 10, 1984 Umar Wali Mohammed Mokha and Fakir Mohammed Buta Mokha, two other men of same family, were allegedly accused of smuggling and killed in an encounter lead by then SP of Kutch Kuldeep Sharma. Family alleged all four were killed by police. In connection with the disappearance, a relative of the family, Yusuf Mohammed Mokha had filed a police complaint and subsequent habeas corpus petition was filed in the High Court. A long legal battle ended with all accused being acquitted.
"Muslims constitute about 35 percent of the population of Bhuj yet they are socially discriminated. Fear trickles down as generations have witnessed disappearance of men. Those who have been lucky to be arrested and returned have had years of legal battles to fight," says Mohsin Hingorja, a Bhuj based activist.
Hingorja is small businessman who sells eggs to make a living. In 2015 Mohsin, his 18-year-old brother and 16-year-old nephew were picked from his residence in Bhuj.
"My brother and I were thrashed at our home and then they took all three of us. Later we were booked under Prevention of Anti-Social Activities Act (PASA) and for selling beef," adds Mohsin.
Police till today follow Mohsin everywhere he goes and he gets called to the police station even late at night.
18 years ago, Ali Mohammed, Mohsin's father, also an activist, was arrested and booked under PASA. Ali Mohammed who worked as a senior clerk in the office of district panchayat of Kutch lost his job in two days of his arrest. He worked as a labourer to raise a family of eight, Mohsin his eldest child had to stop his education and work from an early age.
"After ten years of long legal battle I was acquitted by Gujarat High Court in 2011 and reinstated in my job," shares Ali Mohammed, now retired.
Bafan Sikandar, another activist who is a businessman works on small scale contracts of government construction work, was slammed with charges of attempting to murder a man in March 2018.
"I had charges of trying to poison a man against me," said Sikandar.
Suleman Bachu Mamon of Varnora has been arrested thrice under PASA.
"I was arrested for the first time in 1986 and framed under section 307 of IPC. I was taking my sick daughter for medical treatment when police stopped my car, dragged me out, put a black cloth on my face and took me away. I was jailed for 18 months in Ahmedabad. Then in 1996 police arrested me from my office when I held the position of karobari chairman of taluka panchayat of Bhuj. I was jailed for three months in Nadiad. Again, in the year 2000 I was booked under PASA and jailed for six and half months," says Suleman Mamon.
"I am perhaps the only activist who hasn't been slapped with a case but I don't know till when," said another activist on condition of anonymity.
"People who have money to bribe police personnel and fight their case, return home, others don't," he adds.
"Like other men, Majid will also most likely never be found. But we fight against all odds so that more men of Bhuj do not disappear. That is our only hope," says Mohsin.
---