SAHMAT Condemns Arrest of Activists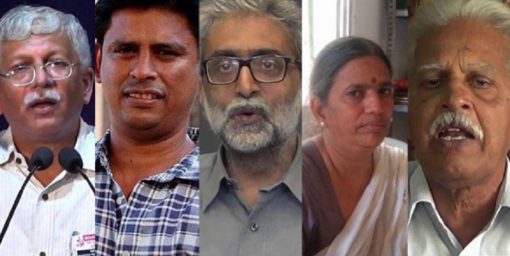 We the undersigned are utterly shocked and appalled by the simultaneous arrests of several prominent civil rights activists in different parts of the country, and the raids on their houses and those of many others. The exact nature of the alleged unlawful activities of those arrested has not been made clear though they are booked under the draconian Unlawful Activities (Prevention) Act; in many instances, even the families are unaware of the charges on which they have been arrested; where some charges have been reported, they appear utterly weird and outlandish; and the documents occasionally mentioned as evidence against them are of highly questionable authenticity. Besides, all those arrested can by no stretch of imagination be said to belong to any one particular group; in fact, the only thing that is common to them is that they have all been in the forefront of the struggle to defend the democratic rights of various oppressed and marginalised sections of society.
The conclusion is inescapable that what is being conducted is a witch-hunt against those who dare to take up the cause of the downtrodden and who dare to criticise the government for trampling upon their rights. While the BJP government in power in the country had until now been implicitly supportive of lynch-mobs targeting minorities and dissident intellectuals, large-scale arrests of critics of the government had been avoided. Even that restraint, it seems, is now being abandoned. The threat that this poses to our democracy is palpable and serious. We condemn these arrests in the strongest and most unequivocal terms, and demand that the arrested civil rights activists be released forthwith.
Irfan Habib
Amiya Kumar Bagchi
Prabhat Patnaik
Vivan Sundaram
M.K. Raina
Sohail Hashmi
Madangopal Singh
Ram Rahman
Zoya Hasan
C.P. Bhambri
Jayati Ghosh
C.P. Chandrasekhar
Geeta Kapur
Saeed Mirza
Sashi Kumar
Aban Raza
Abhilasha Kumari
Aditya Mukherjee
Ahmar Raza
Amar Farooqui
Amitesh Kumar
Anand K. Sahay
Anil Bhatti
Anil Chandra
Anil Sadgopal
Antara Dev Sen
Anuradha Kapur
Archana Prasad
Arjun Dev
Arpana Caur
Arunkumar H.G.
Asghar Wajahat
Atlury Murali
Badri Raina
D. N. Jha
Dinesh Abrol
Dushyant
Indira Arjun Dev
Indira Chandrasekhar
Iqtidar Alam Khan
K. L. Tuteja
K. M. Shrimali
Kamini Tankha
Keval Arora
Kirti Jain
Kumar Shahani
Lata Singh
M.M.P. Singh
Madhu Prasad
Mandira Mitra
Manish Agarwal
Mohan Rao
Mridula Mukherjee
Mushirul Hasan
N.K. Sharma
Nadeem Rezavi
Nilima Sheikh
Nina Rao
O.P. Jaiswal
P.K. Shukla
Parthiv Shah
Praveen Jha
Radhika Menon
Rahul Roy
Rahul Verma
Raj Chauhan
Rajinder Arora
Rajni Arora
Rakhi Sehgal
Ramakrishna Chatterjee
Rana Behal
Rekha Awasthi
Rimli Bhattacharya
Roop Rekha Verma
Sanjeev Kumar
Shakti Kak
Shalin Jain
ShernaDastur
Shireen Gandhi
Shireen Moosvi
Shubhra Chakrabarti
Sudhanva Deshpande
Sudhir Chandra
Sukumar Murlidharan
Sumangala Damodaran
Suvira Jaiswal
V. Ramakrishna
Vasudha Dalmia
Vasundhara Chauhan
Veer Munshi
Vikas Rawal
Vishwamohan Jha