AIDWA Condemns the Raids and Arrests of Activists and Lawyers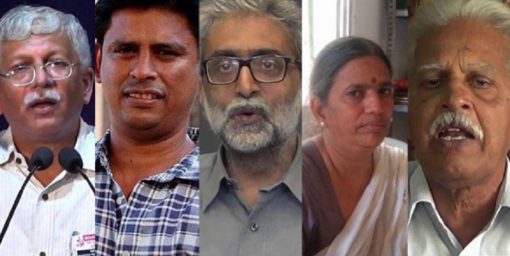 The All India Democratic Women's Association (AIDWA) condemns the simultaneous nationwide raids on human rights defenders and the arrests of five activists and lawyers by the Maharashtra police on August 28, 2018. It sees this repressive and arbitrary action as a part of the wider politics of silencing dissent and deterring activists, lawyers and intellectuals for raising their voice and organising people against the terror tactics of the Sangh Parivar and its vigilante groups.
AIDWA also sees these arrests as part of diversionary tactics to hoodwink the public in the wake of the recent charges against saffron terror organisations like the Sanathan Sanstha who have been involved in the murder of Gauri Lankesh and the serial bomb blasts during Eid and Ganesh Chaturthi.
AIDWA demands the immediate release of these activists and lawyers and a stop to all witch hunting by the Union and BJP led State Governments. AIDWA will participate in the protest organised by Jan Ekta Jan Adhikar Andolan (JEJAA) on August 30. It calls upon all democratic sections to organise and mobilise people against this draconian government.
Malini Bhattacharya Mariam Dhawale
President General Secretary
---