Meet Kruti R: One of the Female Voices of Yakshagana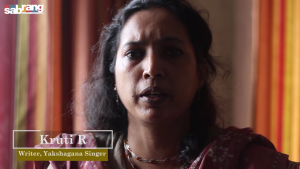 Yakshagana is a traditional theatre art form that has been performed in in Karnataka and some parts of the other Southern states. Yakshagana combines dance, music, dialogue, costume, make-up, and stage techniques to stage the stories from Ramayana, Mahabharata and Bhagavata. Although there are many female characters represented in the play, Yakshagana traditionally does not have female performers. However in the recent years, changes have come from within.
Kruti R is one such female performer of Yakshagana. She is a singer of Yakshagana songs and leads an all female Taalmaddale troupe. After being away from home for education, she came back to her native village, took up farming and started looking at Yakshagana critically. She gave more humane touch to the female characters of Yakshagana by changing Ragas of the songs. She believes everyone should intervene rather than rejecting. She opted to interevene in Yakshagana as a woman and made her space.
---