"No one can curb my right to speech," says Konkani Writer Damodar Mauzo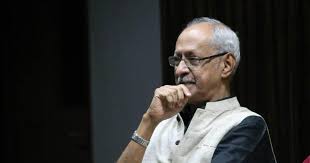 It has been four years since the BJP government came into power and writers, intellectuals, rationalists have perhaps never received more threats than in the last four years. Most recently, the Goa based Konkani writer Damodar Mauzo has been provided with special security after the Special Investigation Team (SIT) reported his name in the hit list of the Hindu extremist group, Sanatan Sanstha.
The SIT, which is also probing journalist Gauri Lankesh's murder, reported that Mauzo's life is in danger since he is on their hit list.
Speaking to the Indian Cultural Forum, Mauzo, also a Sahitya Akademi award winner, said, "I was not threatened directly. It was the SIT who alerted me about being on the hit list and now I have been provided with police security. I don't, however, like any one interfering in my private space and have asked the police not to impede my freedom."
Mauzo openly criticised the Sanatan Sanstha in a seminar he chaired in Dandi in 2016. The writer said to ICF, "Sanatan, is a dangerous outfit of the right wing. It's hard to speak against them, at least in Goa. But I need my freedom of movement, freedom of speech and freedom of writing. No one can stop me from doing what I am."
This is not the first time a progressive writer has been targeted by the Hindu extremist group. Only last year the nation witnessed the cold-blooded murder of Gauri Lankesh, the editor of Lankesh Patrike in Karnataka. The same Sanstha was also involved in the daylight murders of rationalists Narendra Dabholkar, Govind Pansare and MM Kalburgi.
Mauzo also responded to the recent murder of lawyer and activist Ajit Nayak in Dandeli, a small town in Uttara Kannada. He said, "They want to shut the mouths of the people who question them. People need to write about the attacks in our country. Otherwise we can't expect others to speak up. In reality, the righteous voices in India is weak. They don't talk openly. People fear such extremist groups. When people get killed, except for some intellectuals, no one speaks up. We need to work on a grass-root level."
Konkani Basha Mandal (KBM), a leading literary institution in Goa, has issued a statement in solidarity with the writer, stating that "The Mandal warns right wing forces not to interfere in the freedom of expression of writers and thinkers". It has also condemned the existence of fanatic organisations like the Sanatan Sanstha. KBM president, Chetan Acharya, has also demanded a ban on such extra –constitutional bodies.
---