"The struggle will continue": Swami Agnivesh From Hospital Bed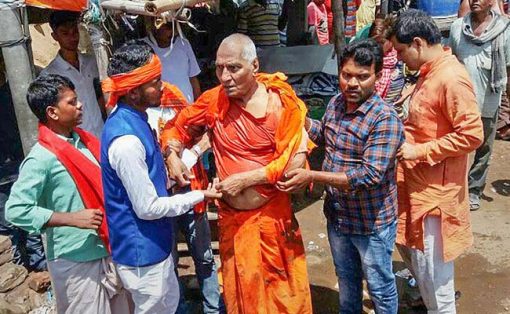 New Delhi/Ranchi: "This (attacks) will happen as the fascist forces are trying to consolidate themselves, they do not care about the rule of law," Swami Agnivesh told The Citizen from the ICU ward in a hospital in Ranchi. He insisted, however, he was well but has had difficulty breathing with possible internal injuries after he was set upon by whom he describes as "members of the local BJP, their youth wing, the Bajrang Dal everyone."
A stone meant for his head landed on his ribs. He has been in agonising pain but despite this retained the courage to insist, "the struggle has to go on."
Swami Agnivesh will be flown to Delhi this afternoon to All India Institute of Medical Services for a thorough check up and treatment. He was clear that the struggle has to continue, and "they cannot silence us with such violence."
Agnivesh said the local administration was aware of the threat to him but took no measures to protect him. He had addressed a press conference at a small hotel in Pakur where he had supported the tribals agitating against land acquisition. He said he had spoken of well known industrialist Gautam Adani as well who is amongst the many with whom the Jharkhand government has signed Memoranda of Understanding for projects.
Agnivesh said that after the press meet he was going straight for a rally organised by the locals against the largescale acquisition of their land. He said as soon as he emerged from the hotel he was attacked by this group, who felled him to the ground, and beat him mercilessly. Over 80 years, with serious ailments, he was completely taken aback, drenched with sweat as his turban was pulled off and clothes torn.
The Jharkhand BJP has denied involvement. However, Agnivesh is clear that the crowd was mobilised by the Sangh and its affiliates in the area. He said there was no doubt of it and reports that it was SPO's and others were completely "false." They had come with an agenda, and under directions, he said. They were carrying black flags and abused him through the assault.
Swami Agnivesh also countered reports that spoke of being there on charity work. "I was not there to distribute blankets as some have said, but to attend the rally for which they had invited me," he added. He has been working for long in this region, standing up for rights, and at one point even using the goodwill to secure the release of kidnapped personnel of security forces.
He is known as a voice for peace, and as he said has never supported any kind of violence. He is an independent voice and lends himself to causes he personally believes in, a figure on the Indian political scene for decades now. The attack has still not been condemned by the top brass of the ruling establishment in New Delhi. The entire Opposition has come out to condemn the attack and support Swami Agnivesh.