Songs Keep Reminding Unilever of Environmental Racism but Unilever Still Won't Clean Up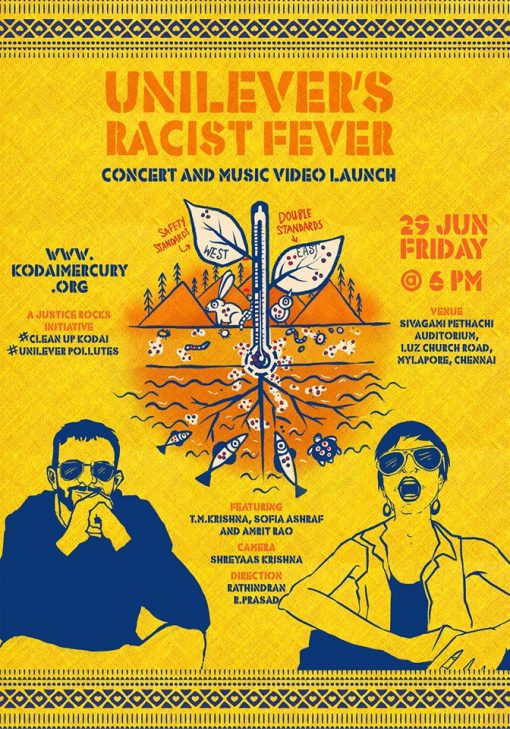 Musicians T M Krishna, Sofia Ashraf and Amrit Rao released their latest song, "Kodaikanal Still Won't" on 29 June.
The song draws attention to the latest petition to Paul Polman, the CEO of Unilever, that was published in Jhatkaa.
The newly released song follows Ashraf's rap song "Kodaikanal Won't" which went viral when it was released three years ago, and Unilever was forced to admit that they have a problem. The songs, however, are only a recent addition to a 15-year-old campaign. Krishna, in an email, said, "It took 15 years of campaigning and a rap song that went viral to force Unilever to settle with its workers. But the mercury-tainted factory site continues to leak the deadly neurotoxin into the environment and the forests nearby. Unilever refuses to apply the same standards of clean-up for India that it would have to in Europe. That is Environmental Racism."
This is not the first time that T M Krishna has lent his voice to a campaign. A couple of months earlier, he had recorded the Chennai Poromnboke Padaal. The song accompanied another petition to the National Green Tribunal to save the wetlands, Ennore Creek.
For Ashraf, this is a sequel to her earlier rap video which went viral:
Soon after this video came out, Paul Polman, the CEO of Unilever tweeted that they would soon look into the matter.
Unilever did settle with the ex-wporkers of the factory who had been exposed to mercury. They also published a statement on their website. Their claims were refuted by Ashraf in another video:
Why is this environmental racism? The petition says, "In the United Kingdom, where Unilever is headquartered, residential areas should not contain more than 1 mg of mercury per kilogram of soil. If Polman's factory had been located in the UK, he would have had to clean up to at least that level. But in India, Unilever is trying to get away with a clean up that will leave 20 times more mercury in the soil than is considered safe for residential areas in the UK. Yup, environmental racism."
Environmentalist Nityanand Jayaraman, who had earlier explained why they had roped in Ashraf for the video, and criticised Unilever for the manner in which they settled with the former workers at the factory, was also very critical of the government for agreeing to absymal standards of cleaning up. In an email interview he said :
Our government is not really "ours". It responds more positively to corporations and big businesses. The Tamil Nadu Pollution Control Board (TNPCB), which was supposed to exercise due diligence, and ensure that the clean-up processes and standards are as per best international practices, has allowed itself to be led by the nose by Unilever. A sham Scientific Experts Committee set up by TNPCB has scientists who have not applied their mind or have been induced to ignore the pathetic results of the remediation trial to recommend upscaling the clean-up.
One can only hope that the new video will bring the issue back into the public discourse.