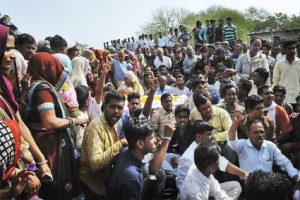 Activists opposing the bullet train between Mumbai and Ahmedabad criticised the "illegal detention" of farmers and activists right before a consultation for the National High Speed Rail Corporation Limited was held in Surat on Monday, May 14. The Bhumi Adhikar Andolan and the Shoshit Jan Andolan, based in Maharashtra and Gujarat, have written to the National Human Rights Commission (NHRC), calling for a probe into the detention of Jayeshbhai Patel, a senior activist, Krishnakant Chauhan, an elected member of the local panchayat, and others. The detainees were released in the evening on May 14.
Chauhan, an activist with the Prayavarn Suraksha Samiti, said, "We were picked up without being given any reasons just before the start of the consultation, and taken to Umra police station in Surat. This was to stop us from creating any more awareness about the project." Brian Lobo, an activist who is leading the organisations supporting tribals and farmers who will be impacted by the bullet train project in Maharashtra, opined that the activists were detained to prevent them from bringing up "uncomfortable" issues at the consultation. Lobo said this was "in violation of basic human and democratic rights. The administration, falling prey to pressure from the Central government, is trying to muzzle the voices of dissent of those who are fighting to protect their livelihood". Ulka Mahajan, an activist for tribal rights, had previously said that stakeholders involved had not been afforded any time to get ready for previous consultations, adding that the NHRC "must inquire into this detention and take action against all those responsible".
In April 2018, farmers from neighbouring states congregated at a joint meeting in Surat to stand against the land acquisitions involved in the bullet train project. Around 312 villages in Maharashtra and Gujarat stand to lose their land. Moreover, the project also requires the acquisition of 7,974 plots of land possessed by the Railways and forest authorities.
Demonstrations have already resulted in the suspension of utility mapping, geotechnical investigations and hydrological survey on a 90km alignment in Palghar. Activists have also cautioned about the possibility of green cover loss.
---