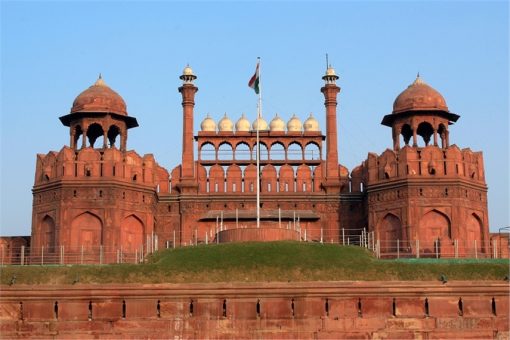 The Indian people cherish their great heritage that exists in physical terms in its monuments as well as the huts and tools of ordinary men and women of the past. What remains from the past needs not only to be faithfully preserved, but also correctly interpreted.
The present regime in power has an unsavoury past in regard to our heritage. It felt no compunction when its followers destroyed a 450 years old monument of architectural importance in 1992 just because it was a mosque. The Rashtriya Swayamsevak Sangh has long been propagating the cause of declaring all major medieval monuments, including the Taj Mahal and Delhi's Red Fort as Hindu structures.
It is, therefore, right that people should be perturbed when it is announced that the safekeeping of the historic Red Fort of Delhi from which India's independence was proclaimed by Jawaharlal Nehru on 15 August 1947, and has always been a symbol of modern Indian nationalism since 1857 is being entrusted to a cement company, Dalmia Bharat with no known credentials in the work of architectural preservation or in heritage-management. It has been announced that they are expected to "construct landscape", etc., and also maintain an "interpretation centre".
It is surely a slur on the Archaeological Survey of India, the legal guardian of all monuments that it is held to be incapable of maintaining a major national monument like the Red Fort. But what is most troubling is the fear that a commercial company will try to cater to the kind of beliefs and prejudices the RSS and its followers represent in interpreting and then trifling with the structure of the Red Fort.
It is, therefore, essential that the agreement between the Government and Dalmia Bharat be rescinded, and the Red Fort, as well as all our major monuments be duly protected and preserved solely by the Archaeological Survey of India, to which the duty is assigned by the Protected Monuments Act, 1958.
Irfan Habib

Vivan Sundaram

Prabhat Patnaik

Mushirul Hasan

Mihir Bhattacharya

Sashi Kumar

Ram Rahman

Anil Bhatti

Geeta Kapur

M. K. Raina

Madangopal Singh

Sohail Hashmi
Anil Nauriya

Arjun Dev

B.P. Sahu

D. N. Jha

Iqtidar Alam Khan

K M Shrimali

Lata Singh

Prabhat Shukla

R. C. Thakran

Shireen Moosvi

Suvira Jaiswal

Vishwamohan Jha

R. P. Bahuguna

Rajesh Singh

Kesavan Veluthat

A. K. Sinha

Shalin Jain

H. C. Satyarthi

V. Ramakrishna

Ramakrishna Chatterjee

Arun Bandopadhyaya

S. Z. H. Jafri

C. P. Chandrasekhar

Vikas Rawal

Indira Arjun Dev

Zoya Hasan

C. P. Bhambri

Kanishka Prasad

Vartika Chaturvedi

Abha Dev Habib

Rakesh Batabyal

Amiya Kumar Bagchi

Rekha Awasthi

Nadeem Rezavi

M.M.P. Singh

Ramesh Rawat

Rajinder Arora

Rajni Arora

Amar Farooqui

Aban Raza

Badri Raina

Sukumar Murlidharan

Veer Munshi

Anand K. Sahay

Sukriti Ray

Saba Hasan
Raj Chauhan

Santosh Rai

Hitendra Patel

V.N. Sinha

J.N. Sinha

O.P. Jaiswal

Najaj Hyder

C.P.N. Sinha

Dayanand Rai

H.C. Satyarthi

S.S. Seshan

B.N.P. Singh

S.N.R. Rizvi

Sushanto Das

Sanjay Sharma

K.L. Tuteja

Nagenra Sharma

Nalini Taneja

Asad Zaidi

Arun Mishra

Ranbir Singh Dahiya

Wazir Singh Ghanghas

Sitaram Singh

Himanshu Joshi

Anil Kumar Singh

Aditi Chowdhury

Rakesh Manchanda

Manoj Kulkarni

Durgaprasad Agrawal

Prasanna Kumar

Roger Alexander

Abul Kalam Azad Pattanam

Chaman Lal

Estelle Pereira Desai

Girish Shrivastava

Naresh Prerna

Bhavna Sharma

Ranbir Sinh

Smita Gupta

Vinod Bhooshan Abrol

Frans Manjali

Alok Bajpai

Alka Bajpai

Salim Saboowalla

Aftab Alam

Subhabrato Roy

Kiran Shaheen

Rakhshanda Jalil

Moin Sattar

Bindu Batra

Nicky Chandam

Atika Gupta

S. Kalidas

Ankit Agrawal

Kausar Wizarat

Ved Dhingra

Sudhanshi Vasudev

Jai Wokhloo

Raj Kumar

Hamid Ali Khan

Munesh Tyagi

Manmohan

Mathew Varghese

Rashmi Doraiswamy

Saumya Baijal

Jawed Nehal

Avik Bose
---